NEWS
Coach Moriyasu of SAMURAI BLUE hopes to "Deepen understandings of team strategy" in match against Paraguay at the KIRIN CHALLENGE CUP 2019
05 September 2019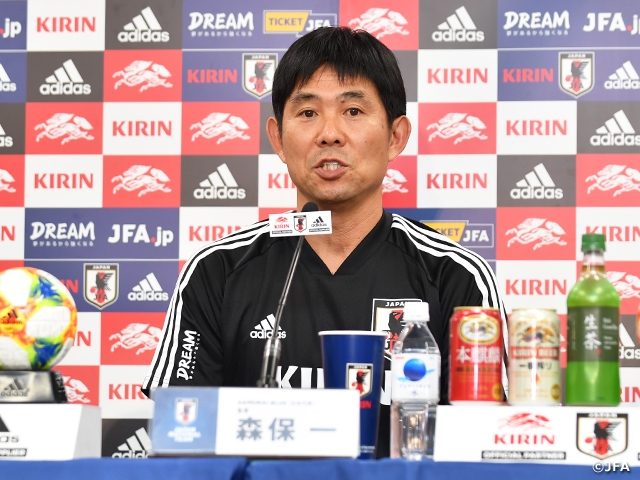 On Wednesday 4 September, one day before their match against the Paraguay National Team at the KIRIN CHALLENGE CUP 2019, the SAMURAI BLUE (Japan National Team) held an official training session at the match venue, Kashima Soccer Stadium, where coach MORIYASU Hajime appeared in the official press conference and shared his aspiration to "enter the match with the intention to deepen the players' understandings on the team strategy."
This match against Paraguay will give Japan an ideal opportunity to prepare ahead of the second round of the FIFA World Cup 2022 Asian Qualification, where Japan will play their first match against the Myanmar National Team at Yangon on Tuesday 10. In regard to the national team taking a two-month break since their last activity, coach Moriyasu mentioned, "I would like to see the players get on the same page to help each other showcase their best performance."
While Japan is currently ranked 33rd in the FIFA ranking, Paraguay is ranked 39th, but Paraguay have shown their capability at this year's CONMEBOL Copa America Brazil 2019 by drawing 1-1 against Argentina at the group stage, and despite their loss in penalty shootouts, they have also drawn against Brazil 0-0 at the quarterfinals.
Traditionally, Paraguay is known for their solid defence, and their play style may help Japan simulate their match against Myanmar, which is scheduled five days following this match. Japan and Paraguay have faced each other nine times and Japan holds a record of three wins, two losses, and four draws. Most recently, the two have faced each other in Innsbruck, just before the World Cup Russia, where Japan won the match 4-2.
When asked about the match, coach Moriyasu stated, "Paraguay is a strong opponent. I would like to see how our players cope against them." The coach continued on by saying, "Our pursuit for a higher level will ultimately enable us to compete more in Asia and the World. That is why we will enter tomorrow's match with the intention to reach higher standards."
On this day, the first 15 minutes of the training session was opened to the media, where the players were seen going through their warmup routines before playing a possession game in groups of 10. The goalkeepers were seen conducting their own drills to go over their approach against cross balls.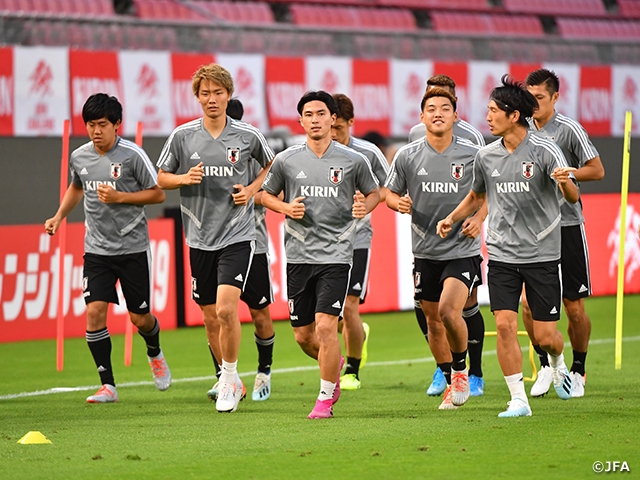 ITO Junya (KRC Genk), who trained separately on the day before due to an injury to his right ankle, was seen joining the team practice, while ENDO Wataru (VfB Stuttgart) was also seen on the pitch after joining the team late due to conflict with his club schedule.
Veteran defender YOSHIDA Maya (Southampton FC) shared his take on the match, "depending on our performance in tomorrow's match, the team atmosphere can change dramatically. This is not just a friendly match, but it is an important match ahead of the qualifiers. We must consider this match as a pivotal match for the team's growth." Following his recent transfer to Europe, defender ANZAI Koki (Portimonense S.C.) will be making his first return to his former club stadium, as he shared his aspiration ahead of the match, "The opportunity to play in Europe has given me a wonderful learning experience. I am gaining great confidence by facing players with enormous speed at a regular basis. I will do my best to showcase my ability at the national team."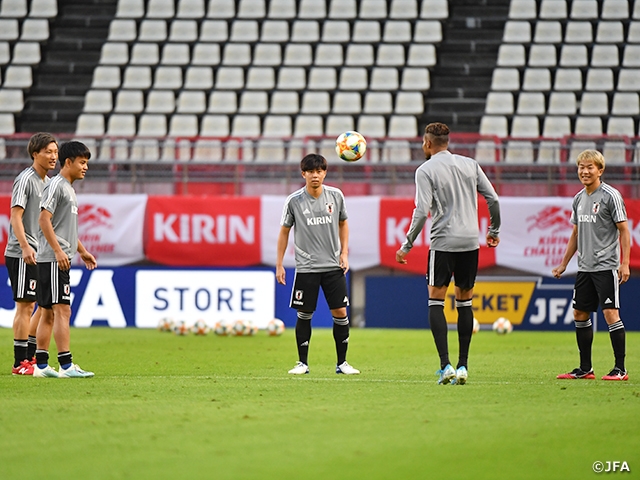 The KIRIN CHALLENGE CUP 2019 match against the Paraguay National Team will kick-off at 19:20 on Thursday 5 September.
Also, at this match, the SAMURAI BLUE will be wearing jerseys with the new logo of the JFA Respect campaign, "RESPECT – to cherish."
Coaches' and Players' Comments
MORIYASU Hajime, Coach of SAMURAI BLUE (Japan National Team)
Following this match against Paraguay, we will be entering the second round of the Asian qualifiers for the World Cup, but we will focus on the match ahead of us one match at a time. We will prepare ourselves in the best way possible to showcase an entertaining match for our fans. We would also like to enter tomorrow's match with the intention to deepen the players' understandings on the team strategy. I would like the players to go over the concepts of the team strategy on the pitch and share a mutual understanding as a team. I will also demand the players to strive to score goals while keeping a clean sheet. I will do my part to allow the players to play aggressively and exert their full potential on the pitch. Through the activities of the national team, I will do my best to assist the team and the players to reach higher standards, so that the players can earn higher evaluations at their clubs once they return.
GK #12 GONDA Shuichi (Portimonense S.C.)
During the span of the long qualification rounds, there will be many obstacles, such as suspensions and long travels. That is why we must stick together as a team and always find ways to contribute for the team. I am always visualising how I would play on the pitch and prepared to compete for the team at all times.
DF #3 ANZAI Koki (Portimonense S.C.)
This match will be played at a very memorable stadium for me, but I will do my best to keep my composure and capitalise on the opportunities to help the team win. There are many South American players at the Portuguese league, so I should be able to cope against them.
DF #22 YOSHIDA Maya (Southampton FC)
It's been a while since I was called up to the national team, so I consider this as a new start. There are many young players on this team, so I will do my best to communicate with each other to get off to a good start. The team must make progress one step at a time. It is hard to start off the qualification round with an away match, but it's very important that we start off with a victory. We hope to play solidly and strive to earn points both at home and away.
MF #6 ENDO Wataru (VfB Stuttgart)
I am glad that I was able to make a return to this team. With the World Cup qualifiers fast approaching, I feel like I am getting off to a new start. I can imagine how tough it can be to play an away match at the qualifiers. We will strive to showcase our ideal style of football while making flexible decisions when facing adversities, which is a crucial aspect of the game when competing at the world level. Not only do we have to perform well as a team, but it will be important to have each individual give their best performance at this stage.
MF #7 SHIBASAKI Gaku (Deportivo de La Coruna)
Paraguay is a great team to face in order to develop our team. Our coach demands us to play accordingly to the flow of the game, so we must stay flexible in order to make the necessary adjustments on the field. It is the players who makes the decisions in the match, so as long as we make the right decisions, we should be getting the desired results. That is why we must strive to make accurate decisions to reach higher standards as a team.
MF #9 MINAMINO Takumi (FC Red Bull Salzburg)
In tomorrow's match, we will go over what we have been working on as a team and give ourselves a positive momentum ahead of our match against Myanmar. The ability to exploit opponent's weaknesses becomes more crucial as we play at a higher level. We must seek for the opponent's gap and capitalise on the opportunities created.
FW #15 OSAKO Yuya (Werder Bremen)
It feels like the time has finally come. We have been able to conduct our training sessions with a good amount of tension, and I am getting very excited. We just need to get ourselves organised ahead of the match. I have been playing a central role in this team, so I feel responsible to score goals for the team. I will continue to put pressure on myself to achieve positive results.
Eduardo BERIZZO, Coach of Paraguay National Team
We will be facing a strong Japanese side tomorrow, and it will give us a great opportunity to test ourselves. The statement I made regarding Japan's presence at the Copa America was targeted towards the management of the tournament, and it wasn't regarding Japan's level of football. At the Copa America, Japan has proven that they are capable of showcasing an equal bout against South American sides, even with many of their U-23 players. Although we had a very limited time to prepare ourselves in Japan, we hope to give our best performance tomorrow.
Schedule
Squad & Schedule of SAMURAI BLUE (Japan National Team)

Coach MORIYASU Hajime at Official Press-conference

Paraguay National Team Official Press-conference/Official Training Session
Interview of YOSHIDA Maya (Southampton FC/England)

Interview of SHIBASAKI Gaku (Deportivo de La Coruna/Spain)

Interview of OSAKO Yuya (Werder Bremen/Germany)

SAMURAI BLUE (Japan National Team) vs Paraguay National Team
Date: Thu. 5 September 2019 19:20
Venue: Kashima Soccer Stadium, Ibaraki
2022 FIFA World Cup Qatar / AFC Asian Cup China PR 2023 Preliminary Joint Qualification - Round2
Myanmar National Team vs SAMURAI BLUE (Japan National Team)
Date: Tue. 10 September 2019 18:50
Venue: Thuwunna Stadium (Yangon, Myanmar)