NEWS
SAMURAI BLUE earns win over Paraguay with the help of Osako and Minamino's goals at the KIRIN CHALLENGE CUP 2019
06 September 2019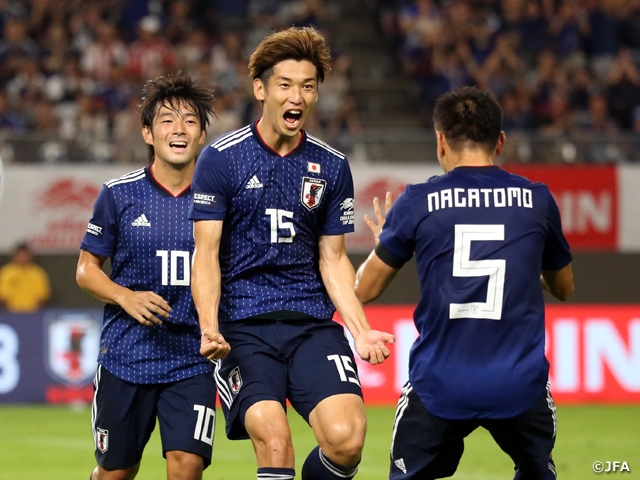 On Thursday 5 September, the SAMURAI BLUE (Japan National Team) faced the Paraguay National Team in the KIRIN CHALLENGE CUP 2019 taking place at Kashima Soccer Stadium and won the match 2-0 with the help of goals scored by OSAKO Yuya (Werder Bremen) and MINAMINO Takumi (FC Red Bull Salzburg).
Japan started Osako as their lone striker, with Minamino in the number 10 role, while positioning DOAN Ritsu (PSV Eindhoven) and NAKAJIMA Shoya (FC Porto) in the flanks. It was the first time these four players shared the field since they faced Venezuela last November.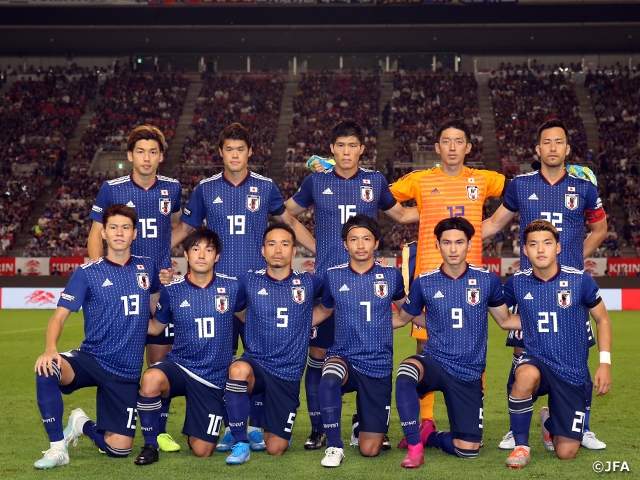 In the early minutes of the match, midfielder SHIBASAKI Gaku (Deportivo de La Coruna) carried the ball up the right flank before sending a cross towards the middle, while Nakajima dribbled passed the opposing defenders to create opportunities, as Japan tested the waters to get themselves on the same page.
The opening goal came in the 23rd minute, when the ball was connected through HASHIMOTO Kento (F.C. Tokyo), Nakajima, and Doan, before the ball was delivered to NAGATOMO Yuto (Galatasaray S.K.). The veteran fullback sent a cross from the left side that allowed Osako to convert with his left foot, as the Japanese striker later reflected, "it was a perfect delivery, so I just focused on connecting with the ball."
Soon after the opener, Doan came close to scoring a goal when he broke through from a counterattack, but his attempt was saved by the goalkeeper. In the 30th minute, Hashimoto once again initiated the attack, as he passed the ball to Nakajima, who found SAKAI Hiroki (Olympique de Marseille) running up the right flank. Sakai delivered a pin-point cross towards the centre where Minamino awaited to score the team's second goal of the match.
After advancing to the quarterfinals at the CONMEBOL Copa America Brazil 2019 in June, Paraguay changed up almost half of their roster before arriving to Japan. Following a long distance travel, the team had only one day to train with their entire squad prior to this match but still showcased great intensity to pressure the ball and built their attacks through great ball movements.
In the 36th minute, Braian SAMUDIO struck a sharp shot after receiving the ball from Derlis GONZALES, which led to a corner kick, where Richard SANCHEZ fired a powerful volley to threaten the Japanese goal, but in both occasions, goalkeeper GONDA Shuichi (Portimonense S.C.) made a superb save to keep the clean sheet intact.
After finishing the first half with a 2-0 lead, Japan made changes to their line-up, as KUBO Takefusa (RCD Mallorca), HARAGUCHI Genki (Hannover 96), and UEDA Naomichi (Cercle Brugge K.S.V.) were brought in to replace Doan, Nakajima, and Sakai, while TOMIYASU Takehiro (Bologna FC 1909) was shifted to the right fullback position.
In efforts to further extend the lead, Kubo and Tomiyasu led the attacks from the right side. Kubo made attempts from freekicks earned by himself in the 50th and 63rd minute, while connecting with Haraguchi's cut back in the 58th minute to threaten the Paraguayan goal.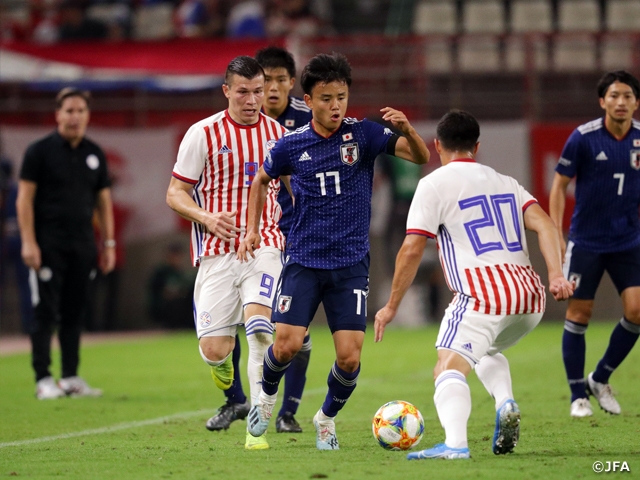 Moments after NAGAI Kensuke (F.C. Tokyo) and ANZAI Koki (Portimonense S.C.) were introduced to the match, Kubo penetrated the right side of the penalty area and fired a shot that struck the cross bar.
Paraguay tirelessly made their efforts to get on the scoreboard, but fell short to convert, as their final opportunity came when Samudio delivered a cross that found Oscar ROMERO unmarked at the centre, but the striker's attempt at goal was denied by Gonda.
The second half ended with neither side scoring goals, as Japan dominated the match by firing 19 shots opposed to Paraguay's 5 shots and earned their first victory since winning over El Salvador in June.
The SAMURAI BLUE will depart Japan on Friday 6 to make their ways to Yangon ahead of their first match of the Asian qualifiers for the FIFA World Cup Qatar 2022, as they are set to face the Myanmar National Team on Tuesday 10.
Also, prior to this day's match, Japanese defender YOSHIDA Maya (Southampton FC) and Paraguayan defender Fabian BALBUENA both gave a speech as part of the respect campaign carried out by the JFA, and the SAMURAI BLUE wore jerseys with the new logo of the campaign, "RESPECT – to cherish."
Coaches and Players' Comments
MORIYASU Hajime, Coach of SAMURAI BLUE (Japan National Team)
I am glad that we were able to win against a strong team like Paraguay and deliver a victory to our supporters. We had a difficult time conditioning ourselves ahead of this match, but each player did a great job to prepare themselves within the limited time frame while sharing a mutual understanding on how to approach the match as a team. The four players in the attacking third communicated well with each other while showcasing a great performance to break down the opposing defence, both as a group and as individuals. Their ability to maximise their strengths on the pitch helped them create great opportunities, while the rest of the team also did well to utilise their strong points. It was also nice to see our attacking players getting involved in defence. This win was a result of our players showcasing what we have been working on. However, we weren't able to convert our chances to score the third goal and had some shaky moments during this match. We must not sit on our laurels and continue to strive to reach higher goals. There will be many challenges we must face at the World Cup qualifiers and the first match will always be a tough one. We all know what happened last time, when we drew against Singapore in our first match of the qualifiers. We will prepare ourselves in the best way possible in order to earn the full three points against Myanmar and enter the match with a strong sense of commitment.
DF #2 UEDA Naomichi (Cercle Brugge K.S.V.)
I am glad that I was able to showcase an improved version of myself here in Kashima. As a second half substitute, it was great that we were able to keep a clean sheet, but we weren't able to score the third goal, which was part of our responsibilities. Our team seemed to have slowed down in the second half, and I feel like we had to communicate more with each other in order to change the dynamics.
DF #16 TOMIYASU Takehiro (Bologna FC 1909)
I feel like I did alright to make the adjustments to play as a fullback as well. It is expected that we will be spending a lot of time in offence at the competitions in Asia, so it is important that the defenders are fully prepared against counterattacks. However, we were not perfect in that aspect in today's game. We need to be more focused and communicate more with each other in order to improve our overall performance.
DF #22 YOSHIDA Maya (Southampton FC)
We showed good transitions between offence and defence in the first half, but we made too many mistakes in the second half. We saw ourselves losing the ball after forcing turnovers, so we need to improve in that aspect.
MF #7 SHIBASAKI Gaku (Deportivo de La Coruna)
The goals came from very good combination plays and we were able to showcase great creativity throughout the match, so that's something we can be proud of. We were also able to manage the risks, as we kept our focus to deny our opponent from creating opportunities from counterattacks. Throughout the match, we saw many positives that we need to continue on in the future matches.
MF #10 NAKAJIMA Shoya (FC Porto)
I feel like we were able to play a very good game. We are now aware of each other's characters, so we were able to draw out the strong points of our teammates.
MF #17 KUBO Takefusa (RCD Mallorca)
The match was about to turn into a see-saw game, and I wanted to capitalise on this given opportunity, so I entered the match with a strong intention to score a goal. Now that we have won our match today, we just need to reset our minds towards our next match and start fresh from tomorrow.
FW #15 OSAKO Yuya (Werder Bremen)
Being able to score at this stadium will give me a positive momentum towards our next match. We managed to initiate many counterattacks and created many opportunities. We were also able to keep a good distance between each other as well. However, there were chances to score the third goal, so that's an aspect I must improve on ahead of our next match.
Eduardo BERIZZO, Coach of Paraguay National Team
We weren't able to put up an equal bout in terms of the physical aspect, as we struggled to deal with Japan's speed at one-on-one situations. We were also troubled by the plays of their two forwards and side halves. Although we managed to showcase an organised defence in the second half, Japan had the upper hand overall and they deserved the win. This match could have gone beyond 2-0 and Japan showed great defence. I must say that we were deeply affected by the long travel and the short preparation time.
Schedule
Squad & Schedule of SAMURAI BLUE (Japan National Team)


SAMURAI BLUE (Japan National Team) vs Paraguay National Team
Date: Thu. 5 September 2019 19:20
Venue: Kashima Soccer Stadium, Ibaraki
2022 FIFA World Cup Qatar / AFC Asian Cup China PR 2023 Preliminary Joint Qualification - Round2
Myanmar National Team vs SAMURAI BLUE (Japan National Team)
Date: Tue. 10 September 2019 18:50
Venue: Thuwunna Stadium (Yangon, Myanmar)