NEWS
[Special feature] Understanding the GK position: Interview with JFA GK Project Leader KAWAMATA Noriyuki Vol.2
04 June 2020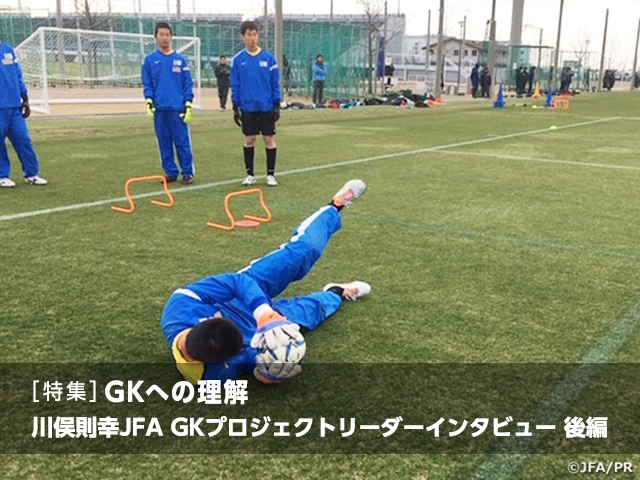 As the leader of the JFA GK Project, KAWAMATA Noriyuki has given his efforts to promote, develop, and strengthen the GK position and GK coaches. Here we have conducted an interview regarding the changes and improvements he has seen over the years, and future plans for the project.
Interview date: 23 December 2019
*This article was originally posted on the Japan Football Association Newsletter, "JFAnews," February 2020 edition.
Sharing good examples to create better environments for GKs
――There must be many challenges to train GK coaches.
KAWAMATA We are seeing a growing number of licensed GK coaches, but in relation to the number of registered teams in Japan, there are only one licensed GK coach per 13 teams. When looking at the U-12 category, there are only one coach per 15 teams, making this issue very critical for the younger categories.
GK C-Licence Coaching Course, a fundamental course for GK coaches, used to be held once a year, but now there are 10 courses held annually. Whilst the number of courses is increasing, we must also implement easier ways for the participants to join these courses, such as having the courses hosted by prefectural FAs and conducting weekend courses instead of training camps.
――What else do you want to implement to these coaching courses?
KAWAMATA We would like to hold more workshops and refresher courses to give the GK coaches more opportunities to gain inspiration from others. JFA has been holding an annual refresher training course for GK coaches, which is gaining great reputation from the participants, so we hope to build on this course to make the contents more accessible for GK coaches throughout the country.
――Many teams do not have GK coaches. What kind of support can you provide?
KAWAMATA We have gathered coaches and GK coaches of participating teams of last summer's national championship, and held a "GK coach information exchange meeting," where we held many discussions. During this meeting, many have voiced their concerns about the lack of GK coaches at the junior high and high school category. On the other hand, some shared positive cases: a high school team requested a GK coach from their rival school to coach them once a week, school graduates coming back to their school to help out their former team. There was also a GK coach who made a living by coaching for several teams. It was great to know that many people are putting in the efforts to improve the environments for the GKs.
It must also be noted that prefectural FAs are actively holding their own GK training centres system and GK camps, providing sources for GKs to gain expert coaching and insights of the position despite not having a GK coach in their team. JFA will share these positive examples and continue to provide support for these activities.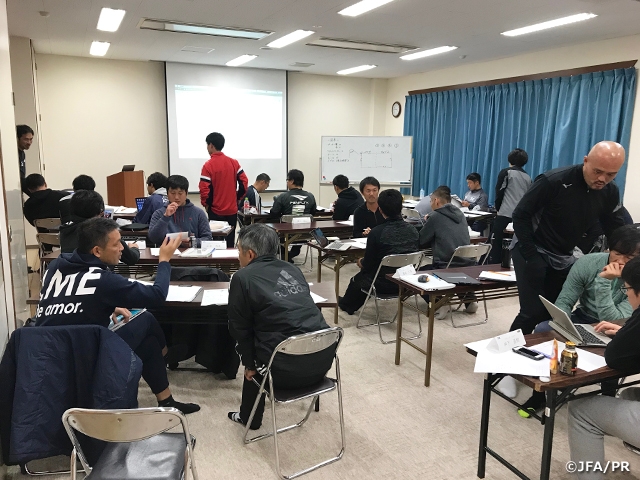 While the acquisition of GK licence is recommended
many workshops are also made available for the coaches
――It is important that not only the GK coaches, but other coaches and parents understand the mental aspects of a GK.
KAWAMATA That is correct. In some of the GK schools held by J.League clubs, there are courses for parents to experience what it is like to be a GK. Through actual experience, participants are able to learn how hard it is to be a GK, and it provides a new perspective towards the position.
I remember seeing a coach of a junior high school team wearing a GK's glove during the team's pre-match warmup session. There was another incident where a high school head coach came to one of the courses to obtain a GK coaching licence because he wanted to be able to coach the GK player in his team. It is particularly important that football coaches have an understanding and the know-hows to coach not only the field players, but GKs as well.
――It is important to coach football including the GKs.
KAWAMATA GKs are part of football. Just because a coach does not understand the GK position, it does not mean that he or she can leave the GK and the GK coach to take care of the position themselves, because you may not be able to give the correct directions for linking the plays between the field players and GKs.
On the flipside, we also tell the participants of our GK coaching courses that they cannot be a GK coach that only understand about GKs. It is ideal that these football coaches understand the fundamentals of football, while also having the speciality to coach GKs.
Regardless of their speciality, all coaches can share a common standard and perspective to deepen the understanding of football. With this kind of approach, teams will certainly get better and it will raise the overall level of GKs in Japan as well.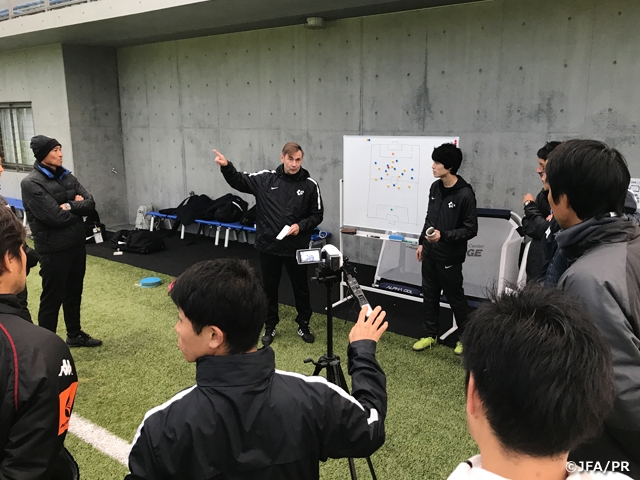 An influence course was held prior to the new GK A Licence Training Course in 2019
(Pictured in the centre is the course's instructor Mr. Frans HOEK)