NEWS
[Empress's Cup Special] Interview of KAIHORI Ayumi and STAMBAUGH Hannah (INAC Kobe Leonessa) Vol.2
25 November 2020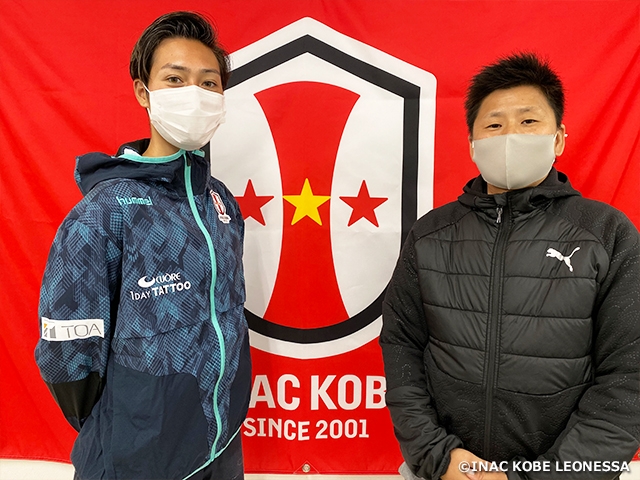 The Empress's Cup JFA 42nd Japan Women's Football Championship is about to kick-off on Saturday 28 November. Ahead of the tournament, we have conducted an interview between former member of the Nadeshiko Japan (Japan Women's National Team) KAIHORI Ayumi and INAC Kobe Leonessa's GK STAMBAUGH Hannah.
○Interviewed online: Thu. 29 October 2020
――Ms. Kaihori, you have won five Empress's Cup titles with INAC Kobe Leonessa. Do you have any match or tournament that stands out in your memory?
KAIHORI I have two matches that I strongly remember. The Empress's Cup final in 2008, which was the first year I played in the tournament, and the final in 2015. In my first Empress's Cup, we lost to Nippon TV Beleza 1−4 at the final. That is where it all started for me. The second match was the final match of my career. It was also the retirement match of my teammate, SAWA Homare, which attracted over 20,000 people at Todoroki Stadium, and we conceded zero goals throughout the tournament. Many people came to watch us, and I was able to keep a clean sheet in my final match, so that match left a strong impression. Stambaugh came to watch that match, right?
STAMBAUGH Yes I did! I was totally amazed watching that match from the stands. The view from the pitch must have been special when there is over 20,000 people watching the match. I was in the stands, so it really made me want to be on the pitch someday.
KAIHORI The tournament final used to be held at the same day and venue of the Emperor's Cup final, so the match used to be held with a huge crowd. We were so fortunate to be able to play under such environment. The supporters of the men's clubs playing in the Emperor's Cup would cheer us with their drums and it was a very fun experience.
――Ms. Stambaugh, do you have a match you remember in particular?
STAMBAUGH My final tournament with the JFA Academy was the Empress's Cup (in 2016), so that was a stage to showcase everything we have worked at the Academy. We were in a spot where we can face a team from the first division of the Nadeshiko League if we win the first round, so we really wanted to advance to the second round. There are always one or two major upsets at the Empress's Cup each year, so we seriously wanted to stir up the tournament. In fact, we did manage to win our first match and face JEF United Ichihara Chiba Ladies at the second round, so that tournament really left a strong impression.
KAIHORI Compared to league matches, the Empress's Cup is played in a knockout format. Teams from the first division of the Nadeshiko League are seeded in the tournament, so usually our opponents have already built a momentum after playing a few matches ahead of us. That is why there are so many giant killings at the Empress's Cup, and that is one of the main attractions of the tournament.
――From the stand point of a GK, tell us the essential qualities to make a deep run at a knockout tournament.
STAMBAUGH I think it is composure. While every team is looking to win, you must be able to subdue the opponent's momentum. Strategies and mental preparation can be used to subdue the opponent's momentum, so it is important that you keep yourself and your team composed at all times.
KAIHORI When you concede a goal, it takes a lot of time and energy to make up for it, so keeping a clean sheet is crucial point. Each team has its ideal playing style, but at this tournament, you must prioritise a style that can win matches, so the experienced players can have a huge impact at this tournament.
――Ms. Kaihori and Ms. Stambaugh have both won the world title at the FIFA Women's World Cup 2011™ and FIFA U-20 Women's World Cup 2018, respectively. Does that experience from the world stage translate to the competitions at the Empress's Cup?
STAMBAUGH I think so. The World Cup consists a group stage, but nonetheless, the tournament is played within a short period of time, so in a sense, it is like a knockout format. At the U-20 Women's World Cup, we lost our second match, but managed to win the remaining matches. Through that tournament, I learned the importance to deal with the pressure, especially because we were in spots where we could not lose any more matches.
KAIHORI In my case, the experience I gained at the Empress's Cup final has helped me at the World Cup final. The Empress's Cup final used to be held on the same day and venue of the Emperor's Cup final, so I had the experience of playing in front of tens of thousands of people. If it was my first time playing in front of a large crowd, I think I would have been overwhelmed by the pressure, because I actually did get overwhelmed in my first time playing in front of a large crowd. By winning the World Cup, we were able to draw people's attention to the Nadeshiko League, so I feel like the experience we gained at the Empress's Cup was put in good use.
――Lastly, Ms. Stambaugh, share us with your aspiration for the upcoming tournament. Ms. Kaihori, can you give a message towards the players who will be playing at the tournament?
STAMBAUGH This is a dream stage for those advancing through the qualifiers, so let's make this an exciting tournament. Teams with tremendous momentum will clash against powerhouses. There will be intriguing fixtures that cannot be seen during the league competition, so I hope to spread the word and try to showcase a performance that can meet and exceed the viewers expectations. Although our team will be seeded, we will not sit on our laurels, and enter the tournament as a challenger.
KAIHORI It is great that we are able to hold this year's Empress's Cup, despite the ongoing pandemic. Many leagues have been cancelled and for some teams, the Empress's Cup qualifiers were the only official matches they have played this year. I hope everyone can embrace and express the joy of playing football, play to their full potential, and showcase a match that can be a long lasting memory.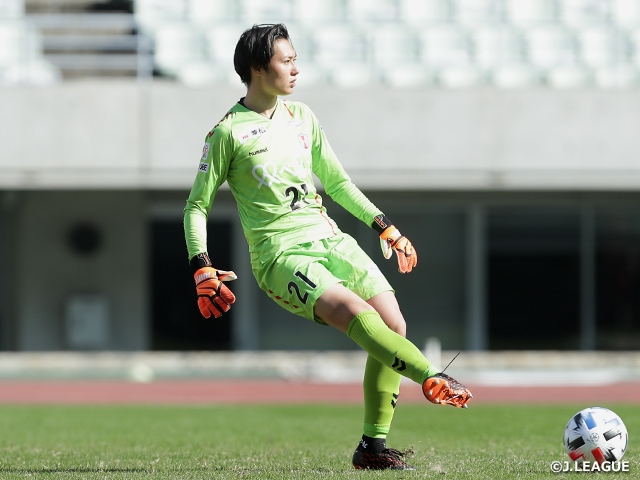 Empress's Cup JFA 42nd Japan Women's Football Championship
Tournament Duration: Sat. 28 November - Tue. 29 December 2020
【1st Round】Sat. 28 / Sun. 29 November
【2nd Round】Sat. 5 / Sun. 6 December
【3rd Round】Sat. 12 / Sun. 13 December
【Quarterfinals】Sat. 19 / Sun. 20 December
【Semi-Finals】Thu. 24 December
【Final】Tue. 29 December