NEWS
Athletico Paranaense defeats Shonan Bellmare to claim International Title at the J.League YBC Levain Cup / CONMEBOL SUDAMERICANA Championship Final 2019 Kanagawa
08 August 2019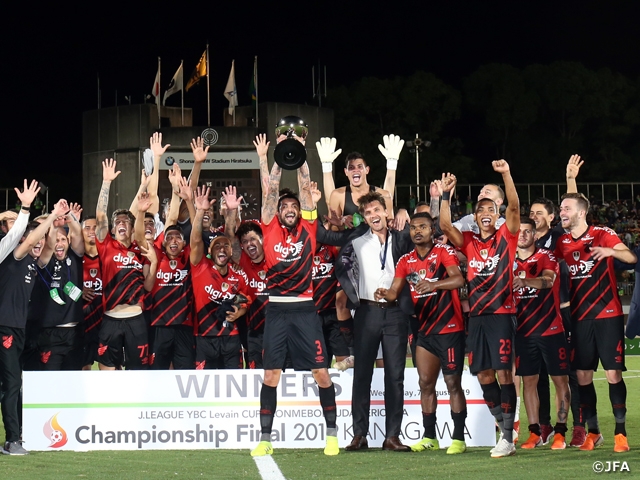 On Wednesday 7 August, Shonan Bellmare faced Brazil's Athletico Paranaense in the J.League YBC Levain Cup / CONMEBOL SUDAMERICANA Championship Final 2019 Kanagawa at Shonan BMW Stadium Hiratsuka.
While Athletico Paranaense attacked aggressively from the early minutes, Shonan responded by applying high pressure from their front line. Following the 25th minute mark, Shonan started to increase their ball possession, which led to an opportunity created in the 37th minute, when TOKAC struck a powerful shot that shook the net, but the play was called back with an offside call.
Despite the close opportunity created by Shonan, it was the Sudamericana champions who struck first. In the 41st minute, Athletico Paranaense initiated an attack from a long feed to the flank. Although the initial cross delivered by Bruno NAZARIO was blocked by the Shonan defenders, WELLINGTON was there to collect the loose ball and redeliver the ball towards the box, allowing Marcelo CIRINO to convert the cross with his header.
Shonan responded by taking a close shot at the end of the half but entered halftime with a one goal deficit. In efforts to rally back in the second half, coach CHO Kwi Jae made three changes to their line-up. To add more dynamics and speed to the game, SUGIOKA Daiki and KOBAYASHI Shota were brought to the flanks, while SAITO Mitsuki was also introduced to the match to add layers to their midfield.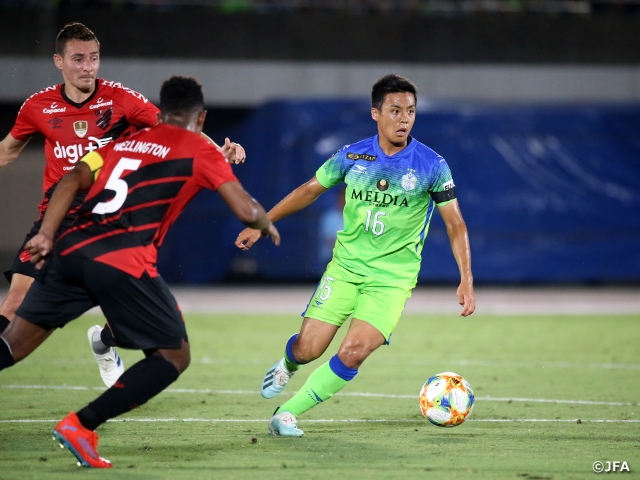 The second half saw Shonan taking more risks to push forward while Athletico Paranaense took advantage of their approach. In the 51st minute, Athletico initiated a quick counterattack that allowed RONY to penetrate the left side. The Brazilian attacker made his way into the centre before striking a beautiful shot that captured the net, doubling the lead for his side.
With a commanding lead, Athletico played with great composure to control their defence line while effectively evading the pressure applied by the Levain Cup champions. In the 63rd minute, Athletico's goalkeeper SANTOS delivered a pinpoint pass that exploited the open space behind the Shonan defence. It was the second half substitute, NIKAO, who responded to this delivery to break through the right flank before sending the last pass, allowing Thonny ANDERSON to score the team's third goal. Braian ROMERO closed out the match by scoring Athletico's fourth goal in the 85th minute as he dribbled past the Shonan goalkeeper.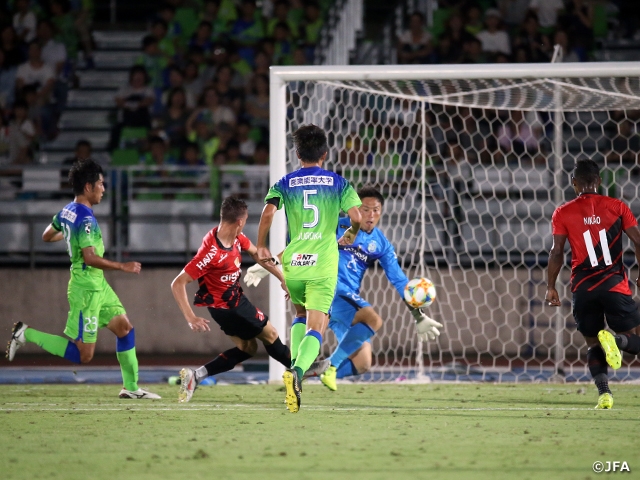 After the final whistle, players of Athletico expressed their excitement with great joy and celebrated their victory by lifting the trophy on a hot, humid night in Japan.
Coaches and Players' Comments
CHO Kwi Jae, Coach (Shonan Bellmare)
Although I chose today's line-up considering the conditions of our players, I don't think it would've made much difference regardless of the line-up. It's not just a matter of skills, but we made too many mistakes while our opponents hardly made any mistakes. I'm talking about the quality of decision making, not the technique itself. Our opponents slowed down their pace after taking a two goal lead, and their players were all on the same page to anticipate for their opportunity to counter us as we took risks to push forward. This match has really allowed me to realise my shortcomings as a coach. I don't think we need to change our style, but we need to learn from today's performance shown by Athletico Paranaense to become a winning team.
MF #16 SAITO Mitsuki (Shonan Bellmare)
The mistake I made that led to the second goal has cost us the game. Since I wasn't fully aware of the position of the opponent, I should have sent the ball forward. As our coach has mentioned, while our opponent didn't make any critical mistakes, we made too many mistakes. It felt like I was the first one to make such mistake in this match, so I have lots to think about. It also reinforced the fact that such mistake will get punished. It made me realise that I need to perfect the simple plays and be able to execute each play without making mistakes. The good side is that this match has given me lots to work on to improve as a player.
TIAGO NUNES, Coach (Athletico Paranaense)
Shonan is a very durable team and they didn't give us much space to work with, so we struggled to build our plays, especially in the first half. We were forced to utilising long balls to construct our offence and that led us to lose our rhythm. However, we were fortunate enough to capture the opening goal in a timely fashion. As a result, it left our opponent with no choice but to push forward, and it allowed us to anticipate for our opportunity to counterattack. Personally, this is my third title at Athletico, and it has become a milestone in my 20-year coaching career and another step towards increasing Athletico's international fame.
FW #10 MARCELO CIRINO DA SILVA (Athletico Paranaense)
In the scene where I scored the goal, I positioned myself in front of the goal, because I knew the ball was coming. I am happier about the team winning the title than my goal and assist. This was my second visit to Japan after visiting Toyota (Aichi) in 2008. I have a great impression of Japan, but I wish I could stay longer. Hopefully, I can come back in the future and spend more time to enjoy my time here.
J.League YBC Levain CUP/CONMEBOL SUDAMERICANA Championship Final 2019 Kanagawa
Tournament Date: Wed. 8 August 2019 19:00
Tournament Venue: Shonan BMW Stadium Hiratsuka, Kanagawa
Tournament Information