NEWS
Plenty of eye-catching matches including the Kanagawa Derby - Prince Takamado Trophy JFA U-18 Football Premier League 2022
17 June 2022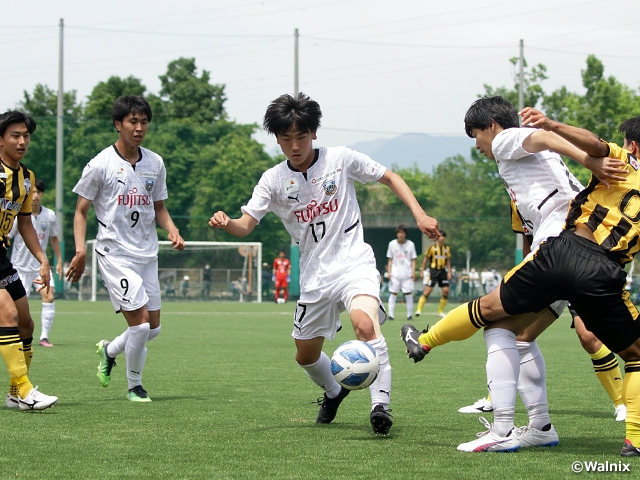 The ninth sec. of the Prince Takamado Trophy JFA U-18 Football Premier League 2022 will take place on Saturday 18, Sunday 19, and Wednesday 22 June.
EAST
Kawasaki Frontale U-18 (Kanagawa), who lead the EAST, will face sixth-placed Yokohama FC Youth (Kanagawa) in the Kanagawa derby. Kawasaki are still unbeaten in eight matches, with seven wins and a draw. They have not conceded more than two goals in any of their matches, showing that their solid defence underpins their attacking football. Yokohama FC, on the other hand, had a shaky start to the season with one win and three defeats in their opening four matches, but have been on an upswing with two wins and two draws in their last four. They will be seeking to take three points from league leaders Kawasaki to gain a foothold to advance up the table.
Yokohama F.Marinos Youth (Kanagawa), in second place behind Kawasaki, will play away to JFA Academy Fukushima U-18 (Shizuoka). Yokohama FM have scored a league-leading 29 goals in eight matches so far, and all eyes will be on them to see if they can continue that momentum in their first league match in nearly four weeks. In contrast, AC Fukushima has been struggling with just one win so far. With three draws, they have been collecting points but need a win to climb into the top half of the table. They will seek to make this a turning point in the season.
FC Tokyo U-18 (Tokyo), who provisionally dropped to fourth place after Maebashi Ikuei High School (Gunma) won their match on Sunday 29 May, will host Funabashi Municipal High School (Chiba) this week. Despite enjoying a strong run of five wins and one loss to start the season, FC Tokyo have lost their last two matches in a row. They will need to stop the skid in order to stay in contention for the title. On the other hand, Funabashi Municipal are in 11th place with one win, two draws and four losses. They have allowed the first goal in all four defeats, so they will want to start with a solid defence, which will lead to a good attack.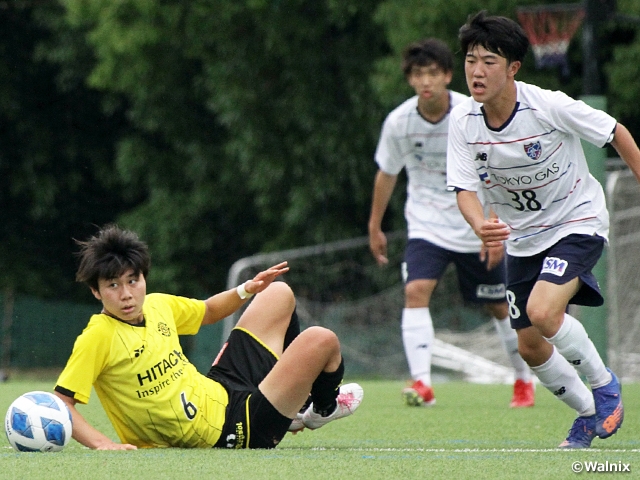 Elsewhere, seventh-placed Omiya Ardija U18 (Saitama) and eighth-placed Kashiwa Reysol U-18 (Chiba) will play each other.
WEST
In the WEST, second-placed Shizuoka Gakuen High School (Shizuoka) and third-placed Jubilo Iwata U-18 (Shizuoka) will face off at the top of the table. Shizuoka Gakuen, currently on a two-match winning streak, have scored three goals in each of their last two matches and are showing the qualities of a team that advocates attacking football. At the same time, their defensive solidity, with a league-low six goals conceded, has led to the team's consistency. Iwata also had two of their matches postponed but have continued their good form with two consecutive wins since the postponement. In their previous match against Riseisha High School (Osaka), GOTO Keisuke (#17) scored twice in the closing minutes to give them a comeback victory. They will be looking to continue their momentum and chase the top spot.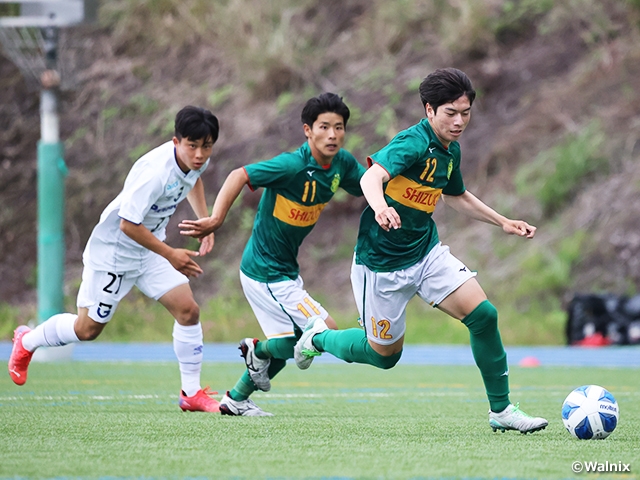 Fifth-placed Nagoya Grampus U-18 (Aichi) will play eighth-placed Shimizu S-Pulse Youth (Shizuoka). Nagoya, with three postponed matches so far, suffered their second defeat of the season in their last match against Sanfrecce Hiroshima FC Youth (Hiroshima). They will need to bounce back this week, as they get a fresh restart. Shimizu, on the other hand, continue to face a tough battle in their first campaign in the WEST. Having lost their last two matches 0-2, they will be looking to get their third win of the season by scoring first. Which side will come out on top in this match between two of J-Youth's finest?
Riseisha will host Vissel Kobe U-18 (Hyogo) this week. Playing in the Premier League for the first time in seven seasons, Riseisha are in ninth place with two wins, one draw, and four losses so far. They are currently in position to avoid relegation but are still in a very precarious position. Having conceded at least a goal in all seven matches, tied for the most in the league with 17, defensive stability will be key for their bid for victory. Their opponents this week, Kobe, also have more losses, with three wins and four losses. They won 2-0 against Shimizu in their last match and will be hoping to use this as an opportunity to move up the table. The showdown between two of Kansai's powerhouses is bound to intensify. Stay tuned to find out which team will triumph.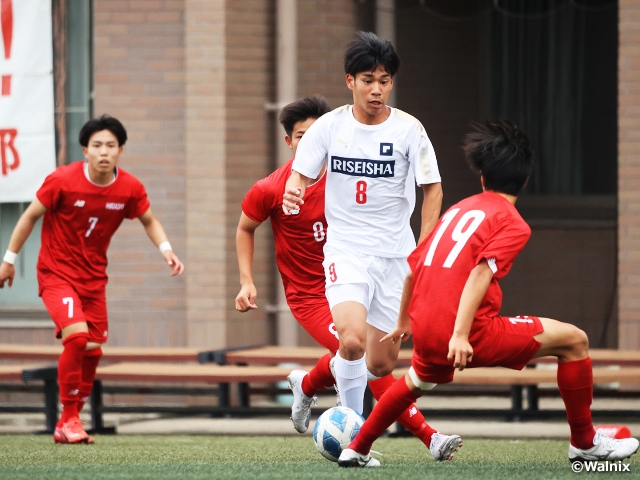 Prince Takamado Trophy Premier League Official Twitter
%E2%9A%BD 今週末開催%E2%9A%BD #高円宮U18 プレミアリーグ 2022%F0%9F%8F%86

%F0%9F%93%BA放送・配信対象試合%F0%9F%93%B1

☑ ジュビロ磐田公式YouTube#磐田 vs #静岡学園

☑ @jsports_soccer#横浜FC vs #川崎F#大宮 vs #柏

詳細はこちらから%F0%9F%94%97https://t.co/oAPnT9juTR#高校サッカー pic.twitter.com/8nYaXoLYo0

— 高円宮杯 JFA U-18サッカープレミアリーグ (@jfa_u18) June 17, 2022
Prince Takamado Trophy JFA U-18 Football Premier League 2022
League Duration: Sat. 2 April - Sun. 4 December 2022