NEWS
Riseisha and Kobe walk away with a point apiece - Prince Takamado Trophy JFA U-18 Football Premier League 2022
20 June 2022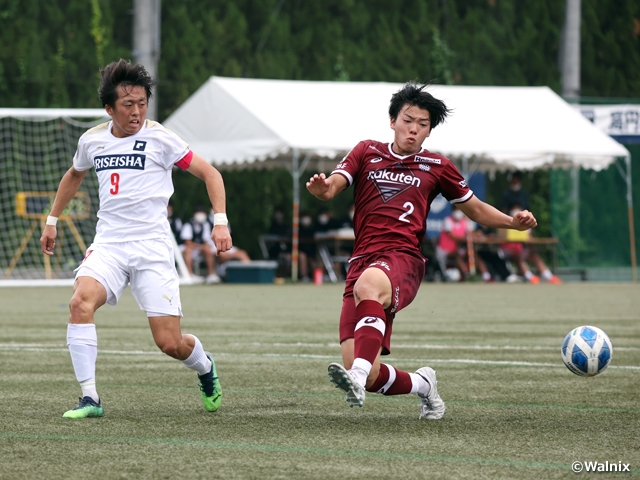 The ninth sec. of the Prince Takamado Trophy JFA U-18 Football Premier League 2022 WEST took place between Saturday 28 May to Sunday 19 June. On Saturday 18 June, Riseisha High School (Osaka) faced Vissel Kobe U-18 (Hyogo).
Featured Match
Riseisha High School 1-1 (1-1, 0-0) Vissel Kobe U-18
Since conceding a late equaliser to Cerezo Osaka U-18 (Osaka) in the sixth sec., Riseisha High School have lost back-to-back matches where they conceded the go-ahead goal in the 90th minute or later. The missed opportunities have taken its toll on their standing in the Premier League, but the team has managed to win through the Osaka preliminary round to qualify for the Inter-High School Championships in July, as MYOGAN Toya (#10) reflected on the team's progress during the break, "Everyone is more eager to play for the team. We have been able to raise the team unity through the Inter-High School Championships qualifiers."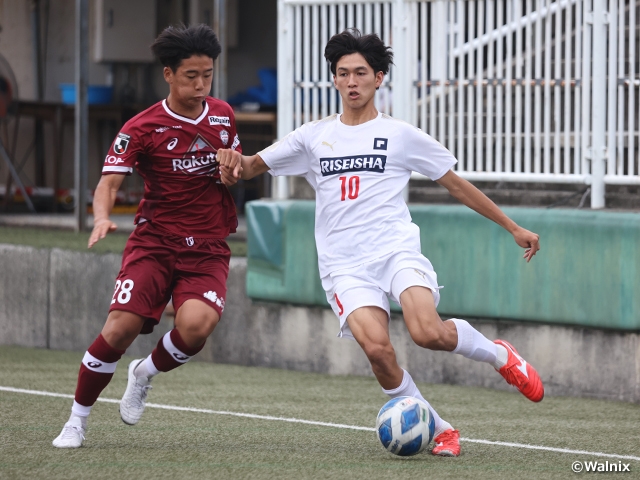 The match played at Riseisha Ibaraki Ground saw the home side using the momentum they built through the Inter-High School Championships qualifiers to take the initiative, as Riseisha quickly delivered the ball to FURUTA Kazunosuke (#9) and other attacking players to create chances. In defence, KAJINAMI Egao (#7) showcased great efforts to apply pressure from the midfield, while ODAMURA Yuki (#8) did well to collect the loose balls.
As Kobe's YOKOYAMA Shido (#2) later reflected, "Facing the aggressive pressure applied by our opponents, we could not possess the ball as we wanted," Riseisha took full control over the game in the early minutes, which led to the opening goal scored in the 24th minute. The goal scene came when Furuta drew a foul inside the box to earn a penalty kick, which he converted himself to give Riseisha the lead.
In efforts to level the score, Kobe sought for opportunities by collecting the ball to TOMINAGA Nina (#9) but struggled to create major threats. However, the visiting side managed to capitalise on their first opportunity created in the 45th minute, when Yokoyama converted the corner kick delivered by KATAYAMA Soshin (#6) to equalise the match just before the break.
Encouraged by the pep-talk given by Head Coach ABE Yuta, who told his players, "The season is a marathon. Sometimes things will not go our way, but we still need to strive to win each match," the Kobe side showed more eagerness to create chances in the second half but couldn't quite hit the target. Riseisha also struggled to find ways to score the second goal, as Myogan later reflected, "We had plenty of space to work with, but our decisions were too slow."
Despite the late rally showcased by Kobe, Riseisha stayed focused in defence to keep the score tied at 1-1. "We gave up some chances through set-pieces at the end, but we were able to apply enough pressure to keep the shots away from our goal. Despite conceding the equaliser, we don't mind settling for a point," said Riseisha's Myogan, while Kobe's Yokoyama mentioned, "We wanted to win, but it is much better than a loss, so we are happy with this result."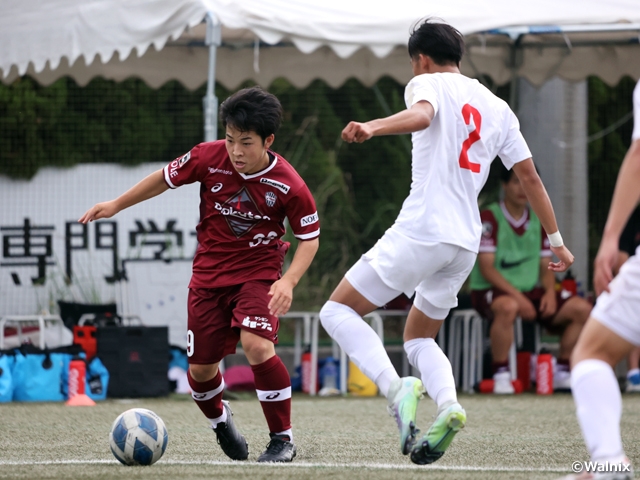 Coaches and Players' Comments
HIRANO Naoki, Coach (Riseisha High School)
We had been conceding late in our recent matches, and although there were some close moments, we managed to keep the second half scoreless today. The one goal we conceded came from a set-piece, and although we wanted to win, you can say that we are making progress. The players are making good challenges, and approaching the game with plenty of aggression, which will help them grow as players. We are walking away with a point, but I feel that it is worth more than a point for us. The players are starting to get a hold of something.
DF #20 HIRAI Yusuke (Riseisha High School)
I used to play for Vissel Kobe U-15, so this was a match I couldn't afford to lose. Knowing many of their players, I was both excited and fired up for this match. Their number nine, Tominaga Nina, was an amazing player since his time in junior high school, so I focused on containing him as much as possible. I was determined to win each duel. Although there were some close moments at the end, I am glad we were able to keep our opponents scoreless in the second half.
ABE Yuta, Coach (Vissel Kobe U-18)
At the beginning of the season, there was a lot of anxiety among the players and the team. But even under such circumstances, we always stayed true to our players and strived to make progress through each match, which allowed us to earn our ticket to the JAPAN Club Youth (U-18) Football Championship. We still have lots to work on, but the team will inevitably get better once we get our injured players back. We still have four more matches ahead of the Club Youth Championship, so we will continue to make progress ahead of the national competition.
DF #2 YOKOYAMA Shido (Vissel Kobe U-18)
Although we had a shaky start to the season, we have not lost a match since facing Shimizu S-Pulse Youth in the eighth sec., including matches outside of the Premier League. We are communicating well and staying on the same page as a team, which are some of the reasons for our recent success. We are making conscious efforts to improve our plays after winning the ball. We hope to build a positive momentum by winning all four matches ahead of the Club Youth Championship.
Results of other matches
Cerezo Osaka U-18 3-1 (2-0, 1-1) Sagan Tosu U-18
Gamba Osaka Youth 0-0 (0-0, 0-0) Sanfrecce Hiroshima FC Youth
Higashi Fukuoka High School 1-0 (1-0, 0-0) Ozu High School
Jubilo Iwata U-18 2-1 (0-1, 2-0) Shizuoka Gakuen High School
Nagoya Grampus U-18 1-1 (1-1, 0-0) Shimizu S-Pulse Youth
Cerezo Osaka U-18 (Osaka) welcomed Sagan Tosu U-18 (Saga) to their home, where SARARA Ritsuki (#12) scored a brace to help his side win 3-1. The match between Gamba Osaka Youth (Osaka) and Sanfrecce Hiroshima FC Youth (Hiroshima) ended in a scoreless draw. The 32nd minute goal scored by YOSHIDA Taiko (#4) was what separated the two Kyushu sides, as Higashi Fukuoka High School (Fukuoka) earned three points over Ozu High School (Kumamoto). Thanks to the goals scored by ITO Takeshi (#9) and FUNAHASHI Kyota (#20), Jubilo Iwata U-18 (Shizuoka) managed to come from behind to win over their prefectural rivals Shizuoka Gakuen High School (Shizuoka). Nagoya Grampus U-18 (Aichi) and Shimizu S-Pulse Youth (Shizuoka) each scored apiece in the first half to share a point.
Prince Takamado Trophy Premier League Official Twitter
%F0%9F%8F%86#高円宮U18 プレミアリーグ 2022%F0%9F%8F%86
%E2%9A%BD第9節 試合結果%E2%9A%BD

%F0%9F%94%B4EAST%F0%9F%94%B4%F0%9F%9F%A2WEST%F0%9F%9F%A2
両リーグの対戦結果はこちら%E2%98%9D#高校サッカー pic.twitter.com/qLnMESV8qP

— 高円宮杯 JFA U-18サッカープレミアリーグ (@jfa_u18) June 20, 2022
%F0%9F%8F%86#高円宮U18 プレミアリーグ 2022%F0%9F%8F%86
%E2%9A%BD暫定順位表%E2%9A%BD

%F0%9F%94%B4EAST%F0%9F%94%B4%F0%9F%9F%A2WEST%F0%9F%9F%A2
両リーグの暫定順位表はこちら%E2%98%9D

延期試合が発生したため、EAST・WEST共に暫定順位となります。#高校サッカー pic.twitter.com/8fvfWpR3Eb

— 高円宮杯 JFA U-18サッカープレミアリーグ (@jfa_u18) June 20, 2022
Prince Takamado Trophy JFA U-18 Football Premier League 2022
League Duration: Sat. 2 April - Sun. 4 December 2022