NEWS
Women's Football Day Briefing Session and Women's Leadership Symposium held while JFA Women's Leadership Programme completes final module
01 March 2021
On Sunday 28 February, Japan Football Association (JFA) held a briefing session regarding JFA Women's Football Day and the JFA Women's Leadership Symposium online.
For the JFA Women's Football Day briefing session, Chair IMAI Junko of the JFA Women's Committee and Vice President Thomas SAILER of adidas Japan K.K. took the podium. In collaboration with the "International Women's Day" established by the United Nations, JFA has decided to declare 8 March as "JFA Women's Football Day" at its board meeting held on May 2019. At the session, Chair Imai reported that the Nadeshiko Japan's (Japan Women's National Team) wore yellow scarfs and armbands provided by their official apparel provider, BEAMS Co., Ltd. in 2020, and that a full-page advertisement of their statement was posted on Asahi Shimbun in efforts to spread the awareness.
A report on the "HER TEAM," a collaborative project held by adidas Japan and JFA, was given by VP Sailer. A total of 67 teams applied for this project, which supports the establishment of girls' football teams at the junior high school category, and it was announced that the project will continue in 2021.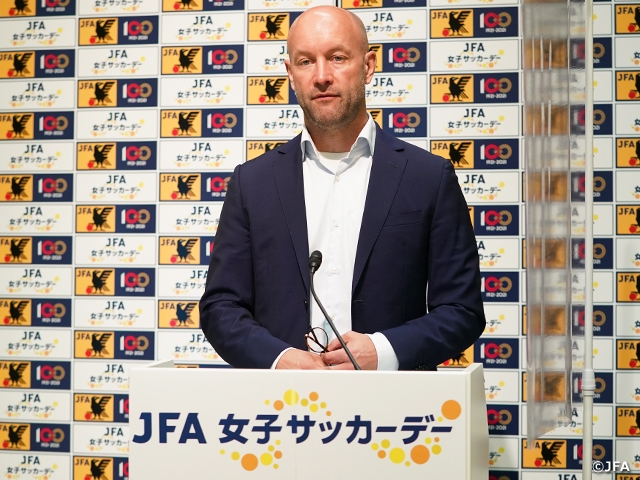 Chair Imai revealed their plans for the 2021 JFA Women's Football Day, "We will conduct various activities throughout the nation during the month of March." Focusing on the themes, "Promotion" and "Society," she also shared that they would strive to increase the population of women's football while supporting the active participation of women in society.
In addition, it was announced that JFA will cooperate with Bunkyo Ward's International Women's Day Symposium held online on Friday 5 March, that the JFA Girls Festival and Walking Football will be held at Prince Takamado Memorial JFA YUME Field on Saturday 13 March, and their collaboration with the football manga "Farewell, My Dear Cramer."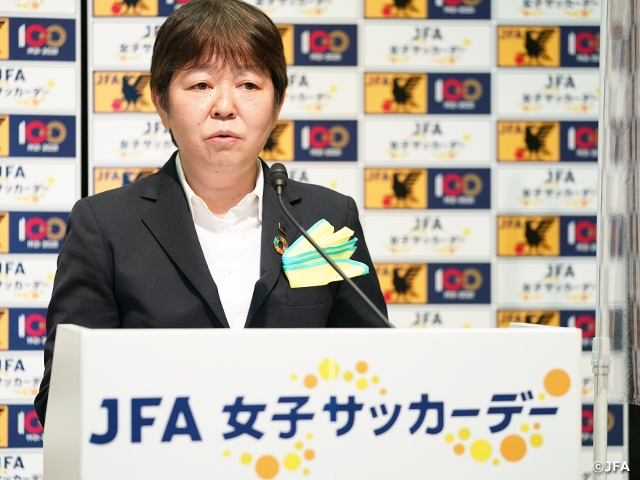 The JFA Women's Leadership Symposium followed the briefing session, as Executive Director YAMAGUCHI Kaori of the Japanese Olympic Committee acted as the facilitator. At the symposium, President TASHIMA Kohzo of JFA, Chair OKAJIMA Kikuko of the WE League, President MITSUYA Yuko of the Japan Basketball Association, and Executive Director IWABUCHI Kensuke of the Japan Rugby Football Union took the stage to talk about women's advancement and leadership.
It is said that the percentage of women taking active roles in the Japanese society is lower than Western countries and in 2019, the Japan Sports Agency stipulated in the "Governance Code," which is the managerial guideline for sports organizations, that each executive board should consist more than 40% of female directors. However, the percentage of female officers remains to be low, and there are voices from each organization that there are not enough "human resources" or "women who are willing to take the position."
Executive Director Iwabuchi shared the current situation of the Rugby Union, "five out of 24 directors are women, which is just over 20%," and continued by mentioning, "It is not that we don't have enough human resources, but it could be the case that we are not searching enough. Age and gender must not be a barrier, and we must take action with the recognition that organizations can only grow through diversity."
President Mitsuya also commented, "I have noticed that many women refuse to take office as a director because they have never assumed such position. It is important that we nurture more people who are willing to take on the challenge. We do not know how it will turn out, but we must not be afraid of failure, and do what we can within our power."
During the discussion about leadership required in the sports scenes in the future, Chair Okajima talked about her role in the WE League.
"I would like to set up various paths in order to provide more work options for women, but this cannot be accomplished by myself nor just the football community. We need help from other organizations, so as the Chair of the WE League, I will strive to become a leader who can prompt involvements of other organizations."
JFA President Tashima shared his perspective on leadership, "We must always stay true to our principles, and that is something we must always be aware of." The president continued by stating, "I would like to take the initiative to create a society in which women can play an active role."
This symposium also served as the final lecture of the "JFA Women's Leadership Programme," which took place on 27 and 28 February, as the participants listened closely to the speakers.
Following the symposium, the completion ceremony for the leadership programme took place, as 12 first-year students were presented with a certificate and a commemorative ball. With the four-month programme coming to an end, JFA President Tashima and Chair Okajima both gave words of encouragement to the participants, "Congratulations. The future is yours. Do not be afraid to make mistakes, and even if you do make mistakes, remember to make the most out of them. I am looking forward for your future success." "I hope that you will feed off of what you have learned at this programme and use it to accomplish you goals."
Participants Comments
TEZUKA Takako, Member of JFA Executive Committee
At this final module, I was able to see the passion of each student through the presentations of individual and group assignments, and there were so many new findings. It is important that I make the most of what I have learned through this programme and take action. I am determined to tackle various issues of our society while staying in touch with the participants and teachers of this programme.
TATSUMI Yukari, Executive Director of Japan Futsal Federation
To be honest, when I was asked if I would like to participate in the JFA Women's Leadership Programme, I felt that it was a heavy burden. By listening to stories of other participants involved in football from various positions, I was given the opportunity to think about women's empowerment, which was something that didn't come across my mind before. As I completed each session, I realised that I was more devoted into the programme's principles. It made me think that I need to be more confident with the path I had taken, take another step further to become a better version of myself, and think about my future involvement with our society. This programme has given me a tremendous opportunity to learn about myself, and I am truly grateful for that.