NEWS
JFA renews partnership with Football Association of Singapore
04 April 2022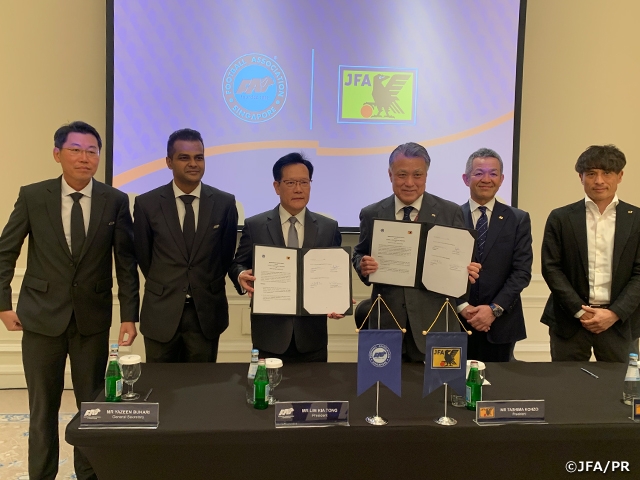 Japan Football Association (JFA) signed a renewed Memorandum of Understanding (MoU) with Football Association of Singapore (FAS) on 1 April 2022.
The MoU focuses on knowledge sharing and exchange programmes in order to cooperate together for further development of football in both Singapore and Japan.
The signing ceremony took place at Four Season Hotel in Doha, Qatar, and the ceremony went in an amicable manner with the presence of Mr. LIM Kia Tong, FAS President, Mr. Ben TENG, FAS Vice President, Yazeen BUHARI, FAS General Secretary, as well as Mr. TASHIMA Kohzo, JFA President, Mr. SUHARA Kiyotaka, JFA General Secretary & Chief Executive Officer, and Mr. MIYAMOTO Tsuneyasu, JFA Executive Committee Member. Both Football Associations positively discussed as to how football exchanges can be enhanced through the renewal of partnership this time, and expressed expectation for the future initiatives.
The MoU between FAS and JFA aims to cooperate with each other in the areas as follows:
1. Coach Education
2. Grassroots programmes and football development in the local community
3. Education of referees and development of Referee instructors
4. Friendly matches, camping for National teams of each category
5. Sports Science, Sports Medicine, Physical fitness matters
6. Marketing
7. IT/Digital
8. Exchange programmes for technical personnel, administrative, and management staff
9. Football administration and management
Until today JFA has signed a MoU with the following football associations, confederation and club:
[Asia]
East: Chinese Taipei, Hong Kong, Mongolia
ASEAN: Indonesia, Laos, Malaysia, Singapore, Thailand, Vietnam
Central: Iran, Uzbekistan
West: Jordan, Oman, Qatar, United Arab Emirates
[Europe]
Belgium, Denmark, England, France, Germany, Russia, Spain, FC Bayern München
[South America]
CONMEBOL, Argentine, Paraguay, Venezuela