NEWS
JFA Academy Fukushima hand second loss to league leaders Kawasaki - Prince Takamado Trophy JFA U-18 Football Premier League 2022
12 September 2022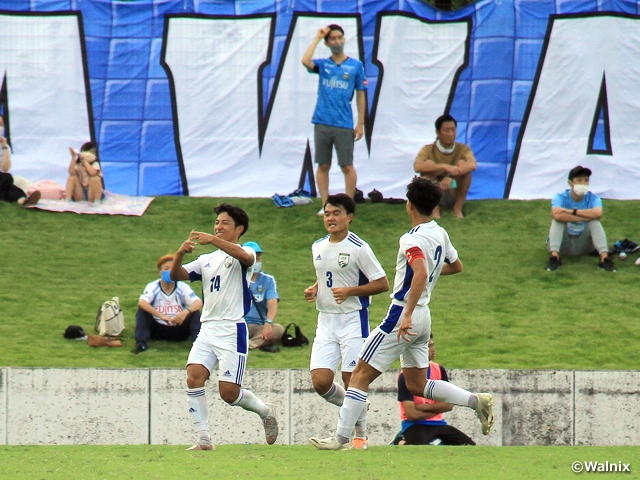 The 14th sec. of the Prince Takamado Trophy JFA U-18 Football Premier League 2022 EAST took place on Sunday 11 September. At Hodogaya Park Soccer Field, league leaders Kawasaki Frontale U-18 (Kanagawa) faced JFA Academy Fukushima U-18 (Shizuoka).
Featured Match
Kawasaki Frontale U-18 0-1 (0-1, 0-0) JFA Academy Fukushima U-18
Fukushima, who entered the match in 10th place, showed great aggression from the outset, applying plenty of pressure to induce mistakes from their opponents. Their attack-minded approach led to a foul committed by Kawasaki inside the penalty area, allowing SEKI Hinata (#14) to convert the spot kick and give the Fukushima side the lead in the 10th minute.
Following the half-hour mark, Kawasaki started to dominate the ball possession, but the Fukushima defence showcased tenacious efforts to keep the league leaders at bay.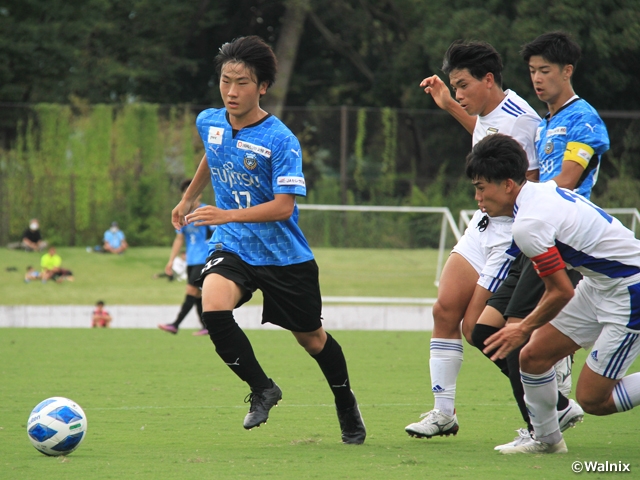 In the second half, Kawasaki raised their intensity level to create even more opportunities in the attacking third. However, Fukushima displayed tremendous concentration to defend their one goal lead, as MAKITA Hiroki (#10) later reflected, "We kept on encouraging each other to stay positive."
Kawasaki came close to equalising the match in the 76th minute, when they created back-to-back chances, but the close range shot taken by SHIBATA Shotaro (#32) was blocked by FUJITA Hayato (#4), before OKAMOTO Ayumu (#23) showcased a superb save to deny the long-range attempt of YUI Kota (#18).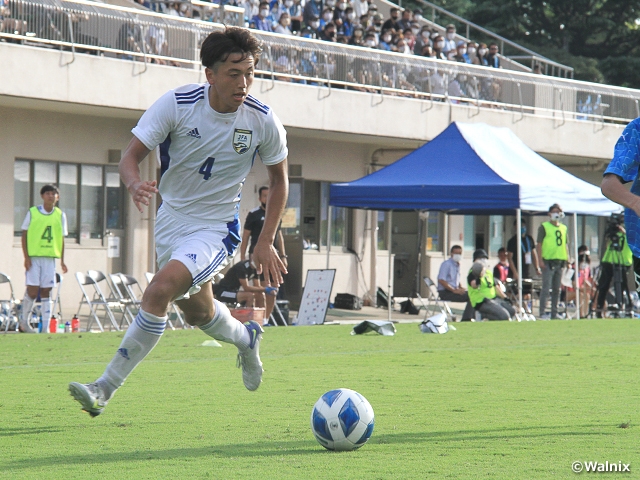 With the final whistle, Fukushima won the match 1-0. Despite suffering back-to-back losses following a 12-match unbeaten run, Kawasaki's coach NAGAHASHI Yasuhiro remained positive about their league campaign, "We will take another look at our football and continue to make bold challenges."
Coaches and Players' Comments
NAGAHASHI Yasuhiro, Coach (Kawasaki Frontale U-18)
We have been training to become a team that can score goals, but it seemed to me that we have lost a bit of confidence in the last couple matches. Including our line-up and positions, a lot of things were not functioning. The players have done really well from training, so I want to continue to review our football, think about how we can get back on track and share this with them.
GK #21 HAMASAKI Tomoyasu (Kawasaki Frontale U-18)
Last week, we lost our composure against Ryutsu Keizai University Kashiwa High School after conceding the opening goal. We managed to keep our cool this week but failed to find a way to score a goal. Unlike a goal conceded late in the game, we still have plenty of time to recover when conceding early. However, we might have rushed our plays a bit, because we are not used to being led by our opponents.
TSUDA Keita, Coach (JFA Academy Fukushima U-18)
We knew that we had to endure tough stints, but the players did a great job to demonstrate what they had been working on to earn this victory. It was great that we were able to take the lead with a penalty kick, but we need to improve how we play after taking the lead. There were so many small details that need to be addressed, so we hope to fix them ahead of our future matches. The team is currently fighting to avoid being relegated from the Premier League. We hope to play tenaciously like we did today to earn more points.
MF #10 MAKITA Hiroki (JFA Academy Fukushima U-18)
Kawasaki is a very strong team but had a feeling that the match could unfold like this. We were determined to outrun our opponents and win the battles for the ball. The fact that we were able to score the opener while we took the initiative at the beginning of the match was huge. Our defence also played with great patience, and it really felt like this was a result of a total team effort. I was too occupied playing defence, so I wasn't able to contribute much to our offence, but I feel like I was able to do my job.
Results of other matches
Kiryu Daiichi High School Postponed Kashiwa Reysol U-18
Ryutsu Keizai University Kashiwa High School 1-4 (1-0, 0-4) Yokohama F.Marinos Youth
Yokohama FC Youth 0-1 (0-0, 0-1) Funabashi Municipal High School
Aomori Yamada High School 0-2 (0-1, 0-1) Omiya Ardija U18
Maebashi Ikuei High School 1-1 (1-0, 0-1) FC Tokyo U-18
In the match between Ryutsu Keizai University Kashiwa High School (Chiba) and Yokohama F.Marinos Youth (Kanagawa), it was Ryutsu Keizai Kashiwa who scored the opening goal in the first half, but Yokohama FM rallied to score four goals in the second half to take the win. GUNJI Riku (#10) scored the decisive goal in the 65th minute to give Funabashi Municipal High School (Chiba) a win over Yokohama FC Youth (Kanagawa). Omiya Ardija U18 (Saitama) moved up to third place after scoring a goal in each half in their 2-0 victory over Aomori Yamada High School (Aomori). Maebashi Ikuei High School (Gunma) scored early to take the lead but conceded a late equaliser to share a point with FC Tokyo U-18 (Tokyo). The match between Kiryu Daiichi High School (Gunma) and Kashiwa Reysol U-18 (Chiba) has been postponed.
Prince Takamado Trophy Premier League Official Twitter
%F0%9F%8F%86#高円宮U18 プレミアリーグ 2022%F0%9F%8F%86
%F0%9F%94%B4EAST 第14節(9/11)%F0%9F%94%B4

%E2%9A%BD️試合結果%E2%9A%BD️#流経大柏 1-4 #横浜FM #横浜FC 0-1 #市立船橋 #青森山田 0-2 #大宮#前橋育英 1-1 #FC東京#川崎 0-1 #AC福島

結果詳細はこちら%F0%9F%94%97https://t.co/Y65xFaJ4cM#高校サッカー pic.twitter.com/IqrODZ3Jwk

— 高円宮杯 JFA U-18サッカープレミアリーグ (@jfa_u18) September 11, 2022
%F0%9F%8F%86#高円宮U18 プレミアリーグ 2022%F0%9F%8F%86
%F0%9F%94%B4EAST%F0%9F%94%B4

%E2%9A%BD暫定順位表%E2%9A%BD(9/11時点)
1%E2%83%A3 #川崎F
2%E2%83%A3 #横浜FM
3%E2%83%A3 #大宮
4%E2%83%A3 #FC東京
5%E2%83%A3 #前橋育英
6%E2%83%A3 #青森山田
7%E2%83%A3 #横浜FC
8%E2%83%A3 #流経大柏
9%E2%83%A3 #柏
1%E2%83%A30%E2%83%A3 #AC福島
1%E2%83%A31%E2%83%A3 #市立船橋
1%E2%83%A32%E2%83%A3 #桐生第一

詳細はこちら%F0%9F%94%97https://t.co/xyY4xTh7XQ#高校サッカー pic.twitter.com/catImef8CG

— 高円宮杯 JFA U-18サッカープレミアリーグ (@jfa_u18) September 11, 2022
Prince Takamado Trophy JFA U-18 Football Premier League 2022
League Duration: Sat. 2 April - Sun. 4 December 2022