NEWS
【Match Report】Japan Futsal National Team finish as runners-up after losing to IR Iran in the final of NFDF Futsal Championship Pattaya Thailand 2023
08 March 2023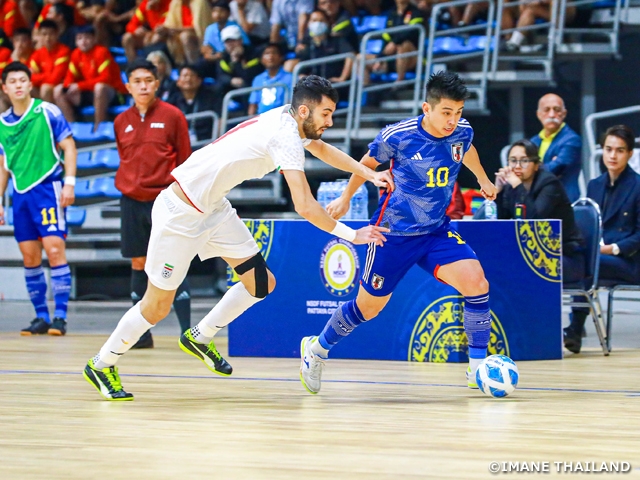 NFDF Futsal Championship Pattaya Thailand 2023
Tue. 7 March 2023, 18:00 (local time)
Match duration 40mins (20x2 Playing-time)
Eastern National Sports Training Center (Pattaya, Thailand)
Japan Futsal National Team 1-4 (1-0, 0-4) IR Iran Futsal National Team
Scores
16' TSUTSUMI Yuta
32' Goal Against
33' Goal Against
36' Goal Against
39' Goal Against
Starting Line-up
GK: KUROMOTO Guilherme
FP: MIZUTANI Soma, OLIVEIRA Arthur, HIRATA Neto Antonio Massanori, HENMI Katsutoshi Rafael
Reserves
GK: TABUCHI Hiroshi
FP: ISHIDA Kentaro, YAMADA Kaito, KANAZAWA Sora, TSUTSUMI Yuta, SHIMIZU Kazuya, HARADA Kokoro, MORI Gensuke, NAKAMURA Mitsuru
Match Report
On Tuesday 7 March, the Japan Futsal National Team faced the IR Iran Futsal National Team in the final of NSDF Futsal Championship 2023 held in Thailand, where they lost 1-4 to finish as runners-up in the competition.
Ahead of the re-match between the two sides who fought in the AFC Futsal Asian Cup™ Kuwait 2022 final, in which Japan won 3-2, Head Coach KOGURE Kenichiro sent-off the Japanese players by telling them, "IR Iran are our AFC rivals, and although we won last time, it will be difficult to beat them unless we go into the match with even more motivation and a stronger mentality than last time. Our opponents lost to us last year, so if we can win again today, we should be able to instil a sense of inferiority in their minds. Top teams in the world are capable of winning these kinds of matches, and that is what we need to do. Believe in yourself and your teammates, and let's all fight to the end for 40 minutes."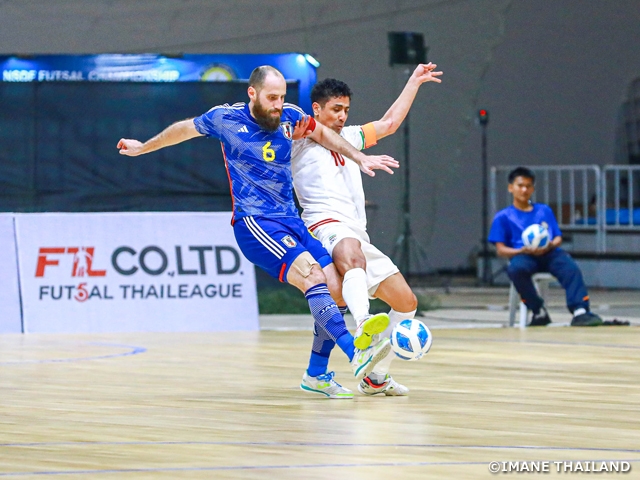 The match started with both sides showing great aggression and focus to prevent the opposition from scoring, as the two captains, OLIVEIRA Arthur of Japan and Hossein TAYYEBI of Iran, closely marked each other. Japan scored the opening goal in the sixth minute, when TSUTSUMI Yuta quickly carried the ball upfront after intercepting an Iranian kick-in. With the Iranian players sprinting back and making a sliding effort to stop him, the shot took a deflection and sailed over the head of the goalkeeper and into the net. After taking the lead, Japan created number of close opportunities but fell short from scoring the second goal, as the match entered halftime with Japan leading 1-0.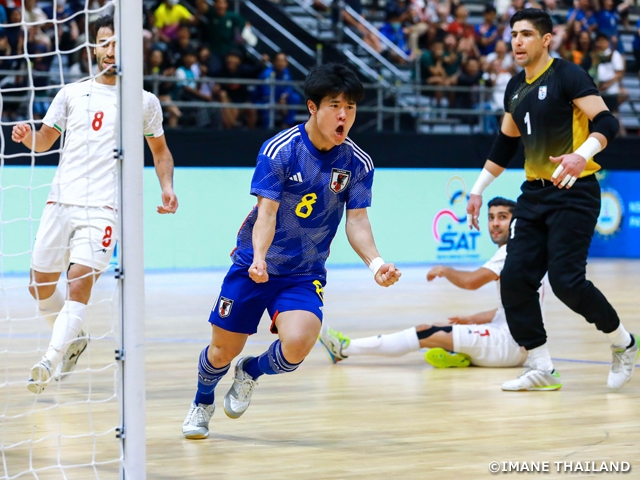 Japan continued to show their aggression in the second period, as Tsutsumi came close to scoring his second goal, when he fired a shot that shook the cross bar. However, after conceding the equaliser in the 31st minute, Japan gave up the lead in the 33rd minute, when they lost possession of the ball in their own half. With momentum on their side, Iran went onto score their third goal from a free kick in the 36th minute, before slotting the ball into the open net after turning over Japan's powerplay in the 39th minute.
As a result, Japan lost the match 1-4 and finished the tournament as runners-up, while team captain Oliveira was named tournament MVP.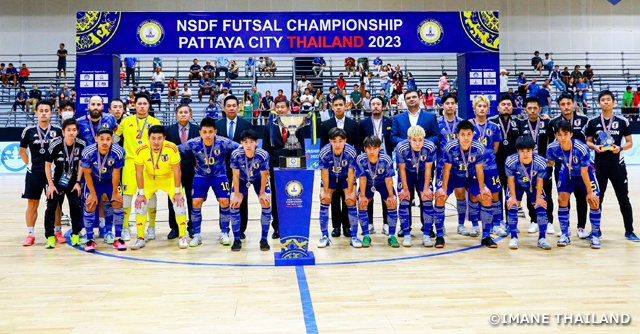 Coach and Players' Comments
KOGURE Kenichiro, Head Coach (Japan Futsal National Team)
First of all, we are delighted to have been able to take part in this wonderful tournament. I would also like to express my gratitude to all the clubs for their cooperation, despite this tournament being held in the middle of the season. The fact that we were able to play four matches to reach the final in such a short period of time makes this a very valuable experience for us. We were able to showcase our identity as a national team, even when we rotated the line-ups, and the players showed great attitude despite the tight schedule.
FP #4 ISHIDA Kentaro (Bardral Urayasu)
First of all, I would like to thank all the people who made this tour possible. This was our first national team activity since the AFC Futsal Asian Cup, and I think we were able to improve the overall level of the national team through the competition. Although we lost in the final, we hope to make the most of this experience and strive to improve ourselves once we return to our respective clubs.
FP #5 YAMADA Kaito (Inter Movistar FS/Spain)
We finished this tour Thailand tour by finishing as runners-up. It really felt like we were improving as a team through each match, and it inspired me to push myself even harder. I was able to learn so much by playing with players I don't normally play with, and I hope to use this experience to its fullest when I get back to my own club. I will continue to work hard so that I can wear this uniform again and have our revenge against Iran. Thank you very much for all your support.
FP #6 OLIVEIRA Arthur (Nagoya Oceans)
It was a really good tournament for the future of the national team, as more and more young players are succeeding at their clubs and making an impact at the international level. Of course, today's result is not what we wanted, but now it is our mission to play well against teams like Iran. I am confident that we are on the right track and that even bigger things are still in store for us as long as we keep putting forth the effort. Thank you for your support.
FP #8 TSUTSUMI Yuta (Y.S.C.C.Yokohama)
We finished the NSDF Futsal Championship 2023 as runners-up. Although I am disappointed with this result, I feel I have gained so much from this tournament. Once I return to my club, I will work hard to be able to put on a strong performance throughout the entire match. I will make the most of this experience to become a better player and stive to earn another call-up to the national team.
NFDF Futsal Championship Pattaya Thailand 2023
Tournament Date: Wed. 1 - Tue. 7 March 2023
Venue: Eastern National Sports Training Center (Pattaya, Thailand)