NEWS
U-17 Japan Women's National Team FIFA U-17 Women's World Cup Costa Rica 2014 Report (2nd April)
03 April 2014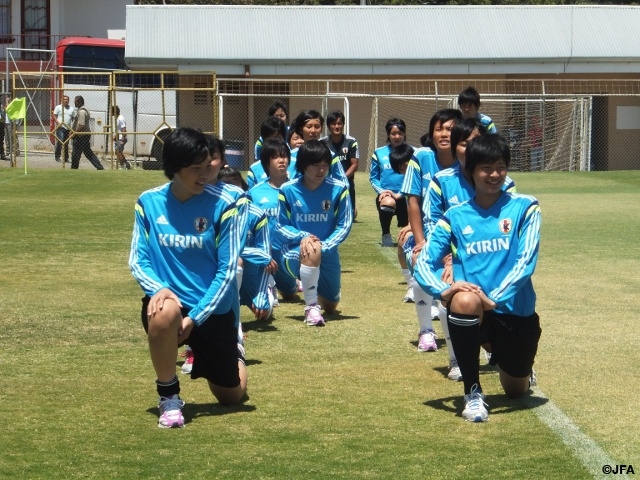 It is the second day back to San Jose, the site for the final match. The team had training in the morning.
The training facility is the same as the one the team used before the 4-country tournament last April. The team won that tournament, so this facility has a lucky story for the team.
After warm-up run, players lined up for some core muscle training.
Yesterday had a long bus ride, so the main focus in today's training was to loosen them up.
In "Chain tag", the rule is a tagger chases and tries to tag the rest, and the person tagged joins the tagger with their hands held forming a chain. The more players the tagger tags, the longer the chain gets, and the harder it becomes to chase others around. The long chain can go around a person running away, but it needs good strategy and communication.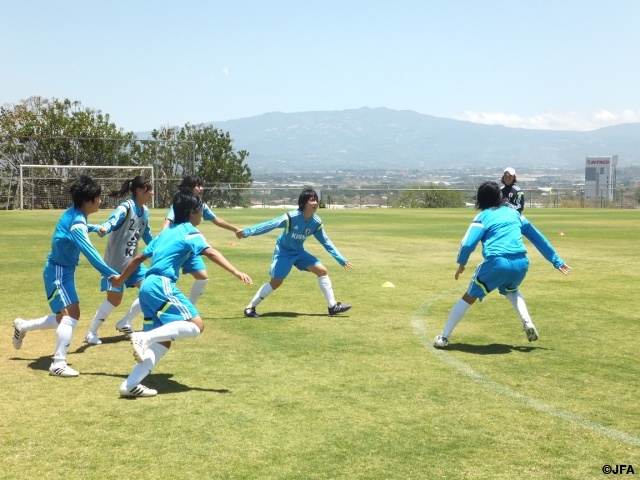 Although the mood is cheerful and fun, players unwittingly engage in harder movements and start sweating. So hydration is important as the training goes on.
The humidity level is not so high that sweating is not as much as the high temperature suggests. But after three weeks of staying in Costa Rica, players well aware that their bodies dehydrate while they play.
Afterward, starters of the semi-final game started individual workouts and stretching while others did normal training menu.
It was a well-focused one-hour training starting with 1 on 1 and 2 on 2 near the goal area, shooting practice, and 4 on 4 with a goalkeeper in a real game situation in the end.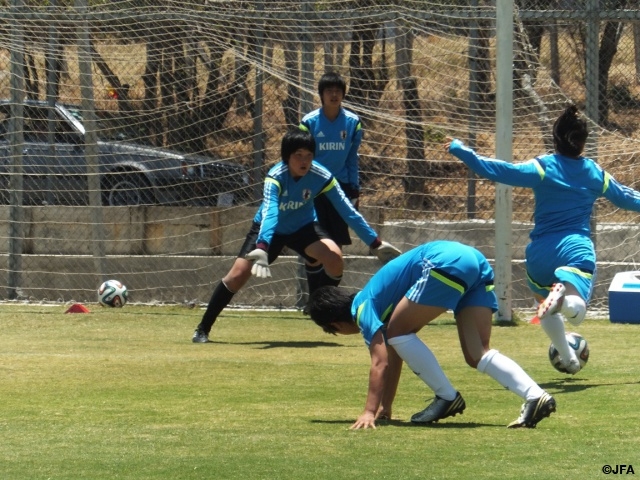 After the training Sugita and Head Coach Takakura were interviewed by Costa Rican national newspaper and TV network. The country is surely following this final match.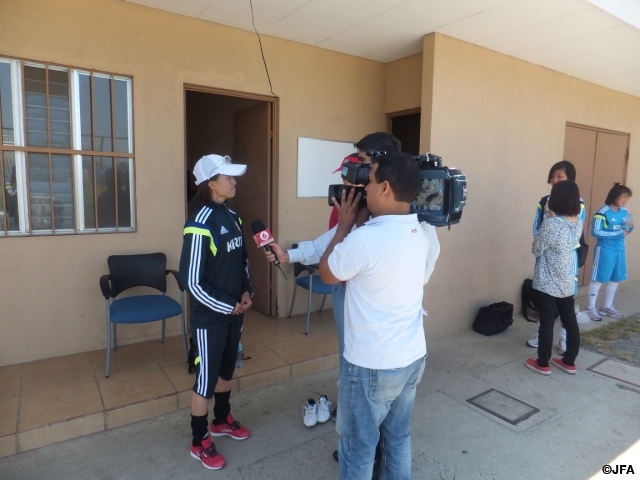 Afternoon had a team meeting. Takakura talked to players as players kept paying close attention. "We as a team got a win against Venezuela. We review the game well and make our next game even better. We need higher level of focus. We won't let Spain play their style of football, and we play our style from the start to finish." "This is the great opportunity to be the best in the world. We need good focus from everybody to play this final game altogether!"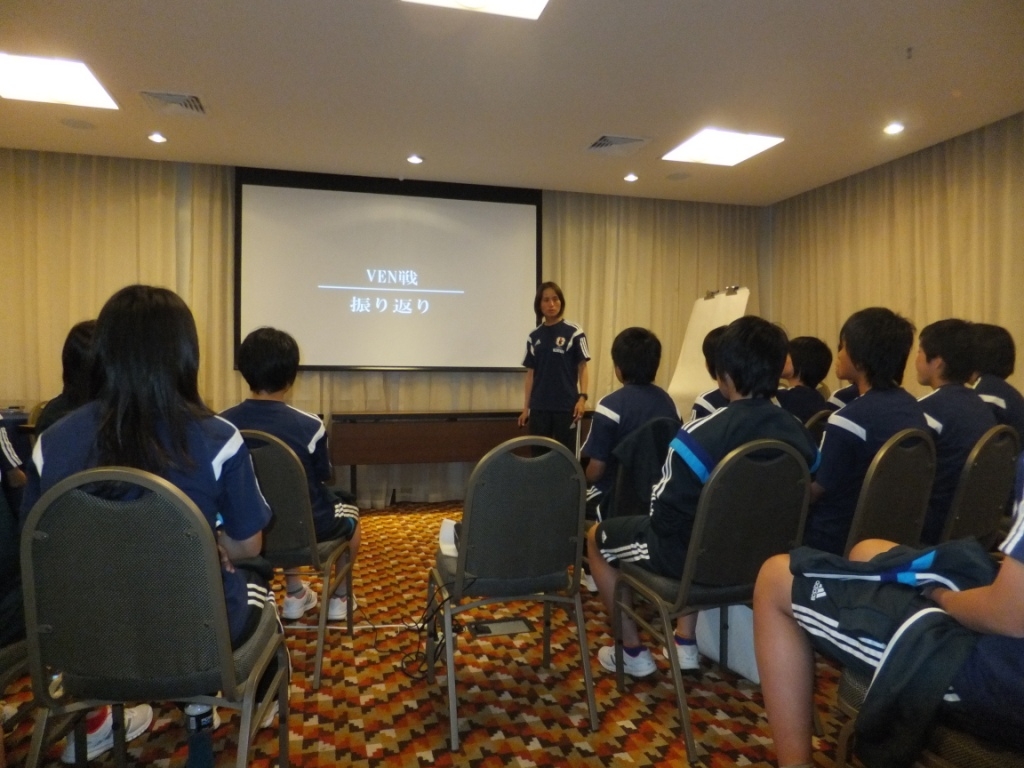 コメント
Saihara Mizuki (Ange Violet Hiroshima)
This is the last game to play with this team, so I want to win at all cost. In the semi-final, the head coach told us to work together, keep moving and receive passes just as we usually do. In this world cup games, I feel so great on the pitch, something I have never experienced. My strength is surging behind defenders, receiving a pass, dribbling and shooting. This team's strength is that all players are so determined to win the championship and we fight as a team. If I get a chance to play in the final, and if I get a goal with a pass from my teammate or my play leads to my teammate's goal, I will be very happy.
Kono Fuka (Fujieda Junshin High School)
I am happy that we have done what we all could do and advanced to this final. We are a team where we can communicate and feel free to talk to everybody. We tell each other what we should tell, both good and bad. In the final, I want to get a goal to come back to Japan happy and return a favour to people who have supported me. Kobayashi (Rikako, who plays the same position,) is a very good player. I want to show plays that she doesn't do but I can.
Nishida Meika (Cerezo Osaka Sakai Ladies)
I got sick before the opening of this world cup, and wasn't selected onto the roster against Spain. I couldn't play in the Paraguay game, either. In those games, my teammates got two wins and clinched the second stage. I played in the New Zealand game, but I think I didn't play well. In the quarter-final, I made one good pass through defenders, but it didn't finish with a goal. This is the last game for this team. I have to re-motivate myself and leave everything on the pitch not to have any regret after the game. I will play as long as possible and help my team to win.