NEWS
The AFC Futsal Championships gets underway
01 May 2014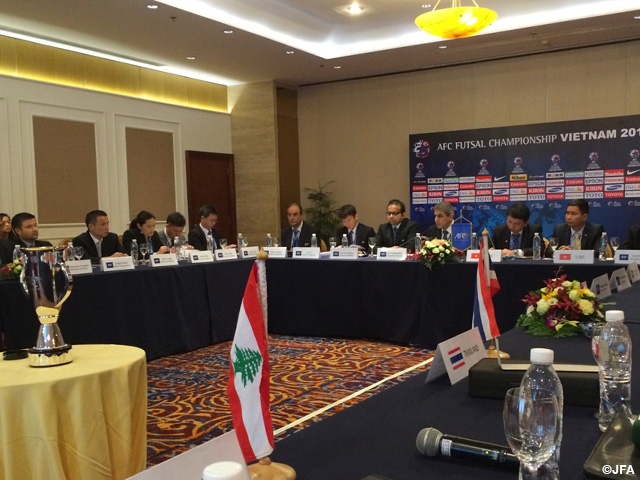 In the morning of the 30th, a precedent managers meeting was held. They reconfirmed the game rules, while they decided the colors of their jerseys for each matchup, and they already showed some feelings of tension right before the tournament will kick off.
The Japan team had a training session in the afternoon, making sure on their offensive formations, particularly their set-plays, before their first game against Korea.
The Japanese team stays in the same hotel as other Korea, Uzbekistan and Kyrgyzstan, who are in the same group. Other teams like Iran, Australia, China and Indonesia, of Group B, lodge there as well. But the Japanese players did not seem to have too much nervousness.
Team Japan will get to square off against Korea at 6 p.m. of the 1st May in the Japanese time.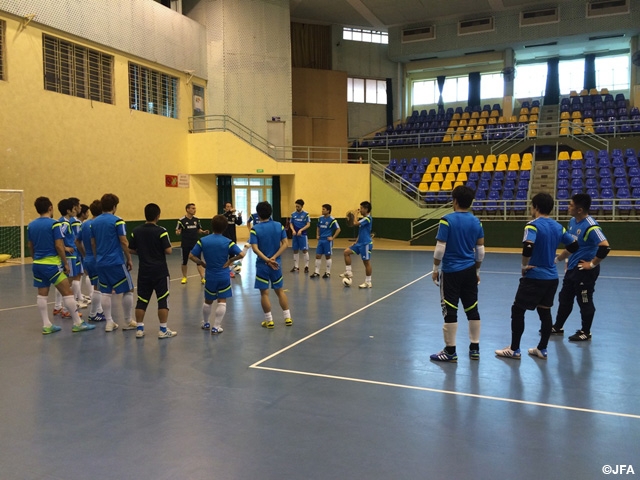 Comments From Players
MINAMOTO Akira(Fuchu Athletic F.C.)
Now the AFC Championships will get underway. The AFC Championships and World Cup are the two of the biggest goals for the Japan national futsal team. We have our eyes on nothing but the championships this time. We have prepared ourselves since the training camps in Spain and Japan to achieve that. We just need to prove that in the tournament. We would like to show what we have accumulated to the whole Asia. But we did not accumulate just by ourselves, but all the other players in Japan and those who were associated with the national team in the past have accumulated so many things and gotten us here. We would like to have the responsibility and pride as the representatives of Japanese futsal circles as we will start our battles.
YOSHIKAWA Tomoki(Nagoya Oceans)
We will finally get into the AFC Championships. This is the first tournament for me personally and I am very much looking forward to it. Hopefully, I will exhibit what I can do and enjoy the games. We would like to play one game at a time from our first game against Korea, being united as one, and shoot for the championships in the end.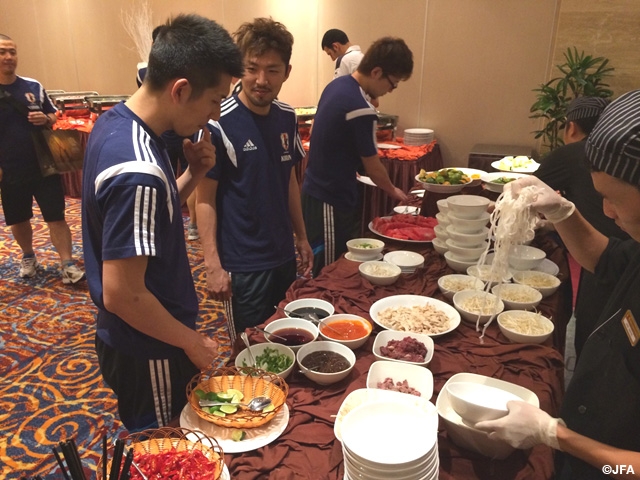 Schedule
AFC Futsal Championship Vietnam 2014
Thu. 1 May
16:00
Group Stage 1st leg
vs. Korea National Futsal Team
(Ton Duc Thang University Stadium)
LIVE
NHK BS1 Thu. 1 May 17:40 - 17:49
NHK BS1(Sub ch102) Thu. 1 May 17:49 - 20:00

Video Recording
TV Asahi Channel 2 Fri. 2 May 21:00 - 23:00
TV Asahi Channel 2 Tue. 13 May 17:00 - 19:00
Sat. 3 May
18:30
Group Stage
vs. Uzbekistan National Futsal Team
(Phu Tho Stadium)
Video Recording
NHK BS1 Sun. 4 May 08:00 - 09:50
TV Asahi Channel 2 Sun. 4 May 20:30 - 22:30
TV Asahi Channel 2 Wed. 14 May 17:00 - 19:00
Mon. 5 May
18:30
Group Stage
vs. Kirghiz National Futsal Team
(Phu Tho Stadium
LIVE
NHK BS1 Mon 5 May 20:15 - 21:49
NHK BS1(Sub ch102) 5/5(月) 21:49 - 22:30

Video Recording
TV Asahi Channel 2 Tue. 6 May 21:00 - 23:00
TV Asahi Channel 2 Thu. 15 May 17:00 - 19:0
Wed. 7 May
15:30
18:30
Quarter Final
(Ton Duc Thang University Stadium)
 
Thu. 8 May
15:30
18:30
Semifinal
(Phu Tho Stadium)
 
Sat. 10 May
16:00
Third/Fourth-Place Match
(Phu Tho Stadium)
 
19:00
Final
(Phu Tho Stadium)
 
※All match time is local time.
※The time for TV broadcasting is Japan time。