NEWS
Japan crush Korea in AFC Futsal Championships Opener
02 May 2014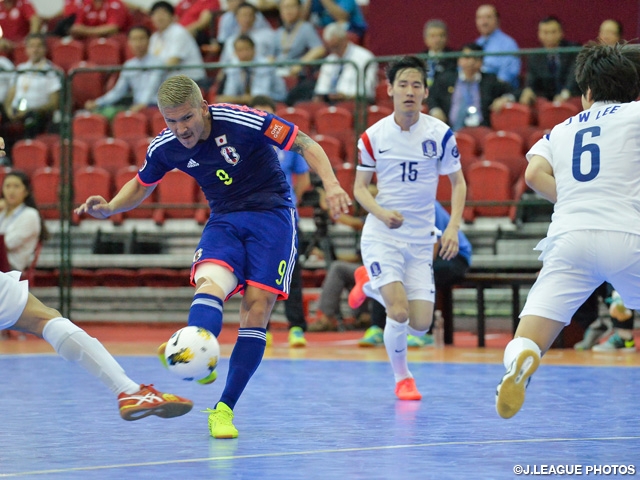 AFC Futsal Championship Vietnam 2014
Thu. 1 May 2014 16:00 Kick Off 20 minutes half
Ton Duc Thang University Stadium(Vietnam/Ho Chi Minh)
Japan national futsal team 12-0(1st Half 4-0、2nd Half 8-0) Korea National Futsal Team
Scores
3 min NIBUYA Kazuhiro(Japan national futsal team)
6 min OSODO Nobuya(Japan national futsal team)
16 min NAKAMURA Yusuke(Japan national futsal team)
20 min OSODO Nobuya(Japan national futsal team)
29 min MINAMOTO Akira(Japan national futsal team)
31 min UCHIMURA Shunta(Japan national futsal team)
31 min OSODO Nobuya(Japan national futsal team)
33 min NAKAMURA Yusuke(Japan national futsal team)
35 min NIBUYA Kazuhiro(Japan national futsal team)
36 min SATO Toru(Japan national futsal team)
38 min NAKAMURA Yusuke(Japan national futsal team)
39 min MORIOKA Kaoru(Japan national futsal team)
Starters
GK:KAWAHARA Hisamitsu
FP:HOSHI Shota、NISHITANI Ryosuke、MINAMOTO Akira、NIBUYA Kazuhiro
Substitutes
GK:SEKIGUCHI Yushi
FP:MORIOKA Kaoru、OSODO Nobuya、SATO Toru、WATANABE Tomoaki、TAKITA Manabu、NAKAMURA Yusuke、YOSHIKAWA Tomoki、UCHIMURA Shunta
Players not listed on the game roster
GK:FUJIWARA Jun
FP:INABA Kotaro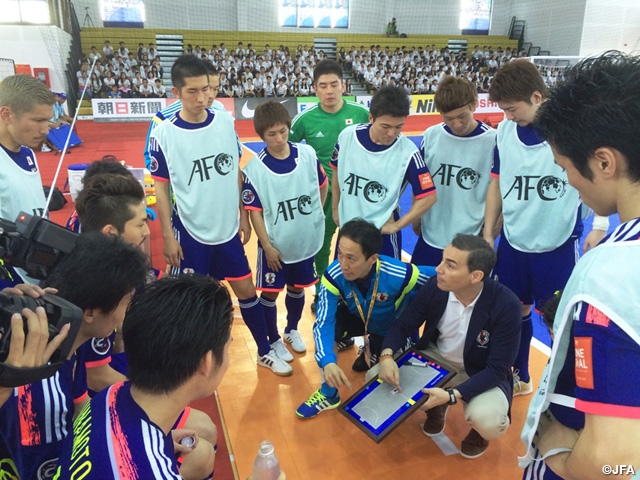 Match Report
The Japan national futsal team have finally begun their quest in the AFC Championships. They stretched their bodies at the hotel in the morning to prepare for the Korea game, which was set to kick off at 4 p.m.
The game started with Japan's kick-off, and they quickly had a chance and did score their first goal as Nibuya struck on 3rd minute. Japan put pressure up front defensively and then connected it to their attacks on the Korean goal, and ended the first half up 4-0.
In the latter half, Korea tried to avenge and gave Japan some pinches. But the Japanese side would not allow a score around Kawahara. And as Team Japan overcame the moments that Korea had the momentum, they now made surging attacks and ended up racking up eight goals in the second half alone. After all, Japan posted an overwhelming 12-0 win in their first game.
Meanwhile, a Uzbekistan-Kyrgyz Republic game, which followed the the Japan-Korea match, ended in a 2-2 draw. Japan will take on Uzbekistan as their second contest of the tourney two days later.
Coach & Players' comments
Miguel RODRIGO Head Coach
In our first game of the tournament, I was expecting a very tough and difficult first game since it was against Korea. But our bold defensive plays worked effectively while we scored goals at higher percentages before the opponents' goal, which had been one of our issues, and we were able to score a lot of scores. We have a lot of guys who are playing in their first AFC Championships, but this win gave them a lot of confidence and I think that we got off to a good start. Also, it was a good news for both our team and himself that Morioka just came back to action and scored a goal. However, we have only finished with one game. We should not make marries too much on this and would like to have the best preparation we could have for our next match against Uzbekistan, which is the most important game for us at the moment.
OSODO Nobuya(Vasagey Oita)
A first game is always difficult to enter, but we could win ours without giving up any and it was as the results of our preparation through our Spanish trips and training camp in Nagoya. It was a huge plus for the team that (Morioka) Kaoru, who went through tough rehabs, scored a goal in the game. But we have only been through one game, so we want to win the remaining two games in the group stage by having the best preparation we could have.
NAKAMURA Yusuke(Agleymina Hamamatsu)
It was relieving for us to earn a win in the difficult first game of the tournament. For me, it was my first game in an international tournament, but I was able to play with less nervousness as my teammates talked to me and supported me during the game. I am pleased that I could score a goal and contribute to the team. As to the goal, I kept running believing in my teammates, and it paid off. I would like to put up a better performance both as an individual and the team to have another win in our next game, too.
MORIOKA Kaoru(Nagoya Oceans)
I am pleased that we earned the win with a lot of goals in our first game. Personally, I was frankly very glad to be able to play my first game in a while. I was a little worried whether I could make it in time or not, but a lot of people supported me and I appreciated for them a lot. I heard a lot of enthusiastic supports at the arena. We want to fight in our next game against Uzbekistan with the same enthusiastic supports behind us.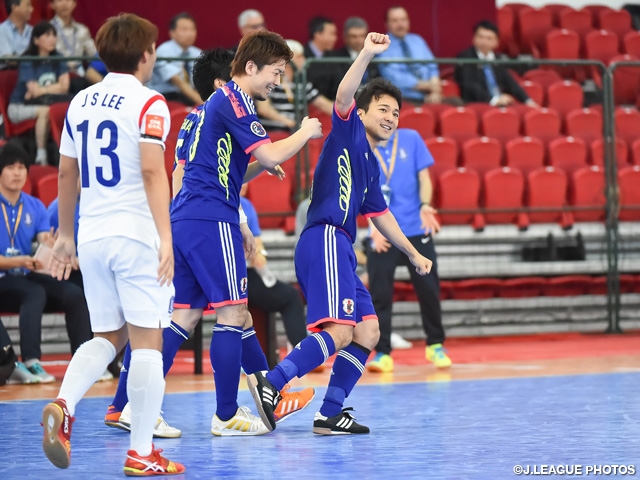 Schedule
AFC Futsal Championship Vietnam 2014
Thu. 1 May
12 - 0
Group Stage 1st leg
vs. Korea National Futsal Team
(Ton Duc Thang University Stadium)
LIVE
NHK BS1 Thu. 1 May 17:40 - 17:49
NHK BS1(Sub ch102) Thu. 1 May 17:49 - 20:00

Video Recording
TV Asahi Channel 2 Fri. 2 May 21:00 - 23:00
TV Asahi Channel 2 Tue. 13 May 17:00 - 19:00
Sat. 3 May
18:30
Group Stage
vs. Uzbekistan National Futsal Team
(Phu Tho Stadium)
Video Recording
NHK BS1 Sun. 4 May 08:00 - 09:50
TV Asahi Channel 2 Sun. 4 May 20:30 - 22:30
TV Asahi Channel 2 Wed. 14 May 17:00 - 19:00
Mon. 5 May
18:30
Group Stage
vs. Kirghiz National Futsal Team
(Phu Tho Stadium
LIVE
NHK BS1 Mon 5 May 20:15 - 21:49
NHK BS1(Sub ch102) 5/5(月) 21:49 - 22:30

Video Recording
TV Asahi Channel 2 Tue. 6 May 21:00 - 23:00
TV Asahi Channel 2 Thu. 15 May 17:00 - 19:0
Wed. 7 May
15:30
18:30
Quarter Final
(Ton Duc Thang University Stadium)
 
Thu. 8 May
15:30
18:30
Semifinal
(Phu Tho Stadium)
 
Sat. 10 May
16:00
Third/Fourth-Place Match
(Phu Tho Stadium)
 
19:00
Final
(Phu Tho Stadium)
 
※All match time is local time.
※The time for TV broadcasting is Japan time。