NEWS
Japan ready for AFC Futsal Championships Final
10 May 2014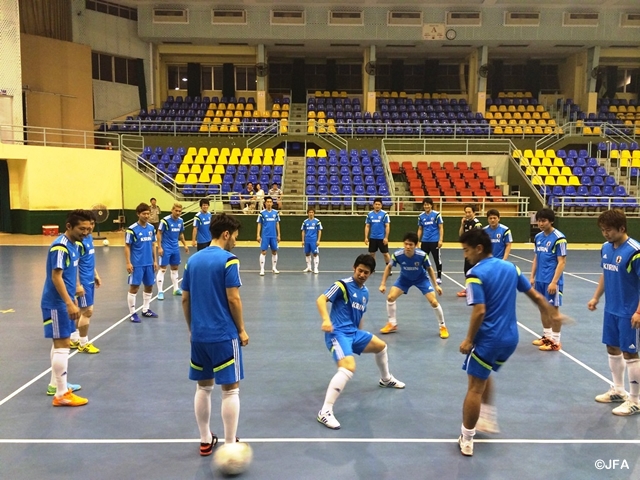 The Japan national futsal team had their final training session before the following day's final match against Iran.
They actually moved their bodies just a little bit, stretching and exchanging the ball, and spent majority of their time for preparing for the game mentally-wise.
Head coach Miguel gave detailed instructions to his players, telling them to have Japan's attacks holding Iran's offense, based on the team's offensive and defensive analysis on the opponents.
''In order to play against the strong Iran team, you have to put out everything you have. The question is if you can do it or not. If you are too strained, you cannot do that. More than anything, I want you to played the game relaxed. Let's enjoy the big stage of the final match,'' Miguel told his players after the training.
As there is only one game left, Team Japan will enter the championship match, not to defend their title as the Asian champions, but to seize it as the challengers, playing united as one with all the members including the players and staff.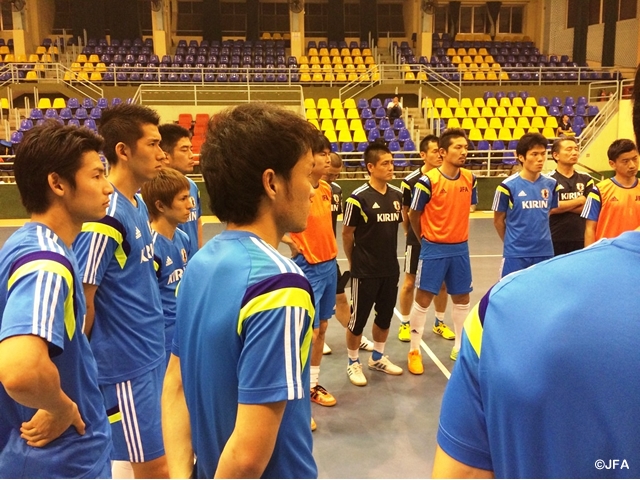 Comments From Players
INABA Kotaro(Bardral Urayasu Futbol Sala)
We are finally here. Through the Spain trip and training camp in Nagoya, and the five games we have played in this tournament, we have had tough times but have overcome them with all the members to reach this final match. Tomorrow's our main event. Our goal is to win the championship for the second straight time. We are ready to achieve that goal. Our opponents are tough without a doubt, but we believe that we will be able to achieve the consecutive titles if we keep our faith in ourselves. As the representatives of Japan, we will play with the pride and enjoy the big stage at the same time.
KAWAHARA Nakamitsu(Agleymina Hamamatsu)
We will have our last game tomorrow. Our tensions are getting higher. We want to be united as one and do our best to achieve the consecutive championships.
YOSHIKAWA Tomoki(Nagoya Oceans)
We are finally playing the final game tomorrow. Besides that, our opponents will be Iran, who have overwhelmed their opponents since the group stage. I'm very looking forward to it and want to put up my 100 percent in the final game so I will not have any regrets. Also, as the team, we want to play at out best, exhibiting what we have learned since our Spain trip, and will go back to Japan as the winners.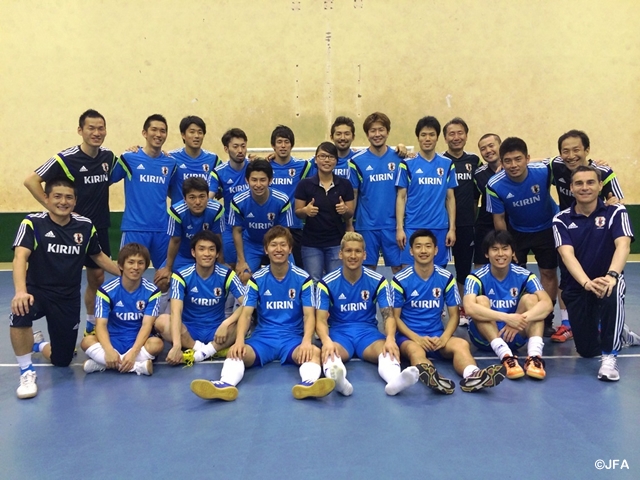 Schedule
AFC Futsal Championship Vietnam 2014
Thu. 1 May
12 - 0
Group Stage 1st leg
vs. Korea National Futsal Team
(Ton Duc Thang University Stadium)
LIVE
NHK BS1 Thu. 1 May 17:40 - 17:49
NHK BS1(Sub ch102) Thu. 1 May 17:49 - 20:00

Video Recording
TV Asahi Channel 2 Fri. 2 May 21:00 - 23:00
TV Asahi Channel 2 Tue. 13 May 17:00 - 19:00
Sat. 3 May
1 - 2
Group Stage
vs. Uzbekistan National Futsal Team
(Phu Tho Stadium)
Video Recording
NHK BS1 Sun. 4 May 08:00 - 09:50
TV Asahi Channel 2 Sun. 4 May 20:30 - 22:30
TV Asahi Channel 2 Wed. 14 May 17:00 - 19:00
Mon. 5 May
4 - 0
Group Stage
vs. Kirghiz National Futsal Team
(Phu Tho Stadium
LIVE
NHK BS1 Mon 5 May 20:15 - 21:49
NHK BS1(Sub ch102) 5/5(月) 21:49 - 22:30

Video Recording
TV Asahi Channel 2 Tue. 6 May 21:00 - 23:00
TV Asahi Channel 2 Thu. 15 May 17:00 - 19:0
Wed. 7 May
3 - 2
Quarter Final
vs Thailand National Futsal Team
(Ton Duc Thang University Stadium)
LIVE
NHK BS1 5/7(水) 17:15 - 17:49
NHK BS1(サブch102) Wed. 7 May 17:49 - 19:30
TV Asahi Channel 1 Wed.7 May 17:25 - 20:00

Video Recording
TV Asahi Channel 2 Thu. 8 May 21:00 - 23:00
TV Asahi Channel 2 Fri.16 May 17:00 - 19:00 
Thu. 8 May
6 - 1
Semifinal
vs Kuwait National Futsal Team
(Phu Tho Stadium)
LIVE
NHK BS1 5/8(木) 17:15 - 17:49
NHK BS1(Sub ch102)Thu. 8 May 5/8 17:49 - 19:30
TV Asahi Channel 1 Thu. 8 May 17:25 - 20:00

Video Recording
TV Asahi Channel 2 Fri. 9 May 21:00 - 23:00
TV Asahi Channel 2 Sat. 24 May 19:00 - 21:00
TV Asahi Channel 2 Thu 29 May 00:00 - 02:00 
Sat. 10 May
19:00
Final
(Phu Tho Stadium)
LIVE
TV Asahi Channel 1 Sat. 10 May 20:55 - 23:30

Time Lag Broadcast
NHK BS1 Sat 10 May 21:10 - 21:55
NHK BS1(Sub ch102)Sat 10 May 21:55 - 00:00

Video Recording
TV Asahi Channel Sun 11 May 20:00 - 22:30
TV Asahi Channel 2 Mon 12 May 21:00 - 23:00
TV Asahi Channel 2 Mon 26 May 00:00 - 02:00  
※All match time is local time.
※The time for TV broadcasting is Japan time。