NEWS
Japan National Team's first practice session in Itu
10 June 2014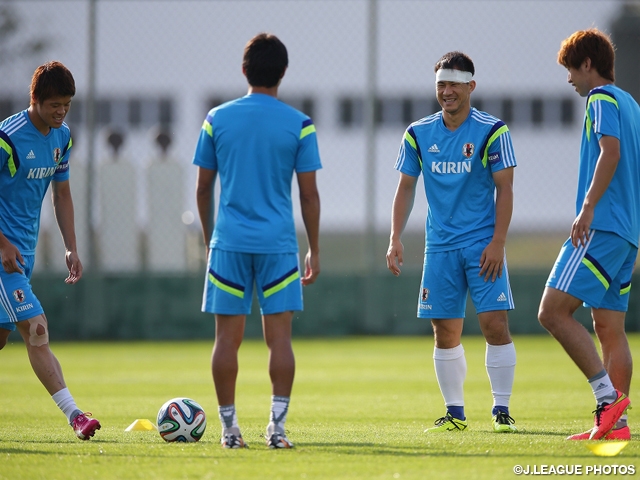 On 9 June the Japan National Team had their first practice session at their base in Itu in São Paulo, Brazil, in preparation for the 2014 FIFA World Cup.
The players started their session by passing the ball under the gaze of the international media. It was a dry clear day with blazing sunshine in the afternoon.
The players then held a closed session for an hour and a half at night.
The base for the Japan National Team is located in the verdant outskirts of Itu.
The hotel includes some newly built parts, including the place in which the players are staying, and has a training ground with freshly laid turf in front of it.
Kawashima Eiji, the goalkeeper, noted: 'Great facilities. We focused well on our practice and then felt relaxed afterwards.' Nagatomo Yuto, the midfielder, also commented: `We had a very good practice session on the excellent ground and facilities.'
Comments
DF MORISHIGE Masato(FC Tokyo)
We're in Brazil now, but I don't think it will feel real until the first match. I played two matches in America and I feel like I can do more and want to play more. As I learned a lot in those games, next time I can build on that. I just want to play in the real thing and I will look over my performance when I finish this championship.
GK KAWASHIMA Eiji(Standard Liège/Belgium)
Finally the championship is drawing nearer. I feel tense thinking of all the preparation we've been through. I'd like to get myself ready for the opening match in the limited time we have. Côte d'Ivoire have many individually strong players and have a unique strength to counterattack. I'd like to react instantly to unexpected events as well as prepare well for those we can predict.
DF NAGATOMO Yuto( F.C. Internazionale Milano/Italy)
Personally, I will get myself into the best physical condition. You can always get yourself into better condition, though. I've been preparing mentally for the World Cup for four years. I've got the real 'Nagatomo Yuto' inside me, who just can't wait to go out and play. I'll show you very soon. I think when we've conceded goals in recent games it has been because of the lack of determined final touches. I'd rather play aggressively with the best plays to win than focus on defence. That's why we've been practicing for four years, and we are confident with that.
FW KAGAWA Shinji(Manchester United/England)
I feel gradually that the real matches are coming. I practice and get prepared, feeling relaxed as usual for the matches. As I still feel a bit tired from the games in America, I'd like to get myself into shape gently, while recovering.
JFA-TV
DF NAGATOMO Yuto

GK KAWASHIMA Eiji
Schedule
Wed, 21 May ~ Sun, 25 May
-
Training Camp
Sun, 25 May
18:30
"Dream for Our power 2014" send off party
(Tokyo/Yoyogi National Stadium Yoyogi Gymnasiums 1)
Tue, 27 May
1-0
Kirin Challeng Cup2014
vs Cyprus National Team
(SAITAMA Stadium2〇〇2)
Thu, 29 May ~ Fri, 6 June
-
Training Camp
(Unaited States)
Mon, 2 June
International Friendly Match
3-1
vs Costa Rica NationalTeam
(United States/Tampa)
Fri, 6 June
4-3
vs Zambia NationalTeam
(United States/Tampa)
LIVE
Hong Kong : 6/7 07:30~
i-CABLE Sports
Super Soccer Channel 61
Thailand : 6/7 06:30~
True Sport 1
True Sport HD 2
Sat, 14 June
2014 FIFA World Cup Brasil
22:00(JST)
Sun, 15 June 10:00
2014 FIFA World Cup Brazil
vs CÔTE D'IVOIRE National Team
(Arena Pernambuco)
[LIVE]
NHK G Sun,15 June9:00~(12:00)
[VIDEO]
NHK BS-1 Sun, 15 June 19:00~20:54
NHK BS-1 Fri, 20 June 4:00~5:55
NHK BS-1 Sat, 28 June 17:00~18:55
Thu, 19 June
19:00(JST)
  Fri,20 June   7:00
2014 FIFA World Cup Brazil
vs Greece National Team
(Estadio das Dunas)
[LIVE]
NHK BS-1 Fri,20 June 6:00~9:10
NTV Fri,20 June 5:50~9:15
[VIDEO]
NHK BS-1 Fri, 20 June 20:00~21:55
NHK BS-1 Sat, 28 June 19:00~20:55
Tue, 24 June
16:00(JST)
Wed,25 June  5:00
2014 FIFA World Cup Brazil
vs Colombia National Team
(Arena Pantanal)
[LIVE]
Asahi National Broadcasting Wed,25 June 4:40~7:20
[VIDEO]
NHK G  Wed,25 June 9:05~11:00
NHK BS-1 Wed,25 June 20:00~21:55
NHK BS-1 Sat, 28 June 21:00~22:55
※Broadcast time is Japan time.