NEWS
【Match Report】U-16 Japan National Team start tournament with a loss to the USA - International Dream Cup 2023 JAPAN
01 June 2023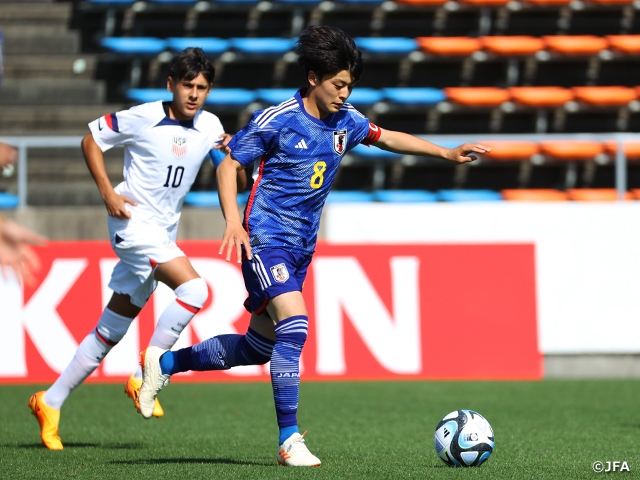 The International Dream Cup 2023 JAPAN kicked-off on Wednesday 31 May at J-Village in Fukushima, where the U-16 Japan National Team played the U-16 USA National Team and lost 1-2.
U-16 Japan National Team 1-2 (0-0, 1-2) U-16 USA National Team
From the start of the match, Japan established a solid defensive shape to keep the USA offence at bay. The entire team shifted laterally in tandem and swiftly exerted pressure with several players when the ball was delivered into the centre. They also pressed from a high position when they sensed an opening and showed swift transitions to create chances when they won the ball.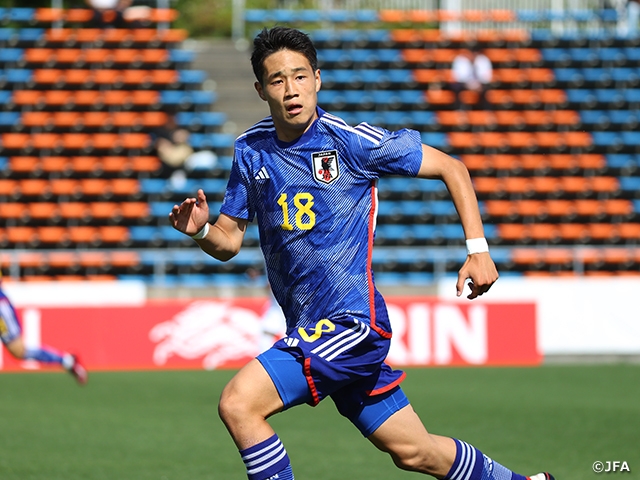 However, the tide changed in the second half. The USA began to send more and more vertical passes to exploit the spaces behind the Japanese defence line and scored the opening goal in the 60th minute, when Nimfasha BERCHIMAS broke through Japan's right flank to setup the goal of Santiago MORALES.
Utilising their substitutions, Japan attempted to revive their offence, but their opponents' momentum made it tough to accomplish much. Japan also let up a goal off a corner kick in the 83rd minute, furthering their deficit.
Although Japan managed to score one back during additional time, when KUMASHIRO Keito (Roasso Kumamoto Youth) converted a deflection of a free kick struck by NAKAYAMA Shion (Tokyo Verdy Youth), the home side lost their opening match 1-2.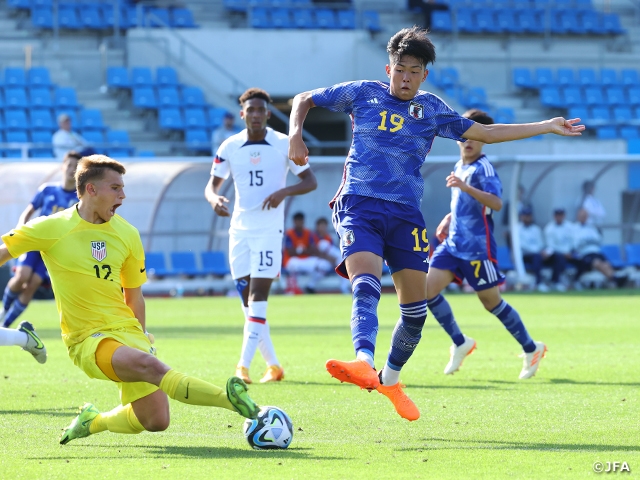 In the other fixture played on this day, the U-16 Netherlands National Team defeated the U-16 Nigeria National Team, thanks to the first half goal scored by Jim KOLLER.
Coach and Players' Comments
HIROYAMA Nozomi, Head Coach of U-16 Japan National Team
Our defence was laser-focused in the first half and limited our opponents to almost no chances. However, in the second half, when our opponents picked up the pace, we were caught halfway up the field and hit on the counter. We wanted to raise the quality of our play while we were playing in a good rhythm and outplay our opponents near the goal. I am really looking forward to the remaining two matches. When faced with challenges, foreign teams can suddenly develop their own rhythm. That is something that Japanese teams don't have and need to learn from. We are very grateful to be able to experience such qualities at the developmental age.
DF #18 MORI Soichiro (Nagoya Grampus U-18)
The match up in the flank changed in the second half. I think I hesitated and pulled back a bit, because I saw him play in the first half and knew he was a quick player. The first goal came from my side of the field, and it exposed my shortcomings in one-on-one situations. The remaining two matches are also very valuable opportunities to play against foreign teams. Against teams of different colours, I hope to contribute to the team's victory by making use of my strong points.
MF #8 OSADA Towa (Gamba Osaka Youth)
It was a match we had to win but we deserved the loss considering how we played. We managed to enter the match well but the fact that we couldn't capitalise on our opportunities allowed our opponents to gain momentum in the second half. Although we were able to deliver more crosses than usual, they were being deflected by bigger opponents. More than half of the squad has changed since our last tour, and it's only been a few days since we got together, but I think we've understood each other's strengths through this match, so we'll do our best to win the remaining two matches.
FW #19 SEKIGUCHI Kota (Shimizu S-Pulse Youth)
Foreign teams have many large-framed defenders, just like the USA, but they also have several weaknesses we can exploit. Like in our last tour, I think we were able to exploit those areas today, but as a forward, I have to score goals. I must be able to carry the ball myself and adamantly demand more crosses. In the remaining two matches, I will continue to play my usual game and try to score goals to help the team win.


Tournament dates: Wed. 31 May - Sun. 4 June 2023
Participating teams: Japan/Netherlands/USA/Nigeria
Venue: [Free admission to all matches] J-Village Stadium (Fukushima)
Tournament Information