NEWS
U-21 Japan National Team announce 27-player roster for the Dubai Cup
18 March 2022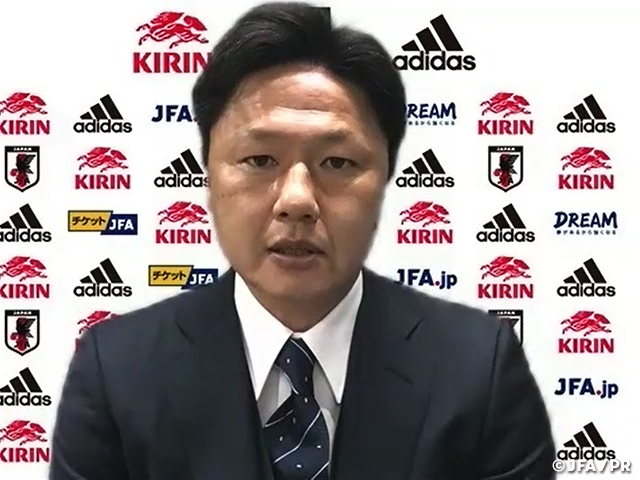 On Thursday 17 March, JFA held a press conference to announce the squad of the U-21 Japan National Team, who will be competing in the Dubai Cup U-23 held in UAE from Wednesday 23 to Tuesday 29 March. At the press conference, head coach OIWA Go announced the names of the 27 players.
"I hope the players will not make this (U-21 Japan National Team) their goal, but always strive to become a member of the SAMURAI BLUE," said coach Oiwa, as he continued to mention, "We hope that they will catch our attention in the process of their efforts, and that they will demonstrate technical, tactical, and mental toughness. Such players will inevitably be in this group." As coach Oiwa pointed out, "We aim for the Paris Olympics through SAMURAI BLUE," many players from the J.League were selected, while KOKUBO Leobrian (SL Benfica/Portugal), UCHINO Takashi (Fortuna Dusseldorf/Germany), and SAITO Koki (Lommel SK/Belgium) were selected from clubs abroad.
Coach Oiwa said that when the team was selected to participate in the tournament, "We will strive to win every match as long as we are competing in an international tournament," and will aim to heighten the team's overall strength by increasing competition among the players.
The U-21 Japan National Team will play the U-23 Croatia National Team on Wednesday 23 and the U-23 Qatar National Team on Saturday 26 March, with the play-offs taking place on Tuesday 29 March, depending on the results of these two matches.
Coach's Comment
OIWA Go, Head Coach of U-21 Japan National Team
As the U-21 Japan National Team participate in the Dubai Cup, we would first like to thank JFA and all those involved for the tremendous support they have given us in creating this opportunity. And since our recent launch, we have had a lot of media coverage of our activities, and we feel that this Dubai Cup has also attracted a lot of attention.
This will be the team's first official international activity in two years. We told each club that we would like to participate with a high-level team, and we considered the schedule of the J.League and the current situation of the players playing abroad in our selection process. Even though this tournament is taking place within the FIFA International Match period, we are grateful to the clubs that have provided us with their players during this Corona pandemic. I have selected this squad because I believe that these players are the ones who will help this team take forward strides, and I would like to compete in the Dubai Cup with them with confidence.
Within the limited number of call-ups, we would like to actively call up players who are in good form and performing well at the time. It is the job of the coaching staff to provide the environment for the players to deliver results, whilst also using the opportunity to bring them together under a mutual concept. Competing in a tight schedule and then returning home to play for their clubs is part of the obligations of the Japan National Team. I am grateful for this opportunity to experience tough international matches abroad, and I hope to use this as an opportunity to develop the players' resilience, toughness, and tactical understanding of how to play as a group. I want my players to be physically and mentally tough. The Asian qualifiers are also held in tight schedules, so we must be tough, both individually and as a team. I will demand such toughness from the players as a basic premise, and on the pitch, I want to demand a high level of tactical understanding, so that the players can handle multiple positions, which require different level of speed, technical and tactical demands, once they reach the next stage of their football career. I strongly believe that such approach will lead to more individual growth and ultimately help the SAMURAI BLUE.
The armband should be given to a player who can inspire the team, be relied on, and show his strength when the team is facing adversity. There are a lot of players who have such mentality, and I would like to make my decision based on who/how they take on the leadership role.
As I said in my inaugural press conference, my task is to lead this team to victory. We will be selecting players who can show strong fighting spirt against different opponents, adjust and demonstrate solid performance in each position, and help raise the overall strength of the team.