NEWS
U-21 Japan National Team announce squad for the AFC U23 Asian Cup Uzbekistan 2022™
25 May 2022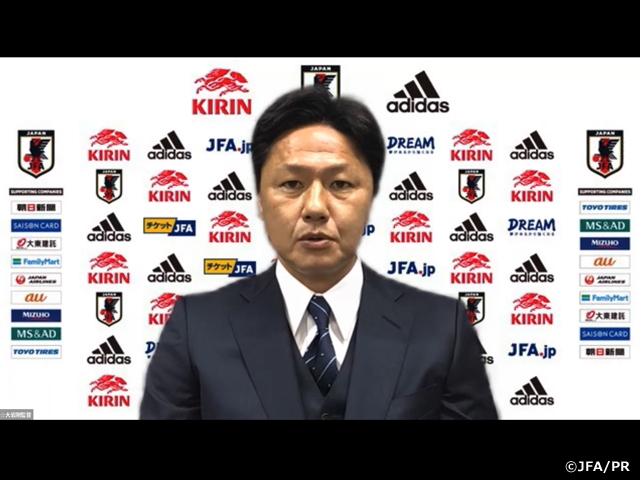 On Tuesday 24 May, Japan Football Association (JFA) held an online press conference to announce the squad for the AFC U23 Asian Cup Uzbekistan 2022™ (scheduled to kick-off on 1 June).
At the beginning of the press conference, Head Coach OIWA Go made an appearance to share his gratitude, "We will be participating in the Asian Cup at a difficult time, but with the help of many clubs we have been able to participate, and we are very grateful for that."
Coach Oiwa then went on to mention the criteria for the player selection process. "If we win through the group stage, we will have to play a maximum of six matches, which means we will be playing a match with just two-day rests in between. So, we have chosen players who are capable of maintaining their condition and compete through a tough schedule."
He also explained why they named only 21 players, when the regulation allowed 23 to be registered on the roster.
"There are two more league fixtures remained to be played ahead of the international match window, so we wanted to monitor the players' conditions and injury status before making our final decision. That is why we held the list at 21 at this time. We will announce the remaining two players after we have seen the upcoming matches."
The team will take in consideration of the players' conditions and match schedule for this tournament, as KATO Hijiri, FUJITA Joel Chima, and FUJIO Shota are scheduled to join the team on 1 June, due to their clubs' match schedule.
The U-21 Japan National Team will depart to Uzbekistan on Sunday 29 May and start their activities on Tuesday 31. They are scheduled to face UAE on Friday 3 June, Saudi Arabia on Monday 6, and Tajikistan on Thursday 9.
Coach's Comment
OIWA Go, Head Coach of U-21 Japan National Team
This AFC U23 Asian Cup will have an impact on the AFC U23 Asian Cup in two years' time, which also serves as the qualifier for the Paris Olympics, so we will give our utmost effort to win this tournament. We will seek for victory, one match at a time, and in the process, we hope to improve ourselves both as a team and as individuals. We were reminded of the difficulties to compete in Asia at the Dubai Cup in late March, so we will try to make the most of that experience in our preparations for this tournament. We will try to win each and every match against UAE, Saudi Arabia and Tajikistan.