NEWS
S-Licence Coaching Course 2020 Module 3/Short-course (3) Participant's Report Vol. 9
04 November 2020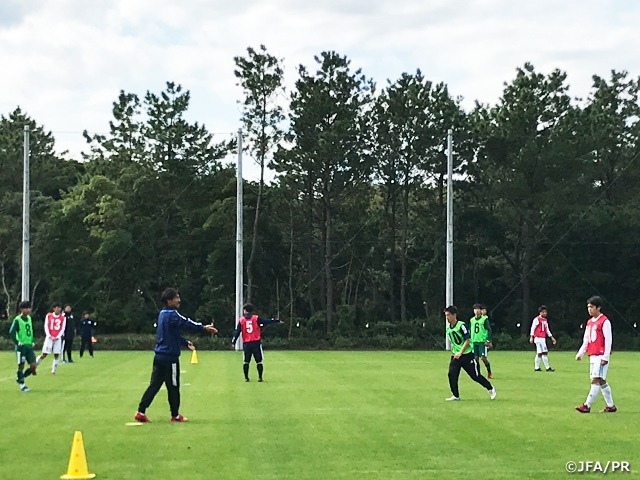 Despite seeing the course schedule changed dramatically due to the effects of COVID-19, this year's S-Licence Coaching Course has entered the second half. As per the previous two modules, module3 started with all participants taking the SmartAmp test upon arrival, making sure that everyone tested negative for COVID-19 before heading to Prince Takamado Memorial JFA YUME Field.
Module3 Short-course③
Duration: Mon. 26 - Fri. 30 October
Mon. 26 October
Guidance, Coaching session, Review, Group-work
Tue. 27 October
Coaching session, Review, Group-work
Sports Paramedic PUSH Course: FURUYA Shinsuke
(JFA Sports Paramedic Project/Kansai University of Health Sciences)
Wed. 28 October
Coaching session, Review, Group-work
Thu. 29 October
Coaching session, Review, Group-work
Fri. 30 October
Coaching session, Review, Guidance
Next week we will share the report of coach MASUMOTO Kohei (Matsumoto Yamaga FC).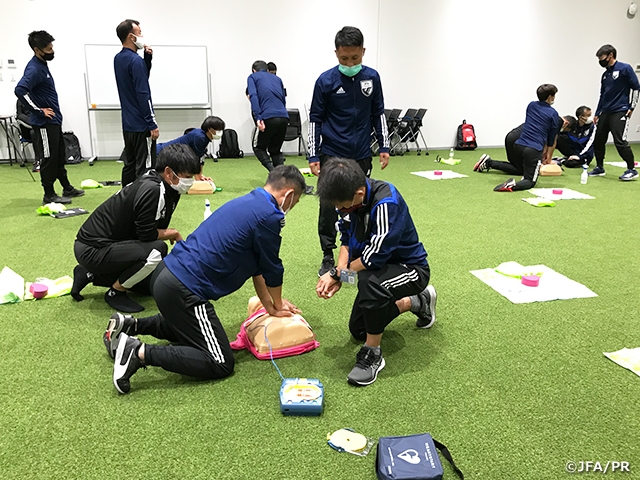 Comment
Coach Park Kang-Jo (Vissel Kobe SS U-15 UMDS)
Following the first two modules, we have entered module3 of the S-Licence Coaching Course 2020. There were so many new findings up to this point, but we are here to gain more knowledge at this course. Among the instructors lecturing at this short course, Mr. KANNO Atsushi and Mr. KAWAMATA Noriyuki appeared as the physical coach and GK coach, respectively, and they have taught us about relationship between coaches.
At the coaching sessions, we simulated an opponent who plays a 1-4-3-3 formation and built our strategy and system based on our own theme to play against such opponent. We formed a group of four coaches, where we acted as the head coach, assistant coach, GK coach, and physical coach, and each group came up with unique training menus and coaching methods that were very fascinating.
My theme was to "draw in the opponents to initiate counterattacks," and I tried to visualise myself being an actual coach when planning for the training menus. Although I was able to give proper coaching when things were under control, I was not able to respond against irregular situations, so that was an aspect I need to improve on. I was able to receive many feedbacks from both the instructors and the participants during the discussion sessions. I hope to internalise what I have learned from this course to improve my performance at our next coaching session.
The short course was only for five days, but we were given the opportunity to study at Prince Takamado Memorial JFA YUME Field, which is a wonderful facility. We thank everyone involved in making this course possible, the players of Meikai University for helping our coaching sessions, and the instructors for their guidance.