NEWS
S-Licence Coaching Course 2020 Module 3/Intensive Course (7) Participant's Report Vol. 10
11 November 2020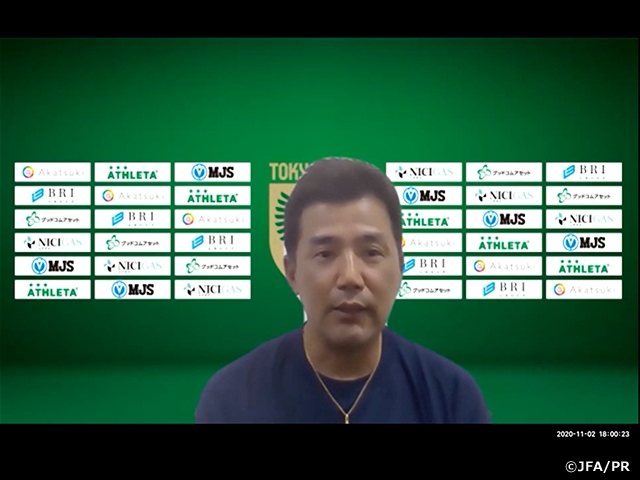 Following the third short course of the S-Licence Coaching Course 2020, online lecture courses of module3 have started. Starting from this week, each participant is given a random theme to hold a 20 minute presentation.
Module3 Intensive Course⑦
Duration: Mon. 2 - Thu. 5 November
Mon. 2 November
Presentation, Short-course review
Professional coaching theory: Coach NAGAI Hideki (Tokyo Verdy)
Wed. 4 November
Presentation
Media theory: OSUMI Yoshiyuki (Journalist)
Thu. 5 November
Presentation
Professional coaching theory: Coach KAGEYAMA Masanaga (U-19 Japan National Team)
Next week we will share the report of coach MITA Hikaru (Fagiano Okayama U-18).
Comment
Coach MASUMOTO Kohei (Matsumoto Yamaga FC)
First of all, I would like to thank everyone who has supported us to make this S-Licence Coaching Course 2020 possible during this tough time.
Following the practical coaching sessions held at Prince Takamado Memorial JFA YUME Field, each participant has taken back our own homework to polish up our coaching skills.
Starting from this course, two participants are given 20 minutes per person to hold a presentation on an assigned theme each day. Each participant held their presentation with deep analysis, logical thinking, and wide insights, but it was evident that the past lectures have influenced how we held our presentations, so it has given us the opportunity to realise how impactful the course has been so far.
Other than the presentations, we took lectures on: ①Coaching session review, ②Professional coaching theory (Mr. NAGAI Hideki), ③Media theory (Mr. OSUMI Yoshiyuki), ④Professional coaching theory (Mr. KAGEYAMA Masanaga).
In our coaching session review, we were divided into four groups to discuss about four separate topics and held presentations on each of the given topics. The participants also got together to discuss the pros and cons of different strategies to stay on the same page. I have learned so much from these discussions, and I hope to implement these new findings to my future coaching.
I would like to thank Mr. NAGAI Hideki for taking time out of his busy schedule. He shared us with his coaching background and real life insights, which were extremely interesting. His stories made us realise the importance to deal with the gap between ideal and reality, how to utilise the veterans and youngsters, about discipline, and how to take the initiative.
Mr. OSUMI Yoshiyuki lectured us on the importance to build a positive relationship with the media, while also keeping an appropriate distance with them. It is important that we understand the type of media, who we are speaking to, and what they are looking for. There are fans and supporters reading/viewing/listening the interviews, so we must never take for granted of each interview. His lecture also made us realise the risks of the on-the-spot interviews and how we should select our words at press conferences after matches.
Mr. KAGEYAMA Masanaga took the podium for the second time, as he shared many stories from his own experience. His lecture made us rethink about our attitude and approach as a coach. Recently, I have been spending a lot of time thinking about the future of Japanese football, and Mr. Kageyama's speech about the goals of U-19 Japan National Team and the stories of Mr. Boban has made me realise that it is a topic I must continue to think about as a Japanese citizen and as a S-Licence coach.
The lectures were very productive, and this week flew by so quickly. It took us a while to get used to the online platforms, but we have been able to hold more discussions online and gain new findings. I have also learned from my peers the importance of keeping an open mind and to have confidence in ourselves. I hope to make the most of this experience and continue to strive to become a better coach.