NEWS
S-Licence Coaching Course 2020 Module 3/Intensive Course (8) Participant's Report Vol. 11
17 November 2020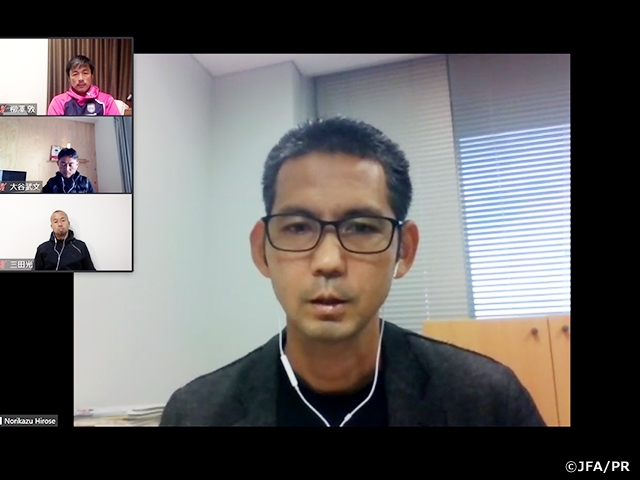 The S-Licence Coaching Course 2020 has entered the eighth week and the participants are spending more time going through curriculums that simulate coaching sessions after receiving the licence. The course is seeing more active and detailed discussions held by the participants.
Module3 Intensive Course⑧
Duration: Mon. 9 - Thu. 12 November
Mon. 9 November
Presentation
Sport Integrity: SATO Yamato/YAMAMOTO Kenta (Ray Law Office)
Anger management & Communication: OKAMOTO Hiroshi (Sports psychiatrist)
Tue. 10 November
Presentation
Physical conditioning: HIROSE Norikazu (Physical fitness project member)
Medical cooperating: KATO Haruyasu (JFA Medical Committee)
Wed. 11 November
Presentation
Professional coaching theory: FUJITA Toshiya (JFA Technical Committee)
Professional coaching theory: SUZUKI Jun (JFA Class-S Instructor)
Thu. 12 November
Presentation
Activities of Japan Futsal National Team: Bruno GARCIA (Coach of Japan Futsal National Team)
Next week we will share the report of coach YASUDA Yoshitaka (Oita Trinita).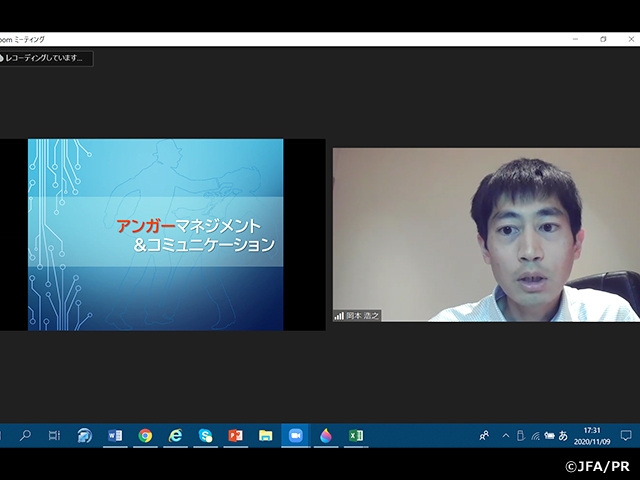 Comment
Coach MITA Hikaru (Fagiano Okayama U-18)
The online lectures have resumed, and we are continuing to hold presentations each day, where two participants are given 20 minutes each to talk about their topic. At these presentations, we try to be logical and construct our own hypothesis to share our thoughts regarding the topic. Even though the presentations are held online, we try to be creative and incorporate our body language to get our message across. Following the presentations, discussions are held to talk about the topic as well as the presentation itself.
On the first day, we welcomed Mr. SATO Yamato from Ray Law Office, who held a lecture on "Sport Integrity." At this lecture, Mr. Sato discussed the topic of "Sports Harassment," as he started by stating, "We must re-evaluate the social perspective" of harassment. The lecture made us think about how relationships are built between coaches, staffs, and players, the need to have a code of conduct, and the importance to have both the coaches and players understand each other's role.
Dr. OKAMOTO Hiroshi followed with a lecture on "Anger management & Communication." Continuing from the lecture on "Sports Harassment," how we build our relationship with the staffs and players was once again featured. In order to build a positive relationship, coaches must first understand each of their staffs and players, realise that a perfect coach cannot exist, and to construct an environment where players and staffs can share their concerns and complaints. A coach needs to be a strict leading figure, but at the same time, it is important that we stay logical and flexible.
The second day started with Mr. HIROSE Norikazu giving us a lecture on "Reconditioning in football," followed by Dr. KATO Haruyasu's lecture on "Medical cooperation." Here we discussed at what point we determine that an injured player is ready to play in a match. As a coach who watches over the players on a daily basis, we must have basic medical understandings to recognise injuries that can easily reoccur and to evaluate degrees of injuries not based on the level of pain, but through medical evidence. It is also important that we think about the players' motivation and cooperate with the medical staffs to allow the players to make their return from injuries. Through cases from our own clubs and experiences as a player, the participants actively discussed the need to set guidelines and rules for players making their return from injuries.
On the third day, Mr. FUJITA Toshiya and Mr. SUZUKI Jun gave lectures on "Professional coaching theory." Mr. Fujita talked about "the necessity for Japanese coaches to gain experience in Europe." In order to achieve the goals of JFA, participants of this S-Licence Coaching Course must become the future leaders that lead the Japanese football scene, and Mr. Fujita shared us with his thoughts regarding the difference in coaching licenses between Japan and other countries. He also pointed out that while many Japanese players are thriving in Europe, not many coaches have taken the same footsteps, as he shared us with many of his insights from his experience in the Netherlands and England.
From his perspective as an instructor, Mr. Suzuki shared us with stories regarding how to construct relationships with veterans, young players, and foreign players. He also lectured us on how we should approach players who are on the bench and those who are not involved in matches. At this lecture, we learned not only about player management, but also regarding self-management, as Mr. Suzuki shared us with his own experience signing a contract with a J.Club and what went through his mind when becoming a coach.
Coach Bruno GARCIA gave us a lecture on the "Activities of Japan Futsal National Team" on the fourth day. Here we learned about the culture of futsal and how it differs from football, the game model, and the training model of the Japan Futsal National Team. Through actual training footages and coach Garcia's stories, we learned that there are many similarities between football and futsal, when looking at the basic principle and philosophy.
Although the start of the course was pushed back to late August, the S-Licence Coaching Course is about to enter November. The participants have fully adjusted to the online platform and heated discussions are being held each session. We will continue to cherish the time we are given at this course and work hard to become a better coach.