NEWS
【Scouting report】A country with glorious track record in the history of world football re-starts in Asia for a new cycle - Uruguay National Team (KIRIN CHALLENGE CUP 2023)
13 March 2023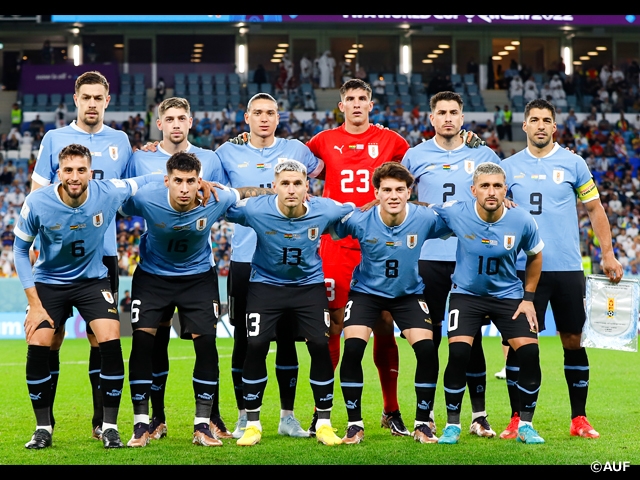 Despite only having a population of 3.5 million, the country hosted the inaugural FIFA World Cup™ and has been a major presence in the history of world football, producing a number of outstanding players. The national team has also left a brilliant mark, winning the World Cup twice and the CONMEBOL Copa America (South American Football Championship) 15 times, tied with Argentina for the most wins.
The team's World Cup resurgence was boosted by a fourth-place finish at the 2010 FIFA World Cup South Africa™, but they were disappointingly eliminated in the group stage at the FIFA World Cup Qatar 2022™ last year. The team won 2-0 over Ghana after drawing with Korea Republic and losing to Portugal but fell short of Korea Republic in total goals scored despite having the same number of points and goal difference.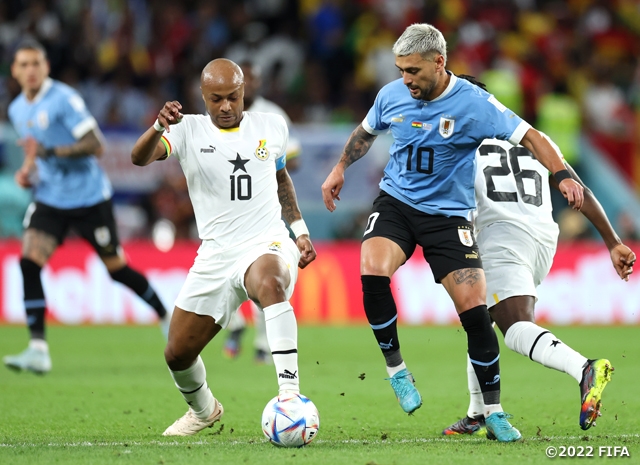 Of course, their next main goal is to qualify and perform well at the World Cup, which will be co-hosted by the USA, Canada, and Mexico in 2026. The Copa America, scheduled to take place in the USA next year, will certainly be an important step for them, but before that, the team will kick off their new cycle with a tour to Asia, where they will play matches against the SAMURAI BLUE (Japan National Team) on 24 March and South Korea on 28 March.
The Uruguayan Football Association has announced a 34-man shortlist for this Asian tour but has not yet named their head coach after the resignation of head coach Diego ALONSO, who led the team at last year's World Cup. The team will be led by interim coach Marcelo BROLI, who guided the U-20 Uruguayan National Team to a runners-up finish at the South American U-20 Championship which earned them a spot in the FIFA U-20 World Cup Indonesia 2023™.
When describing the team, the word "Garra Charrua" is frequently used. Garra, which means "hooked claw," and Charrua, which is the name of an indigenous tribe in Uruguay, refer to the team's courageous fighting spirit, which earned them great success against regional footballing powerhouses like Brazil and Argentina. It goes without saying that Uruguay, like all South American powerhouses, is made up of players with exceptional skills who are capable of playing with a high level of intensity, which is crucial aspect in modern football.
The Uruguay National Team and the SAMURAI BLUE will meet for the first time in almost three years and nine months, since the Copa America Brazil in June 2019, where the two sides played to a 2-2 draw.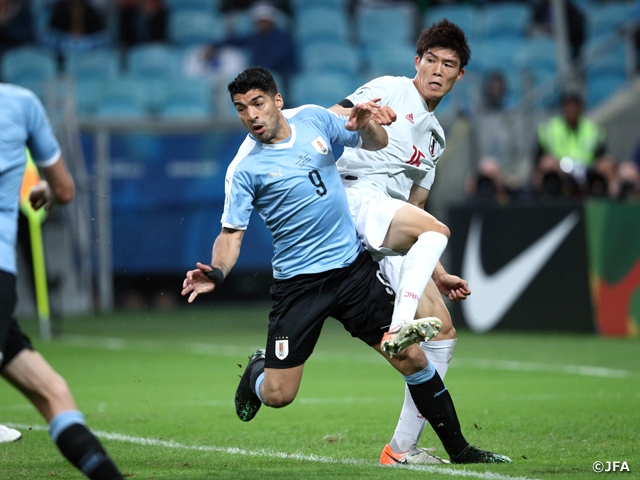 Results of last 10 matches (H: Home, A: Away, N: Neutral ground)
| | | |
| --- | --- | --- |
| 2 Dec. 2022 | ○ 2-0 (N) Ghana | FIFA World Cup Qatar 2022™ |
| 28 Nov. 2022 | ● 0-2 (N) Portugal | FIFA World Cup Qatar 2022™ |
| 24 Nov. 2022 | △ 0-0 (N) Korea Republic | FIFA World Cup Qatar 2022™ |
| 27 Sep. 2022 | ○ 2-0 (N) Canada | International Friendly |
| 23 Sep. 2022 | ● 0-1 (N) IR Iran | International Friendly |
| 11 Jun. 2022 | ○ 5-0 (H) Panama | International Friendly |
| 5 Jun. 2022 | △ 0-0 (A) USA | International Friendly |
| 2 Jun. 2022 | ○ 3-0 (N) Mexico | International Friendly |
| 29 Mar. 2022 | ○ 2-0 (A) Chile | FIFA World Cup Qatar 2022™ South American qualifier |
| 24 Mar. 2022 | ○ 1-0 (H) Peru | FIFA World Cup Qatar 2022™ South American qualifier |
Record against Japan
4 wins, 2 draws, 2 losses (23 goals, 17 against)
| | | |
| --- | --- | --- |
| 26 May 1985 | ○4-1 | KIRIN CUP SOCCER '85 |
| 25 Aug. 1996 | ●3-5 | International friendly |
| 28 Mar. 2003 | △2-2 | International friendly |
| 20 Aug. 2008 | ○3-1 | KIRIN CHALLENGE CUP 2008 |
| 14 Aug. 2013 | ○4-2 | KIRIN CHALLENGE CUP 2013 |
| 5 Sep. 2014 | ○2-0 | KIRIN CHALLENGE CUP 2014 |
| 16 Oct. 2018 | ●3-4 | KIRIN CHALLENGE CUP 2018 |
| 20 Jun. 2019 | △2-2 | CONMEBOL Copa America Brasil 2019 |
Results at the FIFA World Cup™
Appearances: 14 times
Best finish: Champions
1930 Champions
1934 Did not participate
1938 Did not participate
1950 Champions
1954 Fourth place
1958 Eliminated in the qualifier
1962 Group stage
1966 Quarterfinals
1970 Fourth place
1974 Group stage (1st round)
1978 Eliminated in the qualifier
1982 Eliminated in the qualifier
1986 Round of 16
1990 Round of 16
1994 Eliminated in the qualifier
1998 Eliminated in the qualifier
2002 Group stage
2006 Eliminated in the qualifier
2010 Fourth place
2014 Round of 16
2018 Quarterfinals
2022 Group stage
| | |
| --- | --- |
| Association | Uruguayan Football Association |
| FIFA Confederation | South American Football Confederation (CONMEBOL) |
| President | Ignacio ALONSO |
| Official Site | https://www.auf.org.uy/ |
| FIFA Ranking | 16th *As of 22 December 2022 |