NEWS
SAMURAI BLUE's Coach MORIYASU shares aspiration to "Bring out full potential to win" against Saudi Arabia in AFC Asian Qualifiers (Road to Qatar)
01 February 2022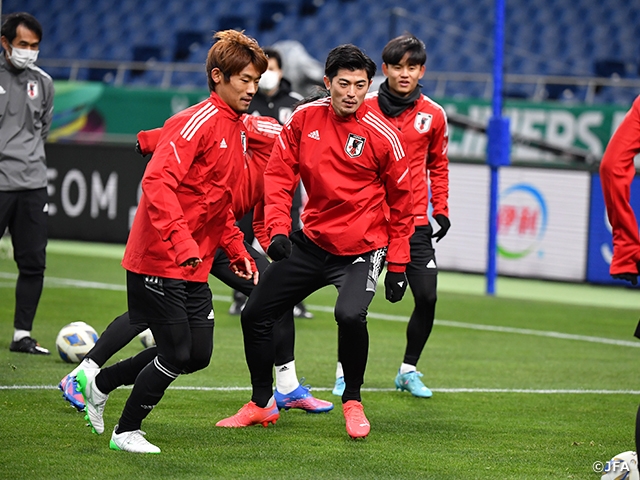 On Monday 31 January, coach MORIYASU Hajime of the SAMUIRAI BLUE (Japan National Team) appeared in the official press conference held at Saitama Stadium 2002 ahead of their match against the Saudi Arabia National Team in the FIFA World Cup Qatar 2022™ AFC Asian Qualifiers (Road to Qatar), where he shared his aspiration to "bring out the full potential of the team to win."
Japan, who have won four matches in a row, including a 2-0 victory over China PR five days ago, are second in the group with 15 points and will host Saudi Arabia, who are top of the table with 19 points.
With three matches remaining in the Asian Qualifiers, a win for Japan would put them one point behind the leaders. However, a win for Saudi Arabia would qualify the Saudis into the World Cup, while Japan could drop to third place depending on the match result of Australia, who are just one point behind Japan in third place. Japan lost the first leg 0-1 in an away match played in October, and they will be needing a win get even with Saudi Arabia and to avoid dropping in third place, which will put them through intercontinental play-offs to qualify for the World Cup.
"They are a polished and highly organised team with great individual skills and ability," said coach Moriyasu, when asked about his impression on Saudi Arabia. While the coach mentioned that there will be times when the opponent will dominate the ball possession, he also shared his confidence, "We need to keep our options open and respond accordingly. We cannot lose to the same opponent twice. We want to showcase our full potential to earn a victory at home."
Saudi Arabia are coming off a 1-0 home victory over Oman on 27 January. They enter Japan with a record of six wins and a draw in the Asian Qualifiers. Under the leadership of French-born coach Herve RENARD, the team has been on a remarkable run in the Asian Qualifiers, unbeaten since the second round of the qualifiers in September 2019, and with their last defeat coming in a friendly against Jamaica in November 2020.
Although Salman AL-FARAJ and Saleh AL-SHEHRI, who started against Japan in the first-leg, are not in the squad due to injury, Firas AL-BURAIKAN, who has scored three goals in the Asian Qualifiers, Mohamed KANNO, and Fahad AL-MUWALLAD are still in the squad.
When asked about his current squad, coach Renard mentioned, "If we want to go to the World Cup, we have to be consistent no matter who is on the squad. We drew against Australia, but we have won all other matches. We are prepared for tomorrow's crucial match."
On this day, Japan held a training session at the match venue, in which the session was closed to the media except for the first 15 minutes. While the session was open to the media, the players were seen going through their warmup routine and passing drills, before going over their tactics for the match against Saudi Arabia.
Ahead of the match against their AFC rival, Saudi Arabia, coach Moriyasu stated, "It is important that we enter the match with the intention of outperforming Saudi Arabia and winning at home to qualify for the World Cup. We want to play aggressively to take the initiative of the match."
ITO Junya (KRC Genk), who has scored in three consecutive qualification matches, shared his determination for the match, "Winning is the only thing we are thinking about. Only a win will get us to the World Cup, so we must focus on the result."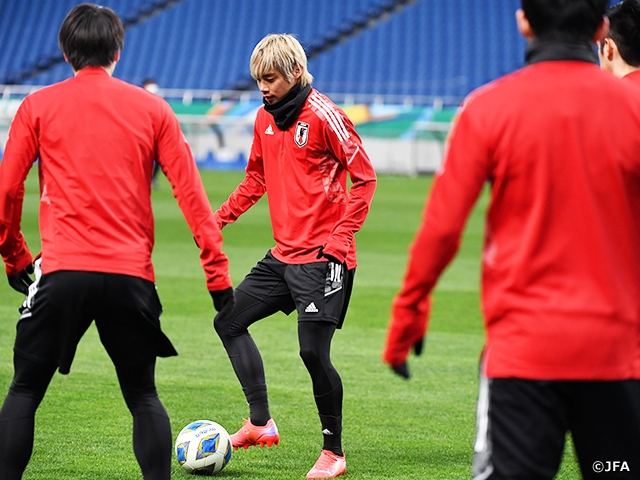 MAEDA Daizen (Celtic FC), who setup the goal of Ito as a second half substitute, also shared his aspiration, "Those are the plays I value as a player. All I need to do now is to score goals."
"It will be a crucial three points for us to qualify," said TANIGUCHI Shogo (Kawasaki Frontale), who was partnered with ITAKURA Kou (FC Schalke 04) as the centre-half in his first appearance in the AFC Asian Qualifiers against China PR. The defender continued to mention, "I want to do everything I can to help the team win. I want to showcase what I am capable of and prove that I can fight for the team."
The match between the SAMURAI BLUE and the Saudi Arabia National Team is scheduled to kick-off at 19:10 on Tuesday 1 February at Saitama Stadium 2002. The match will be held with spectators while taking strict measures to prevent the spread of Covid-19.
Coaches and Players' Comments
MORIYASU Hajime, Coach of SAMURAI BLUE (Japan National Team)
We will be playing Saudi Arabia, who are in first place in the group, and we want to play to our full potential to secure a win at home. They are a polished and highly organised team with great individual skills and ability. Even if we are forced to be on the defensive end at times, we must be patient and keep fighting to bring the momentum to our side. With that in mind, we must try to take the initiative by attacking aggressively and anticipate for our chances to break down the opposing defence. We will need to be more aggressive than our opponents. After losing the first-leg away from home, we cannot lose to the same opponent twice in Aisa. But more importantly, we really want to go to the World Cup. Regardless of who we face, we want to keep our own goals at the forefront of our minds. We have been giving our best effort in each and every match to qualify for the World Cup. We have a very good squad. We have made progress since the last time we played them, and we are definitely getting better as a team. The players have been eager to work on the fundamentals and priorities of our offence and defence, which has given us a good base to build on. Ahead of tomorrow's match, I have told the players, "If we fight as a team, with each one of us giving 100%, we can outperform our opponents. We are stronger than them and we can win. Let's fight with confidence."
DF SAKAI Hiroki (Urawa Red Diamonds)
I was able to regain my game intuition and fitness from our match against China PR. I have a mixed feeling of nervousness and excitement ahead of this crucial match. Facing one of the best teams in Asia, our fate will depend on whether we can capitalise when we have the momentum and persevere through the stints when our opponents have the momentum. We hope to make the necessary adjustments while keeping in mind of the team's fundamental concepts. I will be asked to do a lot more than our previous match against China PR, especially knowing that I will be matching-up with one of the top players in Asia (#10 Salem AL-DOSSARI). We must plan ahead to maintain a clean sheet tomorrow. The expectations are always high when playing for the national team, and winning is the only way to get recognition, so we will do whatever it takes to earn three points.
DF TANIGUCHI Shogo (Kawasaki Frontale)
It was my first time playing in the AFC Asian qualifiers, so I felt a little nervous in the match against China PR, but objectively speaking, I was able to maintain my composure when entering the match. It's good that we won, but it doesn't change the fact that the next match is the big one. We focused on resetting our minds after the match against China PR, so that we can prepare ourselves for the next match. Our opponent is the group leader, so we need to concentrate on winning the match. Itakura and I are both very conscious about controlling the defence line, and I hope we can help the team in a positive way. We need to change our approach depending on our opponent, so I hope to make the necessary adjustments for this match. I believe that we still have a lot to improve in terms of our attacking combinations, and personally, the quality of my build-ups and plays in the final third. I hope we can show improvements in all these aspects tomorrow.
MF/FW ITO Junya (KRC Genk/Belgium)
(After scoring in three consecutive qualification matches) It is great that I am producing results and I am happy to contribute to the team's victory. I am not satisfied with my overall performance, but I am happy that the team won. The fact that I am scoring goals gives me a good image for the next match. I always want to be in a position to score goals, even if it is a scrappy goal. We are expecting Saudi Arabia to possess the ball longer than our previous opponents, but we hope to exploit the open space by making quick transitions between offence and defence. In the first leg against Saudi Arabia, we saw ASANO (Takuma) break through the right side from counterattacks, so how quickly we can transition between offence and defence will be the key to our success. The team is surrounded by a good amount of tension and positivity. I tend to thrive against stronger opponents, so I will try to play with confidence tomorrow.
MF/FW MAEDA Daizen (Celtic FC/Scotland)
I was nervous entering the match against China PR because I hadn't played for the national team since Copa America, but I'm happy that the team was able to win. It was great that I was able to showcase a performance I intended, but I wasn't involved in any of our goals, so that is an aspect I need to improve on. I want to help the team by scoring goals. I think Saudi Arabia will play with more intensity than the teams we have played before, so we must first focus on winning each battle. If we can work together as a team and showcase our usual performance, I believe that we can win the match. I also think this match will open up more than our previous match against China PR, so we must anticipate exploiting the open space behind the opposing defenders. We can create chances by winning the ball upfront, and even if we cannot win the ball, we will have a chance of collecting the second ball by forcing a long ball from their defence line. Whether I start or enter the match as a substitute, I don't think it will change my approach.
Herve RENARD, Coach of Saudi Arabia National Team
Tomorrow is a very important match with lots of implications for the qualification of the FIFA World Cup Qatar 2022™. The most important thing is to finish in the top two places of the group, which will grant us automatic qualification. We are currently in a good position at the top of the table, but there are still three matches left to be played and it is important that we maintain our current position. We have been playing very consistently so far and we want to showcase a strong performance in tomorrow's match as well. We have a lot of respect for Japan. They are the second highest ranked team in Asia, and a solid team that reached the round of 16 in the 2018 FIFA World Cup Russia™. Their current situation may not be a proper reflection of the team's true strength. We must consider all that as we prepare for tomorrow's match.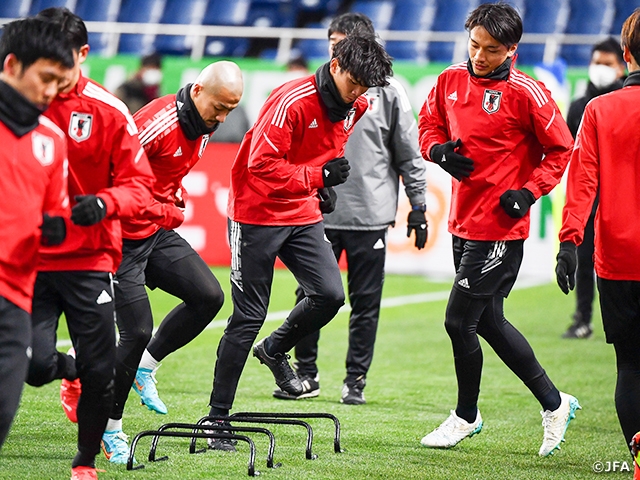 Asian Qualifiers - Road to Qatar [2/1]
SAMURAI BLUE (Japan National Team) vs Saudi Arabia National Team
Date: Tue. 1 February, 19:10
Venue: Saitama Stadium 2002 (Saitama)