NEWS
SAMURAI BLUE's Coach MORIYASU selects two first-time call-ups for AFC Asian Qualifiers in November and shares aspiration to "Earn highest points possible"
05 November 2021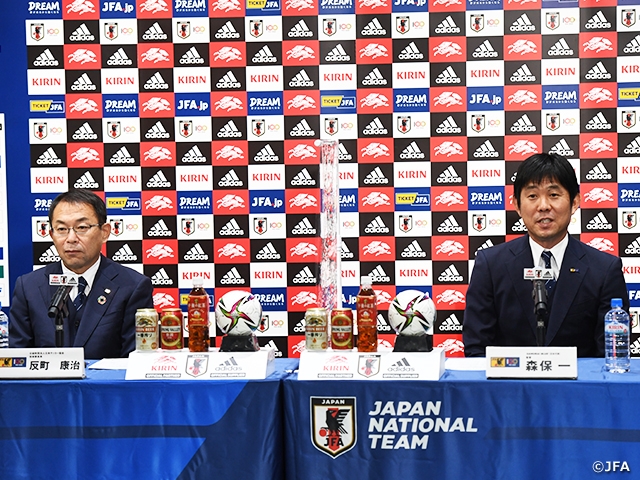 On Thursday 4 November, coach MORIYASU Hajime of the SAMURAI BLUE (Japan National Team) announced the squad for their matches against Vietnam (11/11@Hanoi) and Oman (11/16@Muscat) in the FIFA World Cup Qatar 2022™ AFC Asian Qualifiers (Road to Qatar). MITOMA Kaoru (Royale Union Saint-Gilloise) and HATATE Reo (Kawasaki Frontale) were selected for the first time, and the coach expressed his strong determination to "fight with all our might to earn highest points possible."
Considering the fact that the team is facing two consecutive away games and the difficulty of replacing players during the series, 27 players were called up. In addition to Mitoma, who transferred to Belgium this summer, and Hatate, who contributed to Kawasaki's title defence, J.League's top scorer Maeda Daizen (Yokohama F. Marinos) and UEDA Ayase (Kashima Antlers) made their return to the senior squad for the first time since 2019.
TANIGUCHI Shogo and YAMANE Miki were also named from Kawasaki, who have just won the league title, getting their callup to the SAMURAI BLUE for the first time since June and September of this year, respectively. TANAKA Ao (Fortuna Dusseldorf), who scored against Australia in October, FURUHASHI Kyogo (Celtic FC) and TOMIYASU Takehiro (Arsenal), who are showing great form at their respective clubs, have also been selected.
In addition, players with injury concerns, OSAKO Yuya (Vissel Kobe) and ITO Junya (KRC Genk), have been cleared to join the team, along with familiar members such as YOSHIDA Maya (UC Sampdoria) and MINAMINO Takumi (Liverpool FC).
Regarding the selection, coach Moriyasu mentioned, "I have selected the best possible squad for us to win against Vietnam and Oman." When asked about his selection of Mitoma, the coach explained, "he has been gaining strength while competing in Europe, and his attacking ability will be a weapon for us." Touching on the fact that the midfielder has been playing as a fullback for his club, the coach shared his expectation, "he will be able to showcase his strength during this tough final qualification round."
Japan is currently in fourth place in the group with two wins and two losses from their four matches so far. The team is three points behind second place Australia, who is in position to automatically qualify for the World Cup. Japan has lost the first match in both the September and October series, but they can no longer afford to lose points against Vietnam this time.
They haven't played Vietnam, who is currently in last place of the group, since the AFC Asian Cup 2019 quarterfinals. The match against Oman, who is tied in points with Japan but is ranked third with their advantage in total goals scored, will be the returning leg of the first match of the AFC Asian Qualifiers, in which Japan lost 0-1 in Osaka in September.
When asked about their first opponent, Vietnam, coach Moriyasu mentioned, "Their coach has been working with the team for a long time and built the team from the youth ages. The team is much more advanced than the 2019 team. I think it will be another difficult match, but we want to prepare ourselves mentally so that we can outperform our opponent who will be fight against us with all their might."
The coach mentioned that he is aware that "the team is in a very tough situation," and although his side was not able to earn points against Saudi Arabia in October, he noted that "we were able to make adjustments in a short period of time" by making use of the reflection from September. In regard to their second match against Australia, he felt that "the team's condition has improved, and the result reflected it."
The team will start practicing in Hanoi on Monday 8 November. Because of the restrictions on international flights to Vietnam due to the Covid-19 pandemic, some members joining from Europe will have to travel via Japan if their matches are held early in the week, while the rest will have to arrive in Hanoi via chartered flights.
Coach Moriyasu showed his enthusiasm by commenting, "I want to go into each match with the strong belief that we can earn the highest points possible and ultimately qualify for the World Cup by fighting with all our might."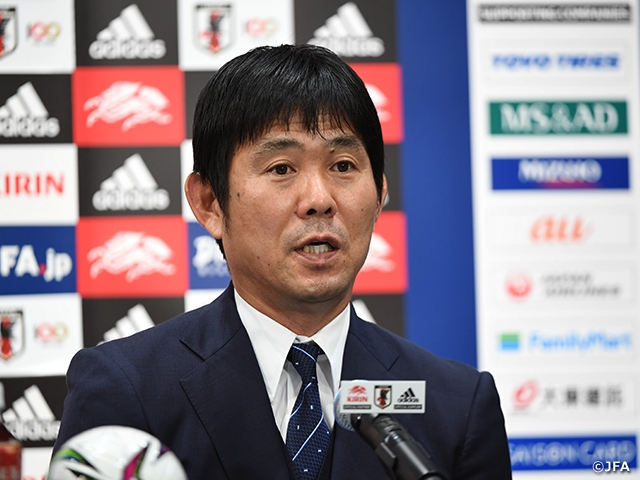 The SAMURAI BLUE are scheduled to face Vietnam in Hanoi on Thursday 11 November at 19:00 (21:00 Japan time) and Oman in Muscat on Tuesday 16 at 20:00 (Wednesday 17 at 1:00 Japan time).
Comments
MORIYASU Hajime, Coach of SAMURAI BLUE (Japan National Team)
The AFC Asian Qualifiers in November will be a series of two away matches. While recognising that we are in a very difficult situation, we will enter this series in November with the strong belief that we can earn the highest points possible and ultimately qualify for the World Cup by giving it our all in each of our remaining six matches. The match against Vietnam will be a difficult match due to the short preparation time, but we will try to prepare ourselves in the best way possible and carry the momentum to win the next match against Oman as well. We have to reflect on our losses in the first matches of the September and October series, but in the October match against Saudi Arabia, we managed to improve from the painful loss in September, and although it did not result in a victory, we were able to make the adjustments within the short preparation period. The team's performance against Australia has improved in terms of both content and results, so we want to keep this trend going as much as possible. We would like to choose how to approach the upcoming matches based on the condition of the players once we arrive on site. Although we won't have our entire squad until two days before the match, I would like to communicate their roles in practice and meetings so that the team can be on the same page and the players can have a clear understanding of their roles. I would like to assess the condition of the players from their most recent matches and make sure that they have a good idea of what it is like to play in a different environment with long distance travel, time difference, and climate. In terms of measures against heat, we will try to keep ourselves in good condition as much as possible.
SORIMACHI Yasuharu, JFA Technical Director
For the first time in this qualifier, we will be facing two consecutive away matches. In that sense, I believe that the team's overall strength and our management ability will be tested in various ways. We are very much aware of the situation we are in. We want to do our best so that we can come back to Japan with the highest points possible. We would like to ask all of you for your continued support so that the team can showcase a strong performance and come back with good results.