NEWS
Yoshida and Mitoma among those returning to SAMURAI BLUE ahead of last two fixtures of the AFC Asian Qualifiers (Road to Qatar)
17 March 2022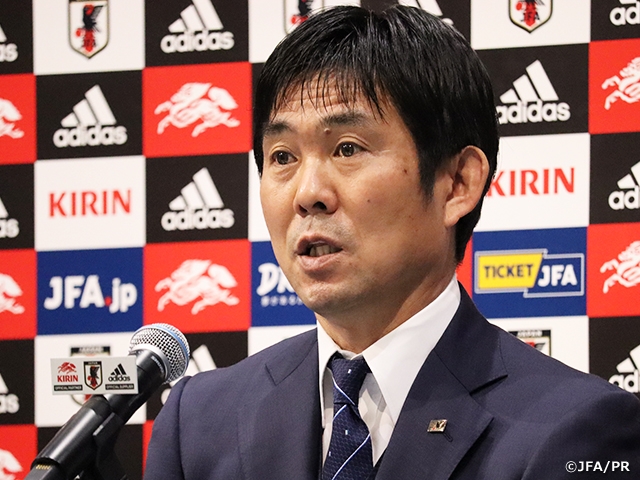 On Wednesday 16 March, head coach MORIYASU Hajime of the SAMURAI BLUE (Japan National Team) announced his squad for the upcoming FIFA World Cup Qatar 2022™ AFC Asian Qualifiers (Road to Qatar) matches against Australia (24 March at Sydney) and Vietnam (29 March at Saitama). Team captain YOSHIDA Maya (UC Sampdoria) and MITOMA Kaoru (Royale Union Saint‑Gilloise) were among those returning from injury ahead of the final two fixtures of the Asian Qualifiers.
Japan are in second place in Group B with 18 points from six wins and two losses, one point behind group leaders Saudi Arabia. Their first opponent, Australia, are in third place with 15 points. If Japan win, they will qualify for their seventh consecutive FIFA World Cup™, while a draw or less means their fate will be determined in their final match against Vietnam at Saitama Stadium 2002.
For this crucial match, coach Moriyasu called up 27 players.
Team captain Yoshida and Mitoma returned to the squad after missing the January and February series due to injury, while HATATE Reo (Celtic FC), who is playing well in the Scottish League, UEDA Ayase (Kashima Antlers) and goalkeeper TANI Kosei (Shonan Bellmare), who have been in good form since the start of the J.League season, also returned to the squad for the first time since last November. SASAKI Sho (Sanfrecce Hiroshima), who participated in the national team training camp in January, will also take part in the Asian Qualifiers for the first time since last September.
TOMIYASU Takehiro (Arsenal) was not called up this time due to injury, but TANIGUCHI Shogo (Kawasaki Frontale) and ITAKURA Kou (FC Schalke 04) continued to make the squad after the two centre backs showed solid performances leading the defence line against China PR and Saudi Arabia when both Yoshida and Tomiyasu were absent.
The roster also featured ITO Junya (KRC Genk), who is on a four-match scoring streak, and TANAKA Ao (Fortuna Dusseldorf), who has been a fixture in midfield along with ENDO Wataru (VfB Stuttgart) and MORITA Hidemasa (CD Santa Clara) since the Australia match in October. OSAKO Yuya (Vissel Kobe), who returned from injury to score twice in the AFC Champions League play-offs on 15 March, also made the squad.
With a home win over Australia in October (2-1), Japan have picked up momentum to record five consecutive wins. Since 2006, when Australia transferred its federation affiliation from Oceania to Asia, Japan's overall record against Australia is five wins, five draws, and one defeat, but all away matches in the last three Asian Qualifiers have been draws. Australia need a win against Japan to avoid the play-offs. If Japan lose this match, the two sides will be level on points, with Australia moving up to second on goal difference.
"We will have to play in a completely away atmosphere," said coach Moriyasu, as he continued to mention, "Australia is a strong team. Their style of play has changed since the last time we played them, and they will have plenty of information on us, so we will have to prepare several options for this match."
However, the Japanese general also showed his confidence towards his squad, "We have selected the best possible players to win this match," as he shared his aspiration for the upcoming series, "We have already fought through the pressure. We want to play with confidence and show everything we have."
The SAMURAI BLUE will start training in Sydney on Sunday 20 March. Their match against the Australia National Team is scheduled to take place at Stadium Australia on Thursday 24 March (kick-off time 20:10 local, 18:10 Japan time), and their match against the Vietnam National Team at Saitama Stadium 2002 on Tuesday 29 March (kick-off time 19:35).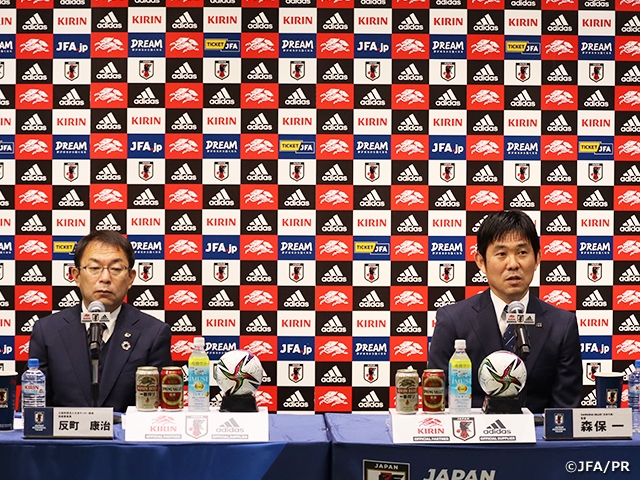 Comments
MORIYASU Hajime, Head Coach of SAMURAI BLUE (Japan National Team)
There are just two Asian Qualifiers matches remaining. Amid the Corona pandemic, we have been able to fight our way to this point thanks to the efforts and cooperation of many people, including the Japanese Government, and we would like to thank everyone for their support. Going into these two matches, we will continue to prepare ourselves in the best possible way. Australia is a strong team that has competed with us for the World Cup in the past. They are a very organised team with great physical strength and technique. Their style of play has changed since the last time we played them, and they will have plenty of information on us, so we will have to prepare several options for this match while also building on our fundamental strategy. We want to prepare the best we can in the time we have so that we can use different players according to the situation of the game. We are expecting an intense and difficult away match, but we have selected a strong squad along with the experience we have built up over the years, so we want to play with confidence and show everything we have. We will fight to the end with a strong desire to qualify for the World Cup and bring joy to all our supporters. This is a crucial match, but we have fought every match as if it were crucial to us. From the moment we suffered our second loss in the match against Saudi Arabia, we were in a position where we had to keep winning. We fought each match as if our lives depended on it. We must not forget that mindset, and fight to earn our spot into the World Cup. We have fought through a lot of pressure, so I hope the players will enter the match with confidence and the desire to win.
SORIMACHI Yasuharu, JFA Technical Director
There are now only two matches remaining in the Asian Qualifiers for the World Cup. We may not have got off to a good start at first, but we still managed to make it this far. Although we are up against a strong opponent away from home in Sydney, we have a lot to play for. We hope to give it our all in this match and bring home three points. I want to make sure that the team is well supported and prepared for Covid-19. The J.League has allowed the nine players leaving from Japan to travel after their matches on Saturday and we would like to thank the league for their cooperation. As for the players playing in Europe, we have been told that there are no issues regarding their transit, so we should be able to get most of our players ready and start training two days prior to the match.