NEWS
SAMURAI BLUE travels to Myanmar wearing team suits
07 September 2019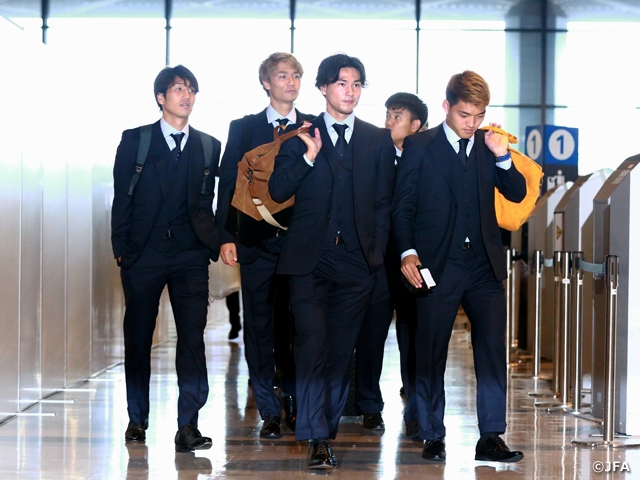 One day following their 2-0 victory over the Paraguay National Team at the KIRIN CHALLENGE CUP 2019, the SAMURAI BLUE (Japan National Team) made their way to Myanmar on Friday 6 September, ahead of their first match of the second round of the FIFA World Cup Qatar 2022 Asian qualifiers.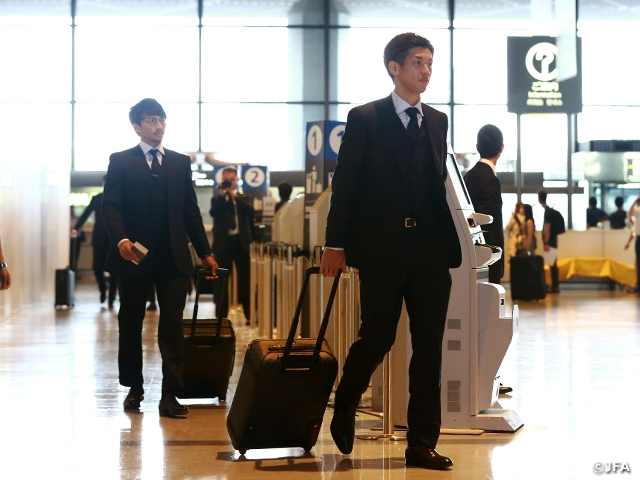 The team left their hotel in Ibaraki at 9:30 in the morning, as they travelled from Tokyo to Yangon via Bangkok. After traveling for nearly half a day, the team arrived at their hotel in Yangon. Myanmar is currently in the midst of the rainy season, and the players will have to make the adjustments with the extremely hot and humid climate. With the team arriving late at night, no training session was held on this day, as the team took supper before calling it a day.
The players and staffs of the SAMURAI BLUE all wears the same attire when traveling as a team. Since 2000, dunhill has been the team apparel provider for the SAMURAI BLUE, and the suits worn by the team members are all provided by dunhill. Normally, we post photos of the players playing on the pitch, but in today's ream report, we will share some of the photos capturing the players wearing the sharp suits.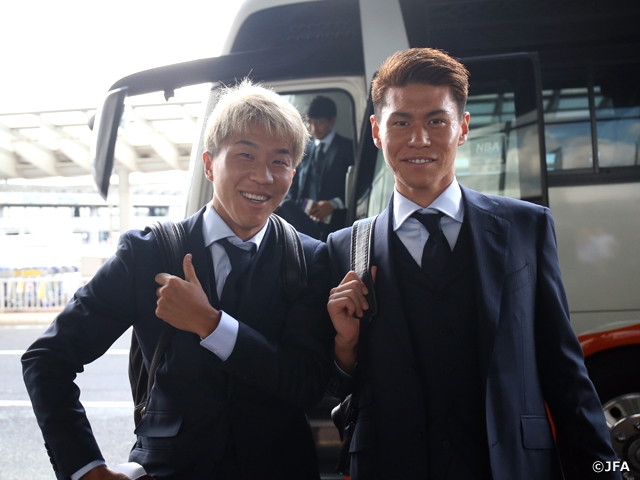 The SAMURAI BLUE will face the Myanmar National Team on Tuesday 10 September at 18:50 (21:20 Japan time) as their first match of the FIFA World Cup Qatar 2022 and AFC Asian Cup China PR 2023 Preliminary Joint Qualification.
Coach's Comment
MORIYASU Hajime, Coach of SAMURAI BLUE (Japan National Team)
The Myanmar National Team is a well organised team who consists talented players in their attacking third. They are capable of initiating counterattacks from their solid defence. Our players will be asked to showcase their ability to adjust to the given environment during the World Cup qualifiers. We must acknowledge the fact that anything can happen, and we must prepare ourselves in the best way possible, so that we can respond to the unexpected and still earn a victory under any given situation. The players must expect that each match will not go according to our plan. Even when the unexpected happens during a match, we must respond with composure. When facing Japan, our opponents will play with great intensity and showcase intense persistency, but we must stay focused and play with composure to win one match at a time. We would like to win the matches by showcasing our ideal style of football, but to be realistic, we must play smart and find ways to win each match with a whatever it takes mentality. We have won yesterday's match in Kashima, and we hope to take the winner's mentally nurtured by Kashima with us, as Kashima is a club with most titles won in Japan. We will give our best efforts to advance to the next round by winning all of our matches.
Schedule
Squad & Schedule of SAMURAI BLUE (Japan National Team)

2022 FIFA World Cup Qatar / AFC Asian Cup China PR 2023 Preliminary Joint Qualification - Round2
Myanmar National Team vs SAMURAI BLUE (Japan National Team)
Date: Tue. 10 September 2019 18:50
Venue: Thuwunna Stadium (Yangon, Myanmar)