NEWS
SAMURAI BLUE resume training ahead of match against Spain
29 November 2022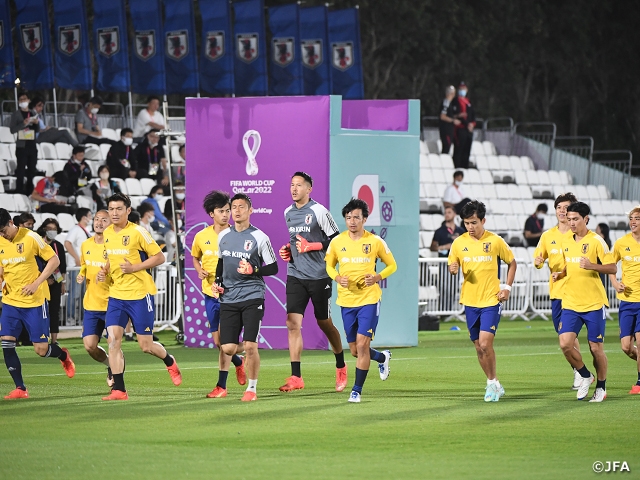 One day following their second group stage match against the Costa Rica National Team in the FIFA World Cup Qatar 2022™, the SAMURAI BLUE (Japan National Team) resumed training at their camp site in Doha on Monday 28 November.
On this day, JFA's Honorary Patron, Her Imperial Highness Princess Takamado, was present to encourage the players at the beginning of training session and to watch the team train on the pitch side for a while.
Despite losing to Costa Rica, Japan, who are competing in Group E, have three points from one win and one loss. If they win their final match against Spain, who are leading the group with four points, they will advance to the knockout stages.
The team was split into two groups to accommodate the length of playing time from their match against Costa Rica on the day before.
In addition to the starting elven, ASANO Takuma (VfL Bochum) and ITO Hiroki (VfB Stuttgart), who entered the match in the second half, spent their time walking and carefully stretching, before leaving the training ground early to conduct light exercise indoors. Goalkeeper GONDA Shuichi (Shimizu S-Pulse) was seen stretching on the side of the pitch while observing the rest of the team participate in the training session.
The players who did not play, along with late substitutes ITO Junya (Stade de Reims) and MINAMINO Takumi (AS Monaco), worked up a sweat in a session that lasted about an hour and a half.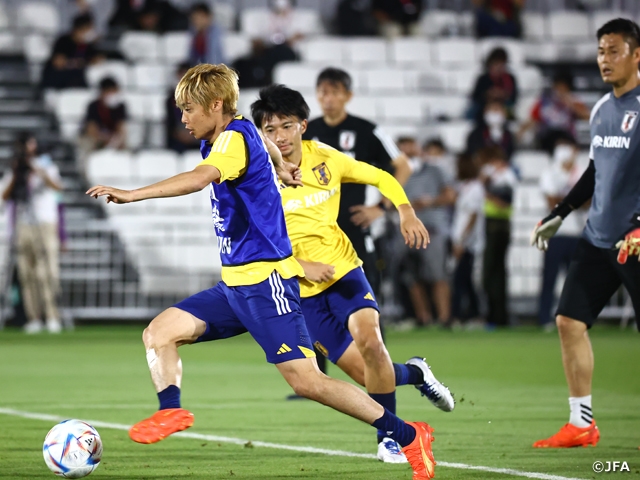 The session started with the players, including the two goalkeepers KAWASHIMA Eiji (RC Strasbourg) and SCHMIDT Daniel (Sint-Truidense VV), going through their warmup routines before engaging in a passing and shooting drill. They then played a possession drill with four players aside, where they focused on the accuracy of their passes and quick transitions in tight spaces.
After going through another set of shooting and possession drill, the team took a jog to cool down before calling it a day.
ENDO Wataru (VfB Stuttgart), who played a full match the day before, took the day off after experiencing pain in his right knee. TOMIYASU Takehiro (Arsenal) and SAKAI Hiroki (Urawa Red Diamonds), who felt discomfort in their legs, were on the training ground, checking their movements by taking long sprints and going through agility drills.
Following the training session, NAGATOMO Yuto (FC Tokyo) commented, "Everyone has shifted their focus and moved on."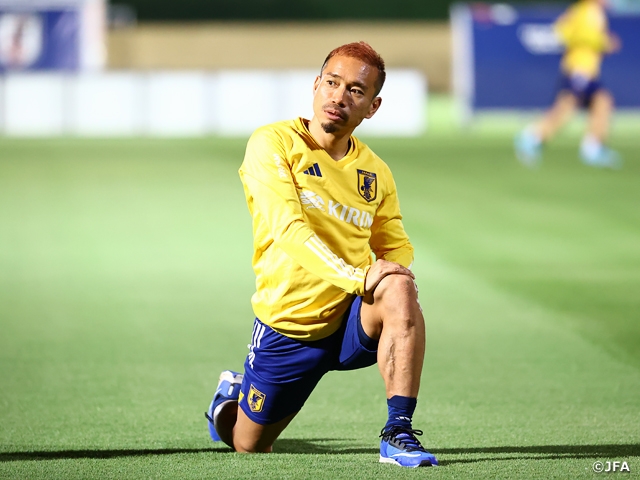 Six players, including substitutes, made their World Cup debuts against Costa Rica, but the veteran defender, who has played in the last three tournaments, said, "The World Cup is a difficult tournament and the young players got to experience it at first hand. I think it was a great experience for them, because from here it will be all hands on deck to advance to the knockout stage."
Kawashima, who is participating in his fourth consecutive World Cup along with Nagatomo, added, "Instead of just shifting our focus, we have to swallow our frustration and use it as motivation. It's in times like this that we need to find a way to react. That is the most important thing."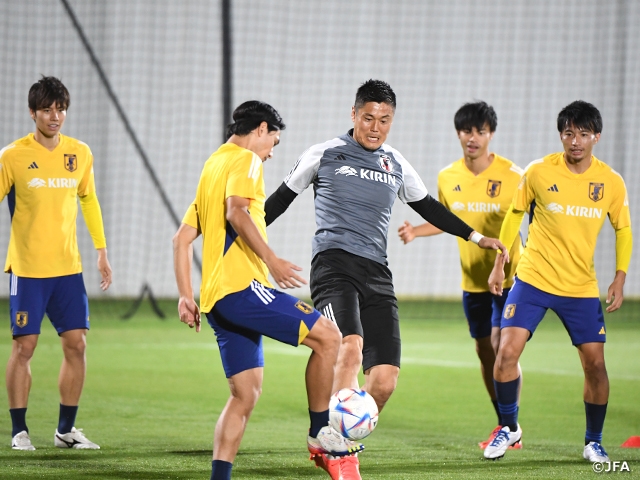 The team is scheduled to hold a closed-door training session on Tuesday 29 November to prepare for their match against Spain.
FIFA World Cup Qatar 2022™
Tournament Dates: Sun. 20 November - Sun. 18 December 2022
[Group Stage]
1st Match: Wed. 23 November 16:00 [Local Time] vs Germany National Team
2nd Match: Sun. 27 November 13:00 [Local Time] vs Costa Rica National Team
3rd Match: Thu. 1 December 22:00 [Local Time] vs Spain National Team