NEWS
SAMURAI BLUE finish as runners-up after losing to Korea Republic ~ EAFF E-1 Football Championship 2017 Final Japan ~
17 December 2017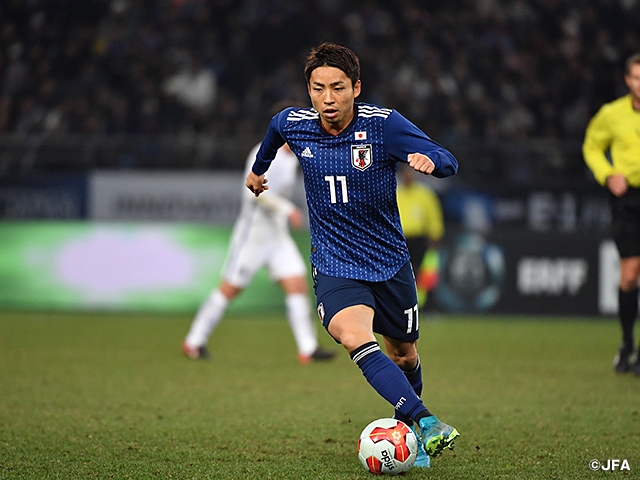 On Saturday 16 December, SAMURAI BLUE (Japan National Team) suffered a come-from-ahead loss 4-1 to Korea Republic National Team in the last match of the EAFF E-1 Football Championship 2017 Final Japan at Ajinomoto Stadium in Tokyo and missed their chance to reclaim the title for the first time in two competitions.
With this result, Japan finished second with six points after recording two wins and one loss. Champions Korea Republic earned seven points with two wins and one draw and grabbed the first back-to-back title in the history of the competition and the most championship wins with four. After a draw in the first match against DPR Korea, China retained third place in the tournament with two draws and one loss, while DPR Korea left the competition in last place with one draw and two losses.
Only requiring a draw against Korea Republic to win the title, Japan replaced three players to start from the previous match and brought back three starters of the first game, namely goalkeeper NAKAMURA Kosuke (Kashiwa Reysol), defender KURUMAYA Shintaro (Kawasaki Frontale) and midfielder IDEGUCHI Yosuke (Gamba Osaka), while fullback UEDA Naomichi (Kashima Antlers) and centre halves SHOJI Gen (Kashima Antlers) and MIURA Genta (Gamba Osaka) were named in the Starting XI for both second and third matches.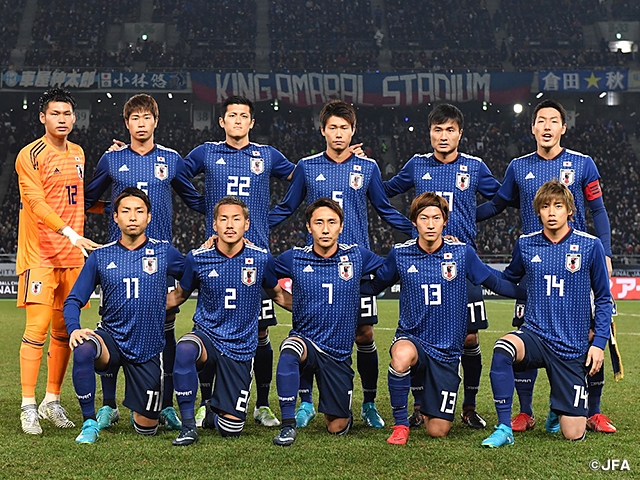 Japan went on to have an offensive surge right from the kick-off. Just three minutes into the game, forward ITO Junya (Kashiwa Reysol) was illegally taken down at the right side of the box and earned a penalty. Forward KOBAYASHI Yu (Kawasaki Frontale) converted from the spot to give his team an early advantage.
KONNO Yasuyuki (Gamba Osaka) latter stated that Japan became "passive" after they scored an opener. As indicated by the Gamba midfielder, the Japanese squad were not quick enough to react against the Korean counterparts who came back strongly and were looking to post a comeback win to clinch the title.
Korea internationals with quickness and accuracy in their plays started to combine well with midfielders LEE Jaesung and JU Sejong leading the team in attacks. Tall forward KIM Shinwook was their primary target, while former J. League player and midfielder LEE Keunho took the ball up and created scoring chances.
In the 12th minute, Kim Shinwook reacted to the free kick and fired from close range, but goalkeeper Nakamura made a brilliant save and protected the Japanese goal. However, the Korean squad levelled the match a minute later, with Kim Shinwook netting a left cross with a header.
Subsequently, midfielder JUN Wooyoung struck a free kick directly into the right upper corner of the Japanese net to turn the match around in the 23rd minute and give his side a 2-1 lead.
The wave of Korea Republic's attacks had kept Japan on the back foot and pushed back their players towards their end of the pitch, giving the Korean side an open space in midfield to move the ball freely. Even after Japan reclaimed possession and attempted to attack, they gave it straight back to the opponents by mishandling or allowing them to intercept the ball. As a result, Japan could not initiate effective attacks by delivering passes to their forwards players and further gave away the chances for the opposing team to hit them back on a quick counter, leaving them with little or no time for their defence to get settled down.
In the 35th minute, Lee Jaesung cut in from the right and drew Japanese defenders before he found unmarked Kim Shinwook on the far side, where the Korean striker made no mistake to net the third goal for his side.
Japan earned a free kick just before the end of first half. Shoji sent a long ball and Ito met with a header, but the opposing goalkeeper firmly secured the ball, before the match entered halftime with Korea Republic taking a 3-1 lead.
After the break, Japan moved up Ideguchi, who had retreated to a defensive midfielder position midway into the first half, to bring some their attacking flair into their offence and placed Konno in a sole anchor position. However, they were still unable to orchestrate good scoring chances.
Meanwhile, Korea Republic had former Tosu defender KIM Minwoo fire a shot from the left side in the 53rd minute and Jung Wooyoung strike from range on 64 minutes. After a pair of unsuccessful attempts, the Korean squad extended their advantage to 4-1 in the 69th minute. Substitute midfielder YEOM Kihun took a free kick and aimed directly at goal and Kobayashi tried to clear it away from danger, but instead hit him and went into the Japanese net.
Japan brought on national-team debutant and midfielder MISAO Kento (Kashima Antlers) in place of Ideguchi in the 66th minute and subbed in forward KAWAMATA Kengo (Jubilo Iwata) for Ito on 70 minutes to invigorate their team. The substitutions had given them a pair of chances, but were still unable to find the Korean net. Kobayashi was played through by Kurumaya in the 80th minute and Kawamata attempted a header off a cross by substitute forward ABE Hiroyuki (Kawasaki Frontale) on 84 minutes, but both efforts were denied by the opposing goalkeeper.
Kawamata made one last attempt at goal just before the end of the match after collecting a floating pass from Kobayashi with his chest, but could not apply the finishing touch and hit the target.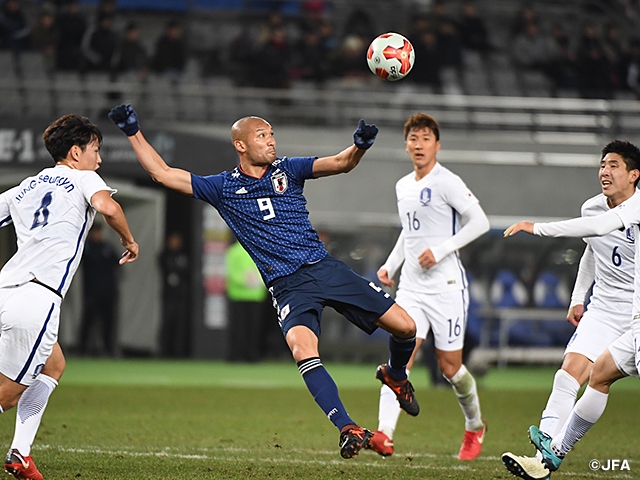 As a result, Japan's winning streak against Korea Republic which started from October 2010 ended today with five straight wins. Japan suffered a defeat by conceding four or more goals at home for the first time since they played against Argentina and lost 4-1 in June 2003, while the last match, where Korea Republic scored four or more goals, dates back to 1979, when they beat Japan 4-1 in a friendly match in Seoul. Japan National Team could not end the year on a high note by winning the last match of 2017.
Coaches' and Players' Comments
Vahid HALILHODZIC, Coach of SAMURAI BLUE (Japan National Team)
Korea Republic were better than us in all aspects of the game: physical strength, agility, technical skills and game control. We can only praise them for their performance today. After we scored a goal, we stopped playing the game and our opponents dominated us completely. I must also thank our supporters for encouraging us until the end of a poor match like the one we just had. During halftime, I tried to lift up the spirits of the players by saying, 'Let's stick to our game plan and score a second goal. In order to win the title, let's start by putting one into the net.' However, we made too many simple errors and could not change the course of the game.
I advised my players to keep number 9 (Kim Shinwook) checked at all times and not give him any chance to receive the ball in dangerous areas. However, we could not stop him from making quality plays upfront. We were trying also to cope with their attacks by putting physically strong players in the backline, but the opponents overwhelmed us with stronger physicality as well. Our inexperience in defence showed as we gave away reckless fouls and free kicks. With all that being said, we kept trying until the end, but still allowed them to overpower us at home. Now we must analyse why we let that happen.
It was a disappointing result not only for the team but for myself as well. I must add that the World Cup will be a completely different competition as we will bring a different team to compete for the tournament. Furthermore, we still managed to secure two wins and achieved some positive results, as 21 players were tested and given one last chance to grab a spot in the national team. From this squad, we will now figure out who will earn a ticket to Russia.
GK #12 NAKAMURA Kosuke (Kashiwa Reysol)
I am disappointed and ashamed as well. I expect to find quite a few reasons why we allowed that many goals, but it would have been better if I had made a difference in the game as a starting goalkeeper. We were looking to win the championship and I must say that nobody in the squad is satisfied with the result.
DF #3 SHOJI Gen (Kashima Antlers)
We had an excellent start by scoring early and played with momentum in the first part of the game. However, we played therafter with fear as correctly indicated by our coach. I allowed the opponents to play to their strength as well. I must say it was a game filled with issues that we need to work on.
MF #17 KONNO Yasuyuki (Gamba Osaka)
Before we had a chance to talk thing over and make the necessary adjustments in the game, we allowed three goals in the first half. I have to say that we got passive after we scored the first goal. It might be a problem with our positioning, but we could not put pressure on the opponents in midfield at all.
FW #11 KOBAYASHI Yu (Kawasaki Frontale)
We retreated too much and would have better if we played more aggressively starting from the players upfront. I was isolated for the entire time and it was a difficult match for me. However, I must add that playing in all three games meant a lot to me and I wish I could have responded with better results.
FW #14 ITO Junya (Kashiwa Reysol)
We started off well, but could not keep playing at our pace and instead allowed the opponents to play to their strength. I am certain as well as being confident that I can perform much better. I wished I could have shown them on the pitch. It was a disappointing tournament as we could not clinch the title.
SHIN Taeyong, Coach (Korea Republic National Team)
We conceded an early goal in the must win game from a penalty, but our players kept their composure and regrouped themselves both tactically and mentally as well. I want to simply applaud them. Now that we regained confidence by competing in this tournament, I am certain that we can make the best possible preparations for the coming World Cup.
Schedule
EAFF E-1 Football Championship 2017 Final Japan
Sat. 9 December
1-0
1st Match vs DPR Korea
Tokyo / Ajinomoto Stadium
Sun. 10 December
AM
Training
Mon. 11 December
PM
Training
Tue. 12 December
2-1
2nd Match vs China PR
Tokyo / Ajinomoto Stadium
Wed. 13 December
AM
Training
Thu. 14 December
PM
Training
Fri. 15 December
PM
Training
Sat. 16 December
1-4
3rd Match vs Korea Rep.
Tokyo / Ajinomoto Stadium
*The schedule is subject to change due to the team condition, the weather, etc.
Instagram Photo Report
EAFF E-1 Football Championship 2017 Final Japan
Tournament Period: 8 December 2017 - 16 December 2017
Men's Fixtures: Ajinomoto Stadium (Tokyo)
More Information