NEWS
Commemorative Relief awarded to Mr. NISHINO Akira, inductee of the 16th selection of Japan Football Hall of Fame
12 January 2021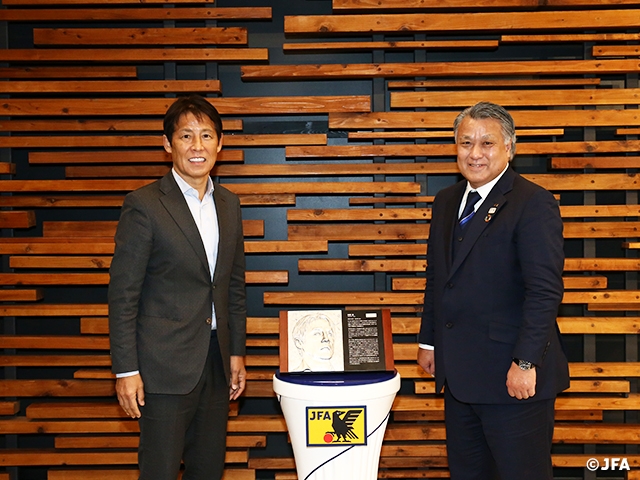 On 9 January, a commemorative relief was awarded to Mr. NISHINO Akira, one of the inductees of the 16th selection of Japan Football Hall of Fame during the 12th Football Conference, which took place online.
Mr. NISHINO was appointed as the head coach of Thailand National Team in July 2019. He was absent from the 16th Japan Football Hall of Fame Induction Ceremony, which was held on 10 September 2019, due to his participation in the qualification match against Indonesia National Team at the second round of the Asian qualifiers for the FIFA World Cup Qatar 2022™. So, the relief was awarded on the occasion of the 12th Football Conference.
Nearly 1,200 participants of the football conference gave a warm round of applause to Mr. NISHINO.
Comment
Mr. NISHINO Akira
It is a great honour to be inducted into the Hall of Fame. Thank you very much. I used to think that being inducted into the Hall of Fame was like being locked away somewhere, but now I feel that I am right in the midst of the football world. I will continue to devote myself to football and give back a worthy contribution to the football world as a Hall of Fame inductee. With the cooperation of everyone, I will work in Thailand and would like to contribute to the development of football not only in Japan but also in Asia and around the world.