NEWS
Opening press conference of the Emperor's Cup JFA 102nd Japan Football Championship held
17 May 2022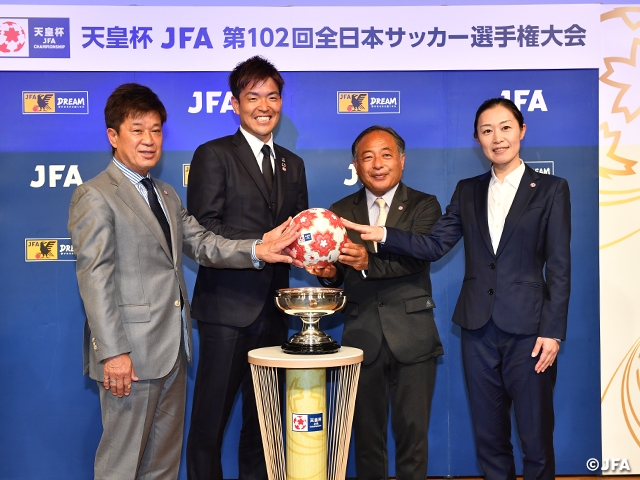 Ahead of the kick-off of the Emperor's Cup JFA 102nd Japan Football Championship on Saturday 21 May, an opening press conference was held at the Virtual Stadium inside JFA House on Monday 16 May.
With the FIFA World Cup™ taking place this year, the final will be held earlier than usual on Sunday 16 October at Nissan Stadium. This year, 2,342 teams participated in the competition. The prefectural representatives were decided by Sunday 8 May, setting up a field of 88 teams, including teams from J1, J2 and amateur seed Honda FC, which will compete for the prestigious title.
At the press conference, Chairman NAKANO Yuji of the Organising Committee for the Emperor's Cup stated, "The keyword for this year's tournament is 'Tsunagaru (to connect).' As we welcome the 102nd Emperor's Cup, we want to make it a tournament that links the past to the future. We aim to connect many people, transcending various differences, through this Emperor's Cup." On this day, a ceremony was also held to return the Emperor's Cup, as NISHIKAWA Shusaku, a member of Urawa Red Diamonds, winners of the previous tournament handed back the coveted Emperor's Cup.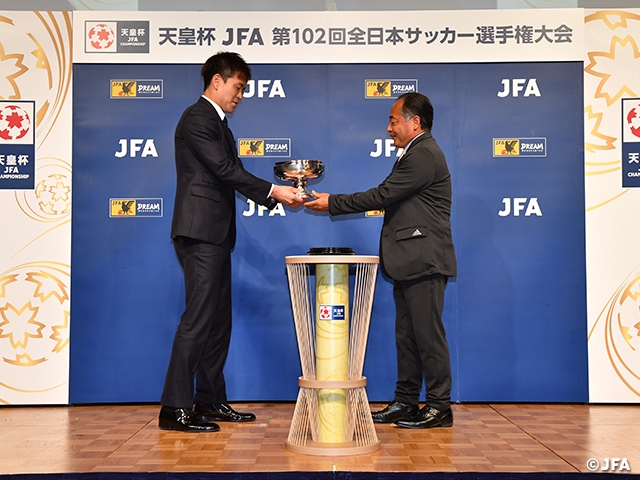 In addition to the above two, Mr. HAYANO Hiroshi, a well-known match commentator who led North Asia University (Akita) to its first appearance in this tournament as general manager, and Ms. YAMASHITA Yoshimi, an international referee, also participated in a talk session that took place afterwards. Nishikawa shared a humorous episode about his beard growing long after a match due to his nervousness at the Emperor's Cup, while Mr. Hayano commented, "The fact that we have no experience means that we have nothing to lose. We will give our best efforts." Ms. Yamashita also mentioned, "I am so thrilled to be able to take part in a competition that I have watched with great excitement."
The Emperor's Cup is a competition that brings together people from all walks of life. Please stay tuned for the intense competition that unfolds in this year's Emperor's Cup.
Comments
NAKANO Yuji, Chairman of the Organising Committee for the Emperor's Cup
With the theme of this year's tournament being "to connect," I would like to interact with various people at this Emperor's Cup and connect with them for the future. Having been involved as a collegiate coach until last year, I have always felt that the Emperor's Cup is a tournament that offers a great traditional link. I hope that this year's competition will also bring some surprises like a giant-killing.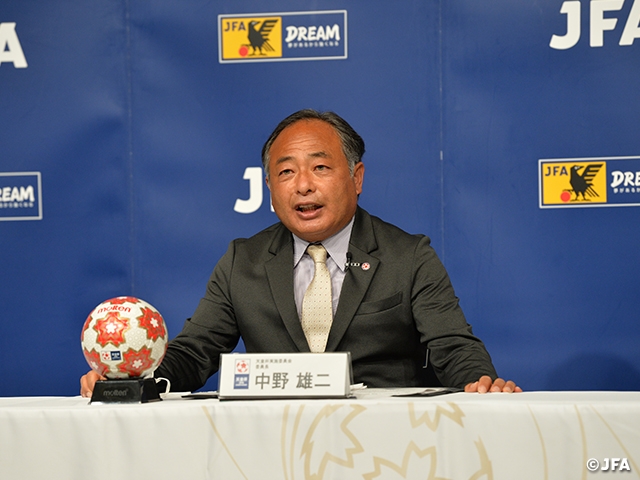 NISHIKAWA Shusaku (Urawa Red Diamonds)
Unlike the league matches, the Emperor's Cup is played in a knock-out format, so there is a great deal of tension before the tournament, and tensions are higher when playing against amateurs. Last year, some of our players were set to leave the team after the tournament, including the retirement of Mr. ABE Yuki, so we were even more motivated for the tournament. We will do our best so that we can defend the title and raise the cup again.
HAYANO Hiroshi, General Manager (North Asia University)
After losing in the prefectural finals on three occasions, we finally managed to win this season and make our first appearance in the Emperor's Cup. I want to tell the players that the page is now open, but what it is going to be written is up to you. I think we can hardly compete at this level, but even if we are beaten badly, we still hope to showcase our football and have the players seen by the professional scouts. I think this tournament offers tremendous value for university students in rural areas.
YAMASHITA Yoshimi, International Referee
I am so thrilled to be able to take part in a competition that I have watched with great excitement. Cross-category matches are one of the most exciting aspects of the Emperor's Cup, and while the clash of emotions is an intriguing element of the tournament, as a referee, it is important that I carry out my duties in a fair and safe manner as usual. I would like to take part in the matches so that the appeal and enjoyment of the Emperor's Cup can be conveyed to the public.
Emperor's Cup JFA 102nd Japan Football Championship
【1st Round】Sat. 21, Sun. 22 May [Backup date: Mon. 23 May]
【2nd Round】Wed. 1, Wed. 8 June
【3rd Round】Wed. 22 June [Backup date: Wed. 29 June]
【Round of 16】Wed. 13 July [Backup date: Wed. 20 July]
【Quarterfinals】Wed. 7 September[Backup date: Wed. 28 September]
【Semi-Finals】Wed. 5 October
【Final】Sun. 16 October