NEWS
Yokohama FC defeat Sony Sendai to advance through second round of the Emperor's Cup JFA 102nd Japan Football Championship
09 June 2022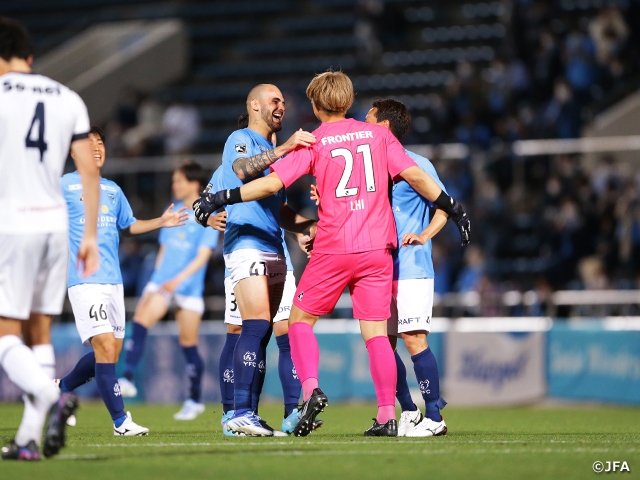 The remaining second round fixtures of the Emperor's Cup JFA 102nd Japan Football Championship took place on Wednesday 8 June.
Featured Match
Yokohama FC 3-3 (2-0, 0-2, EX:0-1, 1-0, PK:3-1) Sony Sendai FC
At NHK Spring Mitsuzawa Football Stadium, Yokohama FC (J2) faced Sony Sendai FC (Miyagi). With their two wingbacks pressing up high, Yokohama FC utilised the width of the field to dominate the ball possession. SUGITA Hayato also made over-lapping runs to add layers to their offence, as the defender intercepted a pass in the midfield to initiate a play that led to Yokohama's opening goal. After Sugita delivered the ball to the left side, Felipe VIZEU connected with a cross to give Yokohama the lead. The J2 side added another goal from a corner kick to finish the first half with a 2-0 lead.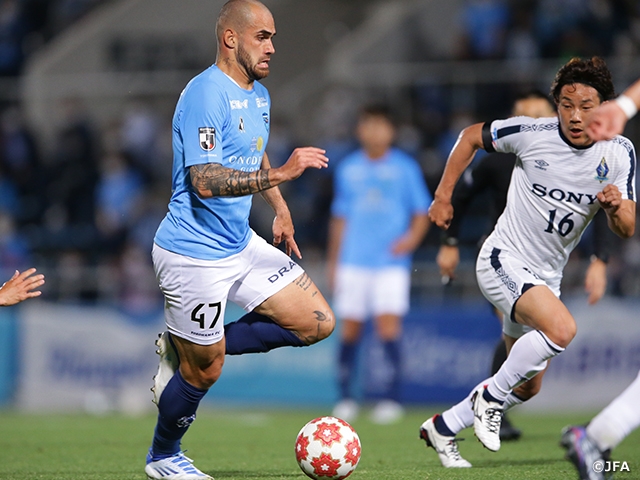 However, the tides changed in the second half, when Sony Sendai deployed a man-to-man coverage to apply pressure against Yokohama's build-up plays. Having fixed their defensive flaws during halftime, the Sendai side started to connect passes more fluently and create more opportunities in their attacking third. In the 50th minute, Sendai took advantage of Yokohama's high defence line and penetrated the left side to deliver a cross, which was converted by MATSUMOTO Takumi to cut the deficit in half. With momentum on their side, Sendai scored the equaliser seven minutes later, when AKIMOTO Yuta fired a shot from distance that found the back of the net.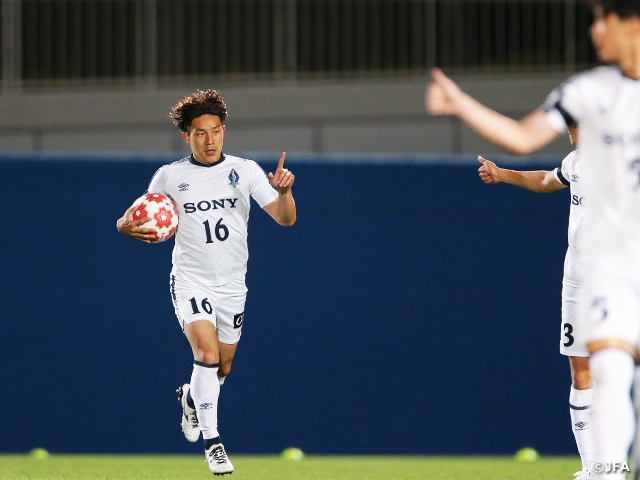 In efforts to change the dynamics of the match, Yokohama FC utilised their substitutions to change their formation to a four-man defence line. Although the home side managed to keep the score tied until the whistle that signalled the end of 90 minutes, they conceded soon after the match entered extra time, giving up a goal from a freekick. However, with time running out, NISHIYAMA Taiga scored his second goal of the match by converting the cross delivered by TAKEDA Eijiro to equalise and send the match into a penalty shootout. After Sendai missed three of their spot-kicks, it was Yokohama FC who advanced to the third round.
Coaches and Players' Comments
YOMODA Shuhei, Coach (Yokohama FC)
The players showed great aggression in the first half, and we managed to execute our game plan to take a 2-0 lead. We entered the second half knowing that the next goal could determine the outcome of the match, but we couldn't adjust to the changes made by our opponent and ended up conceding two goals. We were exhausted in extra time, but the players never gave up and managed to score the equaliser at the end. We feel fortunate that we were able to advance through in penalties, and I am glad that the players' hard work has paid-off.
NISHIYAMA Taiga (Yokohama FC)
How we played in the second half, both as a team and as individuals, is something we must reflect on. We effectively incorporated the long balls into our passing game in the first half but lost our fluidity to interchange our positions. I feel I was lucky to score two goals today, and I am more concerned with the way we played today. Directions from the bench certainly helps, but I think it is more of a mental thing.
SUZUKI Jun, Coach (Sony Sendai FC)
Quite frankly, we didn't have what it takes to win today, as we couldn't win even after the match entered penalties. After a very poor first half, I had to remind each player of their roles, which allowed us to play a little better in the second half. Although there were some aspects we managed to do well in today's match, all in all, it really highlights what we lack as a team when facing clubs from the J.League.
UCHINO Yuta (Sony Sendai FC)
It is disappointing that this match ended up being one of our many "well-fought matches." We could have made this a totally different match if we played more aggressively from the first half. We managed to come from behind partly because we got reorganised in defence, but more importantly fought with the aggression and intensity that exceeded our opponents. Personally, I feel like I was able to showcase my strengths in the aerial battles, but I am disappointed that I couldn't score goals, which is what I am asked to do as a striker. I know that we are capable of competing against J.League clubs, so I will work even harder to become a player that can score goals in matches like these.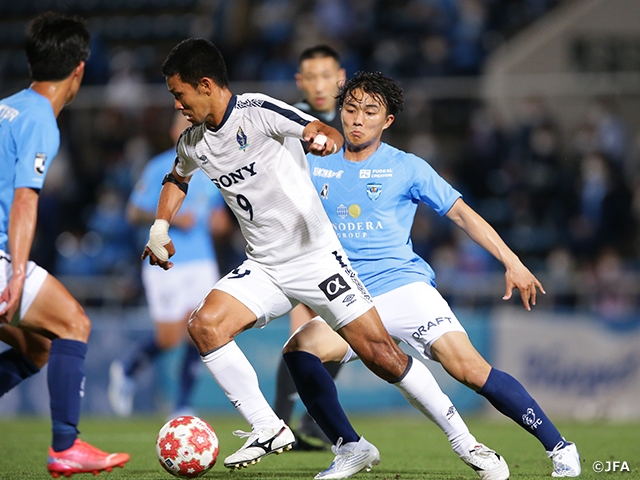 Emperor's Cup JFA 102nd Japan Football Championship
【1st Round】Sat. 21, Sun. 22 May [Backup date: Mon. 23 May]
【2nd Round】Wed. 1, Wed. 8 June
【3rd Round】Wed. 22 June [Backup date: Wed. 29 June]
【Round of 16】Wed. 13 July [Backup date: Wed. 20 July]
【Quarterfinals】Wed. 7 September[Backup date: Wed. 28 September]
【Semi-Finals】Wed. 5 October
【Final】Sun. 16 October