NEWS
Reds claim coveted title at the Empress's Cup JFA 43rd Japan Women's Football Championship
28 February 2022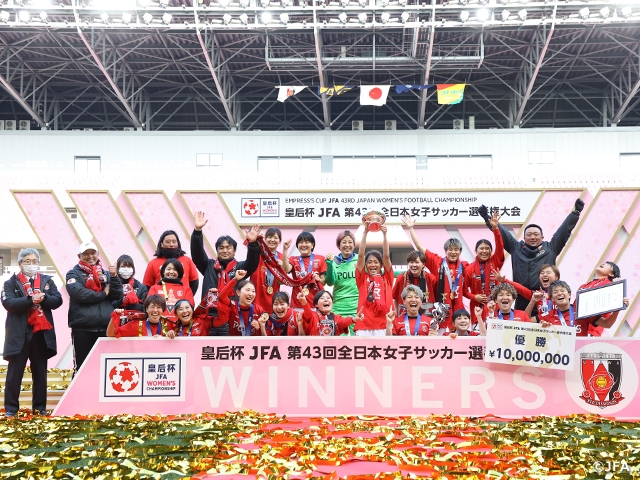 The Empress's Cup JFA 43rd Japan Women's Football Championship final took place at Sanga Stadium by KYOCERA on Sunday 27 February.
Final
Mitsubishi Heavy Industries Urawa Reds Ladies 1-0 (0-0, 1-0) JEF United Ichihara Chiba Ladies
The final featured last year's runners-up, Mitsubishi Heavy Industries Urawa Reds Ladies (WE League/Saitama) and JEF United Ichihara Chiba Ladies (WE League/Chiba), who reached the final for the first time in nine years, both seeking for their first Empress's Cup title.
Following the semi-finals on Wednesday 5 January, Reds held their training camp in Okinawa, while JEF held theirs in Shizuoka. The match started with Reds possessing the ball and JEF responding with a solid defence.
Playing in their sixth Empress's Cup final, Reds penetrated the right flank by collecting the ball to SEIKE Kiko, who made attempts to deliver crosses to SUGASAWA Yuika, but led by HAYASHI Kanae, JEF, who were playing in their second ever Empress's Cup final, deflected off the deliveries to keep the Urawa side at bay.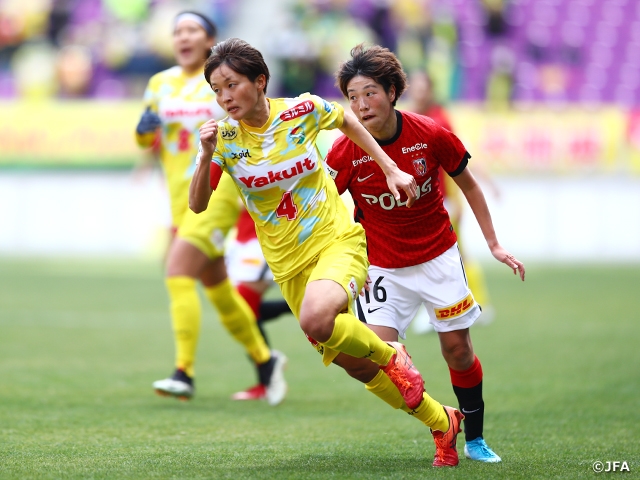 At the other end, KAMOGAWA Miho tried to start the attack for JEF, but Reds defensive midfielder ANDO Kozue showed excellent coverage to prevent any threat. In efforts to add layers to their offence, Reds pushed up Seike to the attacking third, but the match entered halftime scoreless.
Reds continued to possess the ball in the second half and broke the deadlock in the 67th minute. The cross delivered by Seike from the right side of the box was met by Sugasawa, who struck a right footed shot that found the back of the net. With their ace scoring in three consecutive matches, Reds finally pulled ahead in an intense encounter between two WE League clubs.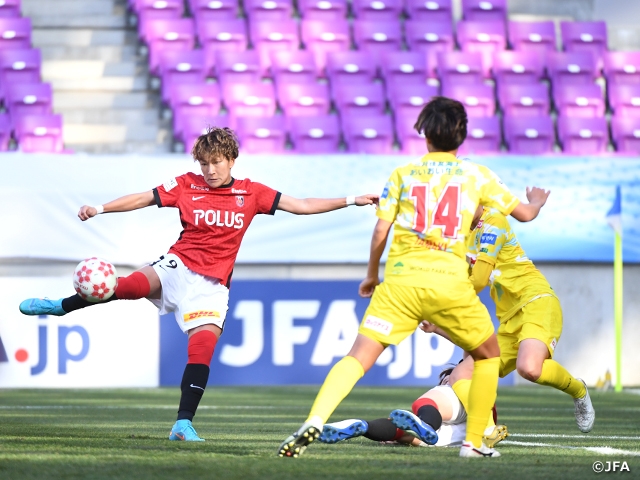 Despite conceding their first goal of the tournament, JEF continued to look for chances with OSAWA Haruka and ANZAI Yuka leading the attack. Mami Otaki, playing her first official match since giving birth, also made runs to create chances, but Reds' TAKAHASHI Hana displayed a superb defensive performance to shutout the JEF offence from taking any shots.
With the final whistle, Reds won the match 1-0 to claim their first ever Empress's Cup without conceding a single goal throughout the tournament, bringing the club the coveted Empress Cup following the men's team who won the Emperor's Cup JFA 101st Japan Football Championship in December.
The WE League will resume on Saturday 5 and Sunday 6 March with five fixtures, including a rematch between Reds and JEF, taking place across the country to compete for the Yogibo WE League championship trophy, which was unveiled for the first time at the Empress's Cup final.
Coaches and Players' Comments
KUSUNOSE Naoki, Coach (Mitsubishi Heavy Industries Urawa Reds Ladies)
We were both aware of each other's playing styles, so we entered the match very cautiously. We chose to play it safe which made the game tight, and we tried to change that by playing two up top, but we had a hard time changing the dynamics. Just as it was becoming a battle of patience, Sugasawa scored a goal for us. It felt like we had a lot of issues in offence and really struggled to create chances, but we will be facing JEF again next Saturday in the WE League, so we must continue to work towards that.
FW #9 SUGASAWA Yuika (Mitsubishi Heavy Industries Urawa Reds Ladies)
Honestly, I am extremely happy right now. Last season we won the Nadeshiko League title, but failed to win the Empress's Cup, which was the only title I have not won in my football career, so I really wanted to win this title. However, we will try not to rest on our laurels and will continue to win the next tournament. The second half of the league will also start soon, so we will be aiming to win the league title as well.
FW #10 ANDO Kozue (Mitsubishi Heavy Industries Urawa Reds Ladies)
It's a great feeling to finally win (the Empress's Cup) and to win it with my best teammates. The Empress's Cup is a title that has eluded us since the Saitama Reinas FC days, so we are delighted to add the title to the Reds' history. I started to play as a defensive midfielder midway through the season, but I would not have been able to do that without the help of my teammates. The advice of KURISHIMA Akari, who is side-lined due to an injury, was particularly helpful. This title was won by everyone on this team.
MF #18 SHIBATA Hanae (Mitsubishi Heavy Industries Urawa Reds Ladies)
I feel really happy. We have reached the final so many times, but have never won the title, so the entire team was fully determined to win this time. It made this victory that much more special, and I am relieved to finally be able to deliver the title to our fans. Even when we were struggling to possess the ball, we managed to create a positive vibe by communicating with each other, so that is something we hope to continue with.
SARUSAWA Shinji, Coach (JEF United Ichihara Chiba Ladies)
Although we were not able to showcase the performance we were hoping for, the players played with great patience to keep the match close. Our opponent utilised the long-balls very effectively, which turned out to be a handful for us, giving us less opportunities to push forward. We are disappointed with this result, but this is a great achievement considering how far we have come, so we hope to make the most of this experience and move on to our league matches.
DF #4 HAYASHI Kanae (JEF United Ichihara Chiba Ladies)
Although we were able to defend well for the majority of the match, we were not able to create many opportunities for ourselves. The goal scored by (Sugasawa) Yuika-san really gave the Reds a positive momentum, so that was certainly the difference of this match. Our goal was to win the title, but finishing second is not a bad result, so we should hold our heads up when we return to Chiba. We still have a chance to make history by winning the WE League, so we will reset our mind to do well in the league.

Empress's Cup JFA 43rd Japan Women's Football Championship
Tournament Date: Sat. 27 November 2021 - Sun. 27 February 2022

【Final】Sun. 27 February 2022
Live on NHK-BS1 (14:00-)