NEWS
Aichi Select 60 win tense final to claim the national title - JFA 22nd O-60 Japan Football Tournament
21 June 2022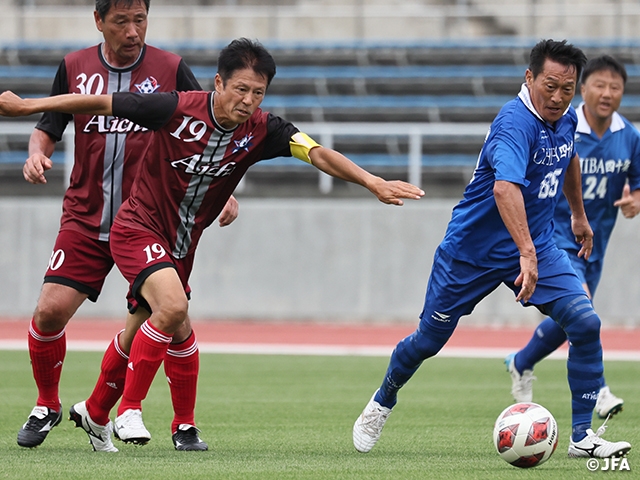 On Monday 20 June, the final round of the JFA 22nd O-60 Japan Football Tournament took place, where Aichi Select 60 (Tokai2/Aichi) was crowned as the national champions of the O-60 category.
The semi-final match between Kyoto O-60 (Kansai/Kyoto) and Chiba Shijyukara SC (Kanto2/Chiba) went into halftime tied 0-0, but after ENDO Takehiro broke the deadlock in the fourth minute of the second half, the Chiba side added another goal in the 10th minute to win the match 2-0. In the other semi-final fixture, Aichi Select defeated Kaminada Soccer Ikuseikai (Shikoku/Ehime) 4-1 to advance to the final.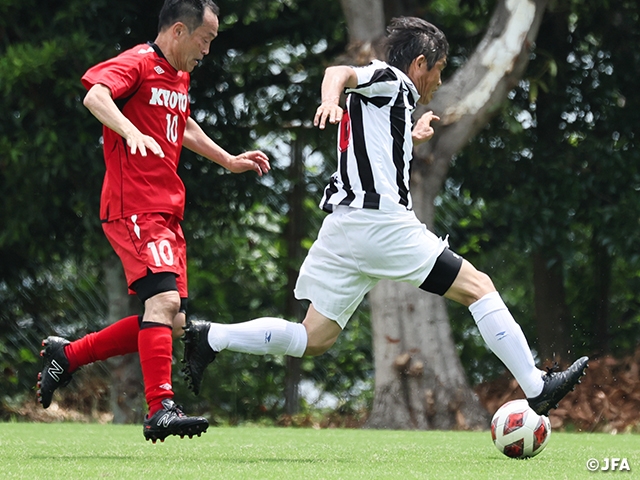 The final between Chiba Shijyukara and Aichi Select turned out to be a highly competitive battle, with both sides looking to exploit their opponents' flaws. With this final being the fifth match in three days for both teams, the players were fatigued, and frequent substitutions were made from the first half. Aichi Select started the second half delivering more balls to TANI Yukitaka on the left wing. Midway through the second half, Tani dribbled a long way before taking a shot, but his effort was saved by the opposing goalkeeper. Chiba Shijyukara, on the other hand, increased their usage of long balls to deliver passes to Endo, a fast attacker who scored a goal in the semi-final, but Aichi Select showed great coverage to deny Chiba's attempts to enter the final third.
Both sides proceeded cautiously, and the 40 minutes were not enough to decide the winner, so the match entered a penalty shoot-out, in which Aichi Select prevailed to claim the national title of the -60 category.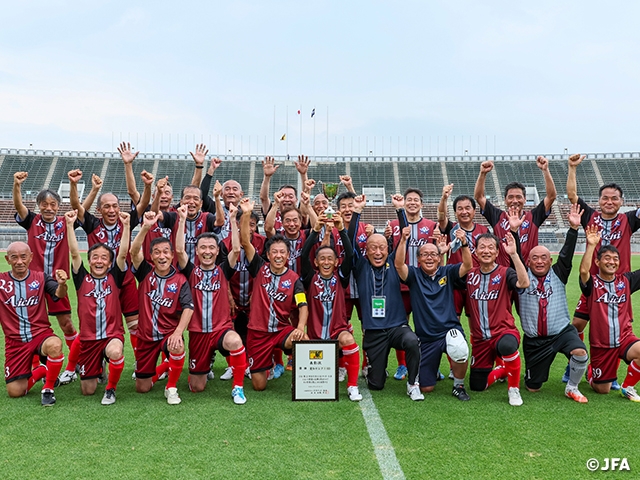 Coach and Players' Comments
YAMAZAKI Kazuhiko (Kyoto O-60)
After a two-year postponement, we were no longer thinking about defending our title, but were delighted to be back in this competition again. Of course, we wanted to win, but we our proud of all the work we have put in to finish this tournament in third place. I also feel like we were able to showcase the strength of a select team. Next year we will try again to reclaim the title, but for now we want to rejoice in this moment.
KOBAYASHI Masaki (Chiba Shijyukara SC)
Our team has gotten younger, so I thought we had a good chance to win the title. We managed to win through the first round without conceding a single goal, but scoring a goal felt so hard in the final. Our opponents played with great intensity, and they were a very strong team. We would like to try again next year.
TSUNEKAWA Masao, Coach (Aichi Select 60)
In this tournament, we almost lost confidence after drawing the first match, but we gained momentum after winning our second match in a good way. We faced strong opponents with great speed and technique, but our players also put up a great show. I was especially impressed with the way they fought hard until the end. Every player on this team played, so this was a total team effort. I personally was not able to play in this year's O-70 tournament, so I am glad I was able to achieve my goal as a coach.
YOSHITANI Takahiro (Aichi Select 60)
We lost in the semi-finals three years ago, so we really wanted to win this time. We started playing training matches against O-50 teams starting last fall, which enabled us to make adjustments against faster teams. We are the representative of our prefecture, as the players were selected from a few dozen players, and we all love football and alcohol. Even when we have a bad day, we can forget about it when we are on the pitch and when we are drinking. We hope to come back to this stage again next year.

JFA 22nd O-60 Japan Football Tournament
Dates: Sat. 18 - Mon. 20 June 2022
Venues: Ehime Prefectural Sports Complex, Ningineer Stadium, Hojo Sports Centre (Ehime)