NEWS
Inspired by top team's cup win Nagoya stays in contention for the title race of the Prince Takamado Trophy JFA U-18 Football Premier League 2021 WEST
01 November 2021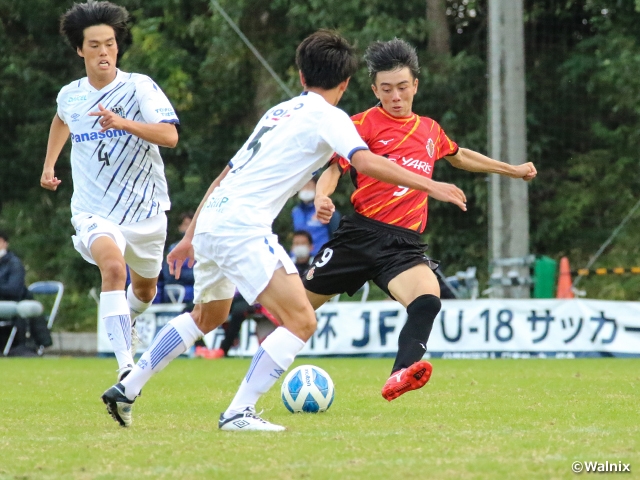 Postponed fixtures of the Prince Takamado Trophy JFA U-18 Football Premier League 2021 WEST took place on Saturday 30 and Sunday 31 October. At Toyota Sports Center, Nagoya Grampus U-18 (Aichi) faced Gamba Osaka Youth (Osaka).
Pick-up Match
Nagoya Grampus U-18 4-1 (2-0, 2-1) Gamba Osaka Youth
It was Nagoya who struck first, as KODA Hidemasa (#11) scored the opener in the sixth minute with the assist coming from KATO Gen (#5). Nagoya doubled their lead in the 11th minute, when MANABE Hayato (#10) converted the deflection of his own shot.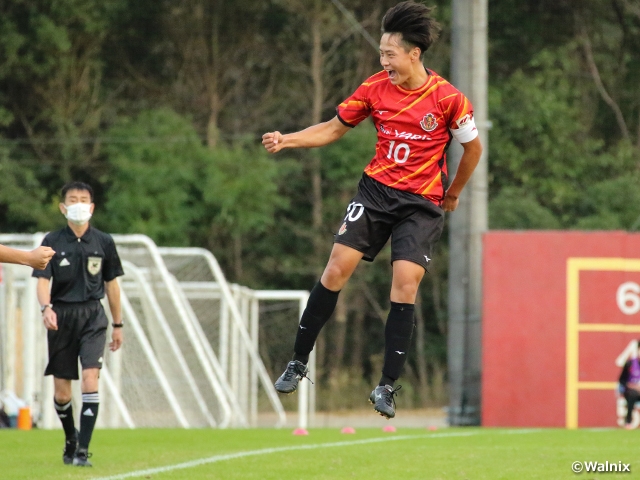 Despite the close opportunities created by SAKAMOTO Isa (#11), MINAMINO Harumi (#18), and ADACHI Kodai (#22), G.Osaka fell short from scoring a goal, as the match entered halftime with Nagoya leading 2-0.
Nagoya continued to showcase their dominance in the second half, as Manabe scored back to back goals in the 55th and 65th minute to complete his hat-trick, as the striker mentioned after the match, "Watching the top team play the Grampus way to win the Levain Cup, I felt that we too should believe in our football, and like INAGAKI Sho, who scored the last goal, I felt that I should do my part to lead the team to victory."
G.Osaka managed to get on the scoreboard when NONAKA Riku (#4) converted the deflection of the shot of NAKAMURA Jiro (#10) in the 66th minute, but their rally ended their, as Nagoya walked away with a 4-1 victory at home.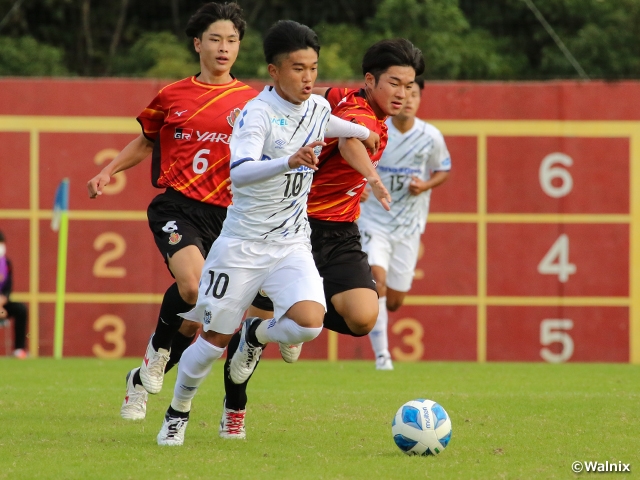 Coaches and Players' Comments
KOGA Satoshi, Coach (Nagoya Grampus U-18)
We were in a stressful situation where we couldn't earn as many points as we wanted and were on the brink of the title race, but we managed to win because we believed in ourselves, believed in our teammates, and believed in what we had worked over the years. The top team also had been fighting in a stressful and difficult situation before winning the Levain Cup, so we were able to relate to them and get inspiration from them before entering this match. Today's match was a solid example of what we have been working on.
FW #9 MATSUMOTO Kosei (Nagoya Grampus U-18)
I was injured at the beginning of this year, and with the support of my trainers, teammates, and family, I was able to come back to compete today. With this being my first start, I wanted to score a goal to return the favour, but I lacked quality in my shooting, so I'll have to wait until the next match. I remember being frustrated on the bench in the (Premier League) Final two years ago. I want to be on the pitch to help the team win this year. That's my goal for the rest of the season, and hopefully we can prevail through the tough series, just like our top team did.
MYOJIN Tomokazu, Coach (Gamba Osaka Youth)
Our opponent is a well-coordinated team, so we talked about trying to outperform them in terms of intensity to win the ball and transition between offensive and defensive, but I feel that we were outran by our opponent. Even when the flow of the game is not bad, one play can change the flow drastically, and that was the case for today's match. I think it was a great learning experience for the players. It is important that the players accept this result and make the most of it to improve themselves ahead of the next match.
MF #10 NAKAMURA Jiro (Gamba Osaka Youth)
We made it a difficult match after giving up an early goal. We managed to create chances throughout the match, so it is disappointing that we couldn't capitalise on our opportunities. Our team's attack is one of our strengths, but we played a bit too passively today. It was a match in which I felt that if each of us could play with more confidence, we could add more depth to our attack.
Results of other matches
Vissel Kobe U-18 0-2 (0-2, 0-0) Sagan Tosu U-18
Jubilo Iwata U-18 0-1 (0-0, 0-1) Sanfrecce Hiroshima F.C Youth
Cerezo Osaka U-18 4-0 (1-0, 3-0) Kyoto Sanga FC U-18
Sagan Tosu U-18 (Saga) scored back to back goals in the third and eighth minute to take the initiative against Vissel Kobe U-18 (Hyogo). Despite conceding 16 shots to Kobe, Tosu managed to keep a clean sheet to earn their fifth win of the season. In the match between Jubilo Iwata U-18 (Shizuoka) and Sanfrecce Hiroshima F.C Youth (Hiroshima), TAKIGUCHI Haruto (#17) scored the game winner in the 84th minute to give Hiroshima their third consecutive victory. After scoring the opener in the 42nd minute, Cerezo Osaka U-18 (Osaka) added three goals in the second half to win over Kyoto Sanga FC U-18 (Kyoto) 4-0.

Prince Takamado Trophy JFA U-18 Football Premier League 2021
League Duration: Sat. 3 April - Sun. 5 December 2021