NEWS
Aomori Yamada extend their lead with a hard-fought victory at the Prince Takamado Trophy JFA U-18 Football Premier League 2021 EAST
01 November 2021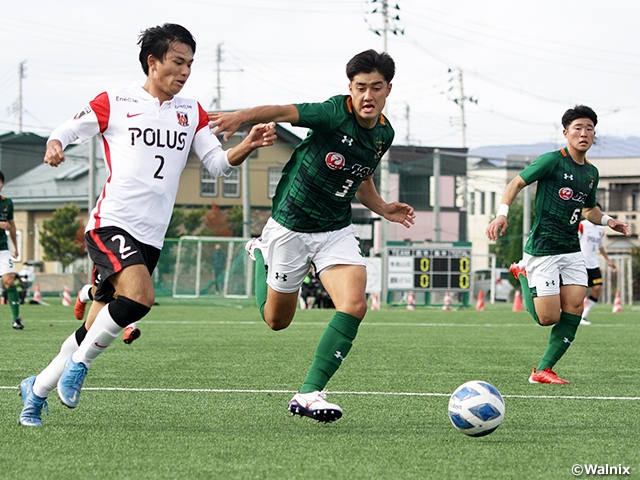 Three of the postponed matches in the Prince Takamado Trophy JFA U-18 Football Premier League 2021 EAST took place on Saturday 30 and Sunday 31 October.
Pick-up Match
Aomori Yamada High School 1-0 (0-0, 1-0) Urawa Red Diamonds Youth
At Aomori Yamada High School Ground, first place Aomori Yamada High School (Aomori) welcomed last place Urawa Red Diamonds Youth (Saitama). As Aomori Yamada's coach KURODA Go mentioned, "It is tough facing a team who has nothing to lose, so we knew it wasn't going to be an easy match for us," the match turned out to be tight match that came down to the wire.
Urawa had suffered a tough loss against Shimizu S-Pulse Youth (Shizuoka) a week ago, where they took an early lead but conceded multiple goals in the second half to lose the match. However, as coach IKEDA Nobuyasu mentioned after the match, "The players did a great job of recouping their minds and putting them into this match," the Urawa players showcased a solid performance with great intensity and unity as a team.
While their defence tenaciously responded to the attacks of Aomori Yamada, HAYAKAWA Junpei (#39) broke through the right side to create a close opportunity that threatened the opposing goal in the 30th minute. Although Urawa conceded critical opportunities at times, their goalkeeper KAWASAKI Atsushi (#1) showcased a super performance to keep the score intact, as coach Kuroda reflected on the opposing goalkeeper, "He is capable of stretching his arm so far, and stopped all the shots that I thought were going in. Just an outstanding goalkeeper."
However, coach Kuroda also mentioned, "We've been through this kind of match before," and told his players, "There hasn't been a single league match that we ended without a goal this year. We will definitely score a goal, so don't worry about it." Encouraged by their coach, the Aomori side showcased great composure throughout the match and utilised the set-pieces to create chances.
The deadlock was broken in the 81st minute, when TAKUSHIMA Yoshiki (#3) struck a shot following a corner kick delivered by FUJIMORI Sota (#11). During a goalmouth scramble, it was ruled that the ball crossed the goal-line before Urawa was able to clear the ball, giving Aomori Yamada their long awaited lead.
Despite the final efforts of Urawa, led by MIWA Ryohei (#4) Aomori Yamada controlled the game and kept the clean sheet to stay in first place, as coach Kuroda mentioned that they have earned "three points that has great significance for the title race."
Following the tough loss, coach Ikeda said, "I really wanted to let them win today," but continued to mention, "They showed that they could still bounce back after being beaten so badly last week. The players did a great job," as he vowed to bounce back in the remaining matches.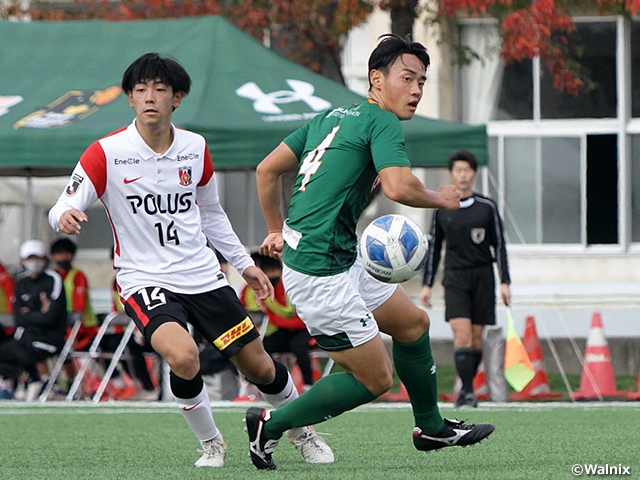 Coaches and Players' Comments
KURODA Go, Coach (Aomori Yamada High School)
It can be very tough when facing a team that has their back against the wall towards the end of the season. We were hoping to score a goal, but it didn't come easily. However, we were creating plenty of opportunities and getting many set pieces, so I knew it was a matter of time before we get one.
MF #10 MATSUKI Kuryu (Aomori Yamada High School)
We were fully focused on this match, but we found many things to improve today, so I feel we need to work on them again. Although we managed to possess the ball in the flanks, we couldn't find ways to penetrate the centre. We can still improve on how we receive the ball against teams that are dropping deep in their territory.
IKEDA Nobuyasu, Coach (Urawa Red Diamonds Youth)
Last week, we couldn't get our minds right after conceding a goal and ended up conceding multiple goals afterwards, so considering how we lost that match, I think our players did a good job of recovering and getting ready for this match. We had some chances we wish we could have capitalised on, but overall, I think the players fought really well.
GK #1 KAWASAKI Atsushi (Urawa Red Diamonds Youth)
We were able to finish the first half 0-0, and the entire team shared the awareness that we had to play tenaciously to keep the clean sheet. Set plays such as long throws are a strong point for the opponent, so I was focused on coming off the line aggressively and utilising my height to prevent them from scoring.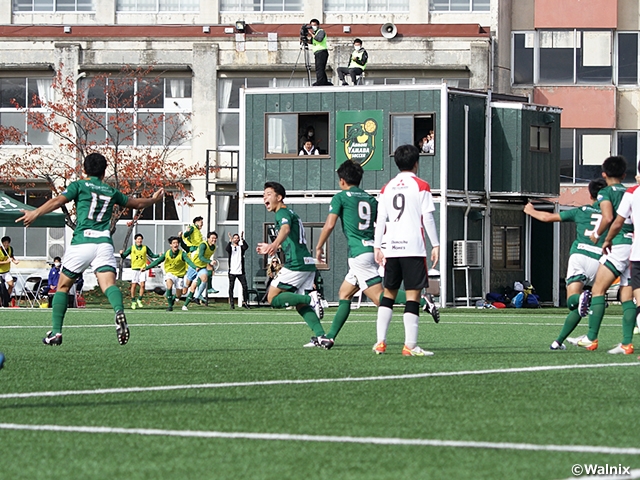 Results of other matches
Shimizu S-Pulse Youth 2-1 (2-0, 0-1) FC Tokyo U-18
Kashiwa Reysol U-18 2-0 (1-0, 1-0) Yokohama FC Youth
Second place Shimizu S-Pulse Youth (Shizuoka) welcomed FC Tokyo U-18 (Tokyo) to their home. With KIKUCHI Shuta (#3) and YAMADA Riku (#18) scoring in the first half, Shimizu held onto their lead despite conceding a goal in the second half. In the match between Kashiwa Reysol U-18 (Chiba) and Yokohama FC Youth (Kanagawa), Kashiwa walked away with a victory thanks to the goals scored by YAMAMOTO Ota (#18) and MAIE Hidetaka (#9). With this win, Kashiwa finished the month of October with three wins and two draws.

Prince Takamado Trophy JFA U-18 Football Premier League 2021
League Duration: Sat. 3 April - Sun. 5 December 2021