NEWS
Sanfrecce Hiroshima defend early lead to keep top spot in the Prince Takamado Trophy JFA U-18 Football Premier League 2021 WEST
08 November 2021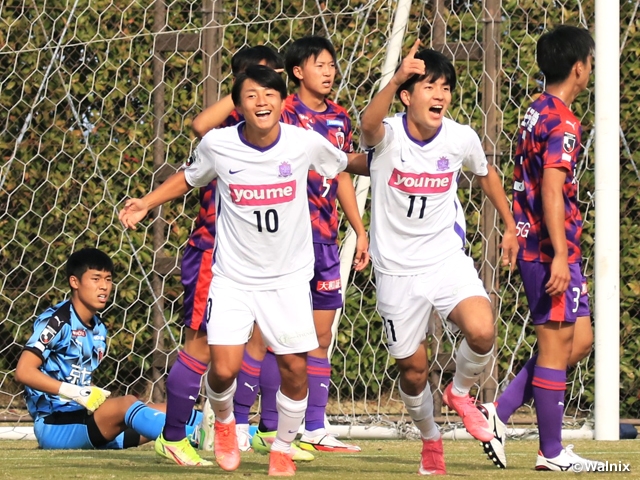 On Saturday 6 November, the postponed fixtures of the Prince Takamado Trophy JFA U-18 Football Premier League 2021 WEST took place at various locations.
Pick-up Match
Kyoto Sanga FC U-18 0-2 (0-2, 0-0) Sanfrecce Hiroshima F.C Youth
Two sides who desperately need three points, Kyoto Sanga FC U-18 (Kyoto) to avoid relegation and Sanfrecce Hiroshima F.C Youth (Hiroshima) to remain in first place, clashed in Kyoto, and it was Hiroshima who took the initiative.
Against Kyoto's build-up, Hiroshima applied aggressive pressure from their frontline to create opportunities. In the fifth minute, MORIMOTO Sorato (#11) converted the delivery of TAKASHITA Michika (#19) with his left foot to give Hiroshima the lead. IKEDA Yuzuki (#14) assisted the goal of TAKAYANAGI Eijiro (#9) in the ninth minute to double the lead for the visitors.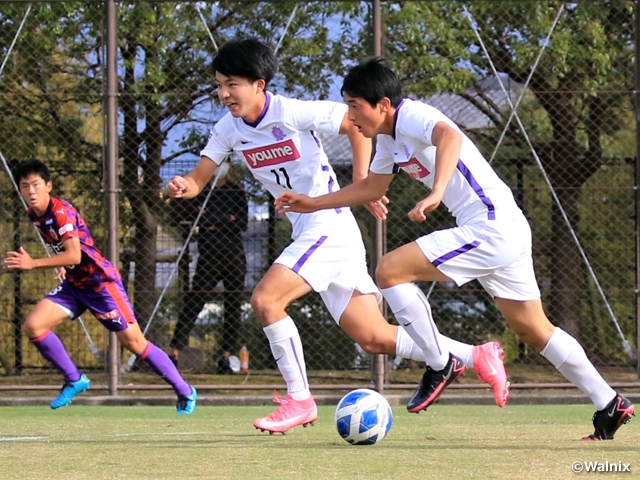 With momentum on their side, Hiroshima earned a PK in the 26th minute, in which their ace TANADA Ryo (#10), who is set to be promoted to the top team, stepped up to take the spot kick. Facing the opponent's ace, Kyoto's goalkeeper OKADA Shuki (#1) reflected on the scene, "I was determined to stop him and change the mood of the match," and explained his though process, "I thought that my opponent knew about the fact that I dove to the left in our match against Cerezo, and after seeing the angle of his run up, I was convinced that he was going to the right," as he made a spectacular save to deny Hiroshima from extending their lead. Although Kyoto ended the first half with zero shots, the home side created an atmosphere that the dynamics of the game could change with a single goal.
Trailing by two goals, Okada urged his offence to press forward, by telling them, "I will keep the second half scoreless, so go attack with aggression." Although Kyoto was able to possess the ball and create opportunities, Hiroshima showed great composure to keep the home side from scoring a goal.
With Kyoto applying more numbers up front, Hiroshima anticipated for their third goal, as KASAGI Yuzu (#22) came off the bench to take three shots to threaten the opposing goal, while Tanada utilised his speed to create chance and take six shots in the second half. However, with both sides falling short from scoring a goal, Hiroshima earned their fourth consecutive victory, as they remain in first place of the WEST.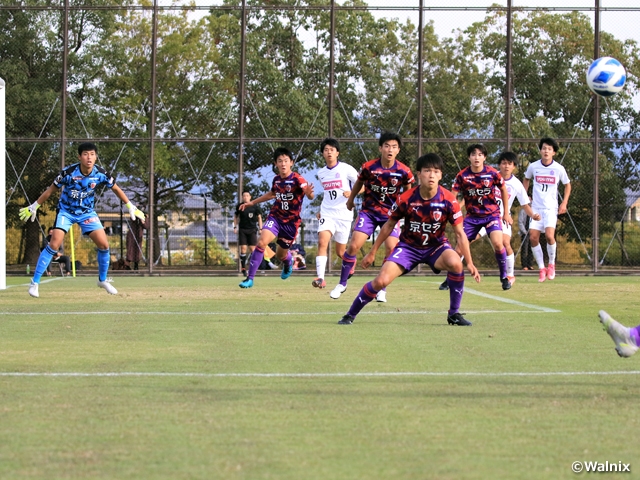 Coaches and Players' Comments
SHIGAKI Ryo, Coach (Kyoto Sanga FC U-18)
With the team desperately needing to accumulate points, we entered the match by telling each other that we would not be intimidated by the league leaders, but our opponent simply outplayed us. We were overwhelmed by their momentum, conceded an early goal, and just could not find our rhythm. In the second half, we were able to possess the ball, and show tenacious efforts to defend against the opponent's counterattacks. We will try to take the initiative in our next match.
GK #1 OKADA Shuki (Kyoto Sanga FC U-18)
Our opponent overwhelmed us at the start of the match, which made it difficult for us to play our usual football. We recovered in the second half and were able to stick to our attacking style, which was a good thing. Despite conceding two goals, I was able to stop a PK and keep the second half scoreless. We are in a difficult position, so one win can make a huge difference. Our goal for today was to win and make everyone happy.
TAKATA Tetsuya, Coach (Sanfrecce Hiroshima F.C Youth)
Winning the match was our priority, so I am happy with this result. However, we could have ended the match in the first half, so I told my players that we need to be able to better manage these kinds of matches. We will now face Nagoya, who we drew in our first leg and lost in PKs at the Club Youth Football Championship, so I think it is our turn to win this time.
FW #10 TANADA Ryo (Sanfrecce Hiroshima F.C Youth)
In order to earn nine points in three consecutive matches, we all shared that it was important to start this match strong. We managed to take the lead early in the first half and added another goal soon after. Although I was not able to score a goal, I managed to maintain my focus in both offence and defence to help the team keep a positive flow. With the top scorer ranking in the back of my mind, I think I was a little too eager to score a goal today.
Results of other matches
Cerezo Osaka U-18 6-2 (5-0, 1-2) Vissel Kobe U-18
Jubilo Iwata U-18 0-5 (0-1, 0-4) Gamba Osaka Youth
Cerezo Osaka U-18 (Osaka) scored five goals in the first half against Vissel Kobe U-18 (Hyogo) to win the match 6-2. Gamba Osaka Youth (Osaka) cruised past Jubilo Iwata U-18 (Shizuoka) by scoring five goals, including the hat-trick of SAKAMOTO Isa (#11), to earn their fifth win of the season.

Prince Takamado Trophy JFA U-18 Football Premier League 2021
League Duration: Sat. 3 April - Sun. 5 December 2021