NEWS
FC Tokyo move up to third place with come from behind victory over Aomori Yamada - Prince Takamado Trophy JFA U-18 Football Premier League 2022
05 September 2022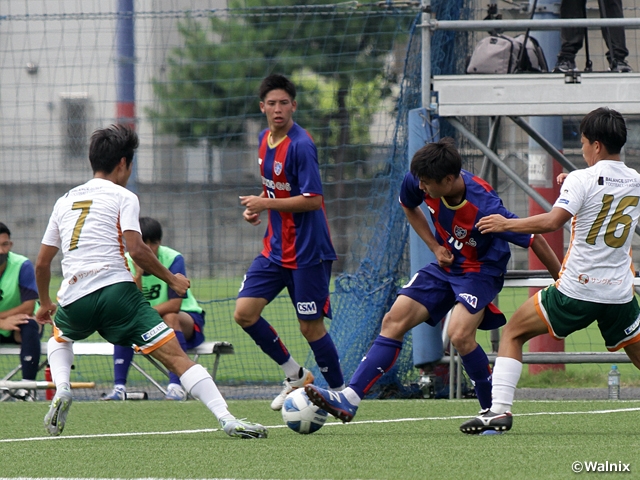 The 13th sec. of the Prince Takamado Trophy JFA U-18 Football Premier League 2022 EAST took place on Saturday 3 and Sunday 4 September. At Tokyo Gas Musashino Multipurpose Ground, FC Tokyo U-18 (Tokyo) squared off against Aomori Yamada High School (Aomori).
Featured Match
FC Tokyo U-18 2-1 (0-1, 2-0) Aomori Yamada High School
Despite showing great form at the beginning of the season, FC Tokyo suffered three consecutive losses prior to the summer break, as SAMATA Kiichi (#23) mentioned, "We cannot afford to lose anymore matches in order to stay in contention for the title." Aomori Yamada on the other hand, were also in a must win situation as coach KURODA Go commented, "We don't want involve ourselves in the relegation race."
For FC Tokyo, this match against Aomori Yamada had a special meaning, as coach OKUHARA Takashi mentioned:
"Having suffered a crushing loss at home last year, we went into this year's away match with plenty of motivation, but once again failed to deliver results, and many of the players were in tears, including some who I had never seen them cry before. We didn't need to motivate ourselves for this match at all, because we had learned from Amori Yamada the intensity and team chemistry needed to win a football match."
Both teams had a number of absentees due to injury and other reasons leading up to the match, but conversely this presented a big opportunity for players who have not had the opportunity to play in the Premier League up to this point.
The match started with Aomori Yamada taking the initiative by applying aggressive pressure from the front line. In the 30th minute, KOBAYASHI Koto (#15) struck a header off a free kick delivered by SHIBATA Rei (#16) to give the Aomori side the lead.
Despite conceding the lead, FC Tokyo remained composed, as HIGASHI Renta (#13) later reflected, "I love playing in these kinds of intense matches." In the second half, Samata, who was given his first start in the Premier League after showing great form in the T1 League, scored back to back goals in the 58th and 65th minutes, both assisted by KONNO Mitsuo (#18).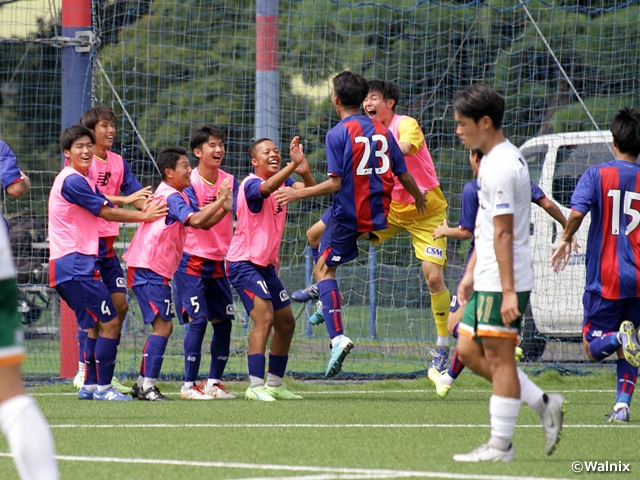 With their backs against the wall, Aomori Yamada created numerous opportunities from cross balls and set pieces, including the play created by second half substitute KOYANAGI Itto (#8) during additional time, but their efforts were denied by FC Tokyo's goalkeeper NISHIYAMA Sota (#16).
The intense match ended with a final score of 2-1, as FC Tokyo snapped their losing streak at three and managed to stay in contention for the title race.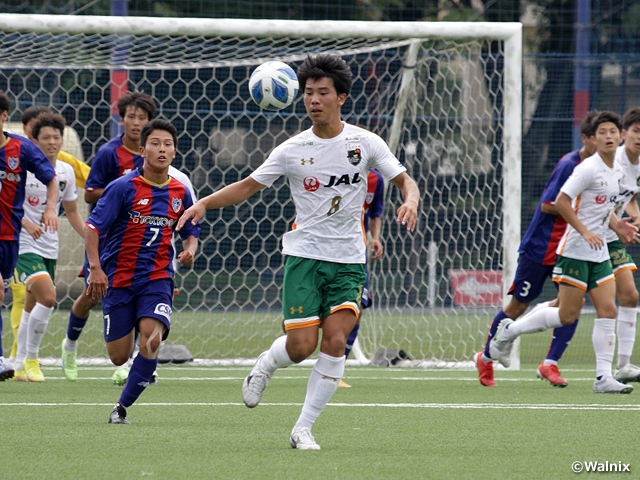 Coaches and Players' Comments
OKUHARA Takashi, Coach (FC Tokyo U-18)
The players who have been building up all the way from the bottom have achieved results. I've always told them that "your efforts will get paid off," and I think that goal certainly exemplified that. Although we were missing some players, it was a match in which our new recruits and the third-year players who had not played much up to this point showed their mettle. During the summer we have focused on areas other than just football skills and it has paid off.
FW #23 SAMATA Kiichi (FC Tokyo U-18)
I usually watch the matches as a scoreboard keeper, and this was the first time I played in the Premier League. I didn't think I was nervous, but before the match I wore my uniform backwards and everyone laughed at me. The pressure applied by Aomori Yamada and their individual skills were amazing, but I am glad I was score against such team. Dribbling is not my forte, so I just focused on hitting the ball hard.
KURODA Go, Coach (Aomori Yamada High School)
I feel that a team that uses set pieces as a weapon should not be beaten on the counter from there, and this match really gave me something to reflect on. Playing in the heat, which is different from Aomori, there were stints where we were too fatigued to work hard, so that is an aspect we must improve on. We did well in the closing minutes, but we saw many flaws that need to be addressed as we enter the second half of the season.
DF #2 WATANABE Rai (Aomori Yamada High School)
It really felt like we fumbled a match we could have won. The fact that we conceded from two similar plays is something we really must reflect on. We had the tendency of playing well in the first half but enter the second half poorly, and that showed in this match as well. I personally felt like I had to get myself more involved in the team's offence.
Results of other matches
Omiya Ardija U18 3-1 (2-1, 1-0) JFA Academy Fukushima U-18
Yokohama F.Marinos Youth Postponed Kiryu Daiichi High School
Ryutsu Keizai University Kashiwa High School 1-0 (0-0, 1-0) Kawasaki Frontale U-18
Funabashi Municipal High School Postponed Maebashi Ikuei High School
Kashiwa Reysol U-18 0-2 (0-0, 0-2) Yokohama FC Youth
Despite conceding the opening goal to JFA Academy Fukushima U-18 (Shizuoka), Omiya Ardija U18 (Saitama) managed to come from behind led by the brace of TAKAHASHI Hikaru (#11). Second half substitute SATO Ryoga (#13) scored the winning goal to give Ryutsu Keizai University Kashiwa High School (Chiba) a 1-0 victory over Kawasaki Frontale U-18 (Kanagawa), who suffered their first loss of the season. Yokohama FC Youth (Kanagawa) earned their fifth win of the season after scoring two late goals against Kashiwa Reysol U-18 (Chiba). The matches between Yokohama F.Marinos Youth (Kanagawa) and Kiryu Daiichi High School (Gunma), Funabashi Municipal High School (Chiba) and Maebashi Ikuei High School (Gunma) were postponed.
Prince Takamado Trophy Premier League Official Twitter
#高円宮U18 プレミアリーグ 2022
EAST 第13節(9/4)

試合結果#流経大柏 1-0 #川崎F #市立船橋 (延期) #前橋育英 #FC東京 2-1 #青森山田#柏 0-2 #横浜FC

結果詳細はこちらhttps://t.co/Y65xFaqUYE#高校サッカー pic.twitter.com/L0NZ5Z6eTm

— 高円宮杯 JFA U-18サッカープレミアリーグ (@jfa_u18) September 4, 2022
#高円宮U18 プレミアリーグ 2022
EAST

暫定順位表(9/4時点)
1⃣ #川崎F
2⃣ #横浜FM
3⃣ #FC東京
4⃣ #大宮
5⃣ #青森山田
6⃣ #前橋育英
7⃣ #流経大柏
8⃣ #横浜FC
9⃣ #柏
1⃣0⃣ #AC福島
1⃣1⃣ #市立船橋
1⃣2⃣ #桐生第一

詳細はこちらhttps://t.co/xyY4xTyaZQ#高校サッカー pic.twitter.com/jWyUA9CqRg

— 高円宮杯 JFA U-18サッカープレミアリーグ (@jfa_u18) September 4, 2022
Prince Takamado Trophy JFA U-18 Football Premier League 2022
League Duration: Sat. 2 April - Sun. 4 December 2022