NEWS
Higashi Fukuoka show growth in win after the break - Prince Takamado Trophy JFA U-18 Football Premier League 2022
05 September 2022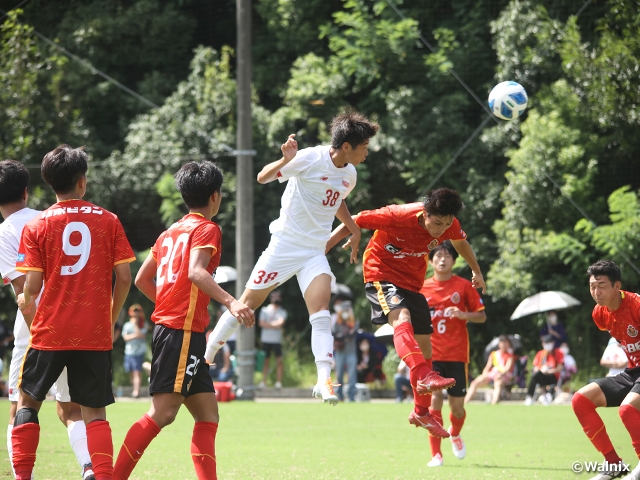 The 13th sec. of the Prince Takamado Trophy JFA U-18 Football Premier League 2022 WEST took place on Sunday 4 September. At Toyota Sports Center, Nagoya Grampus U-18 (Aichi) faced Higashi Fukuoka High School (Fukuoka).
Featured Match
Nagoya Grampus U-18 0-1 (0-1, 0-0) Higashi Fukuoka High School
With only three points separating the sixth place Higashi Fukuoka and 11th place Nagoya, the Fukuoka side entered the match with great intensity, as SHIMOKAWA Shosei (#10) later reflected, "We were in a must win situation, so we fought with strong determination to win the match."
Although it was Nagoya who showed their superiority in techniques to take the initiative in the early stages, the Higashi Fukuoka defence led by their goalkeeper SUDA Junya (#1) showed great composure to keep the Nagoya offence at bay, as the goalkeeper later mentioned, "We had worked all week to respond to our opponent's crosses and wall-passes." In the 14th minute, Shimokawa made an induvial effort to earn a corner kick, as the midfielder mentioned, "We entered the match poorly against Gamba, so I focused on earning set pieces and take shots to give the team momentum." This corner kick led to the goal of IMAYOSHI Kokoro (#38), who converted the delivery of AKI Issei (#13) with a header to give Higashi Fukuoka the lead.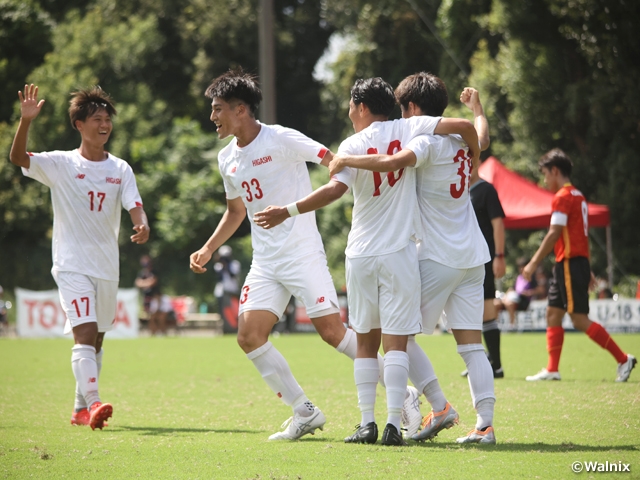 Higashi Fukuoka created another close opportunity from a corner kick in the 18th minute, when Shimokawa delivered the ball into the mix, picking out Imayoshi, who was left unmarked inside the box, but his attempt was denied by Nagoya's goalkeeper KITAHASHI Masaharu (#1). In efforts to equalise the match, Nagoya responded with the individual efforts of SUZUKI Haruto (#15), who created back to back chances in the 23rd and 26th minutes but fell short from finding the back of the net.
"Our opponents were dropping back in the second half, so we knew that one of our centre-halves would be wide open. That is why I made conscious efforts to press forward," said OTA Soma (#20), who delivered number of long balls that threatened the Higashi Fukuoka defence. In the 62nd minute, Ota carried the ball upfront before passing the ball to Suzuki, who delivered a well-timed pass into the space behind the opposing defence line, allowing NISHI Rinsei (#7) to make a run and take a shot, but his effort was saved by Suda.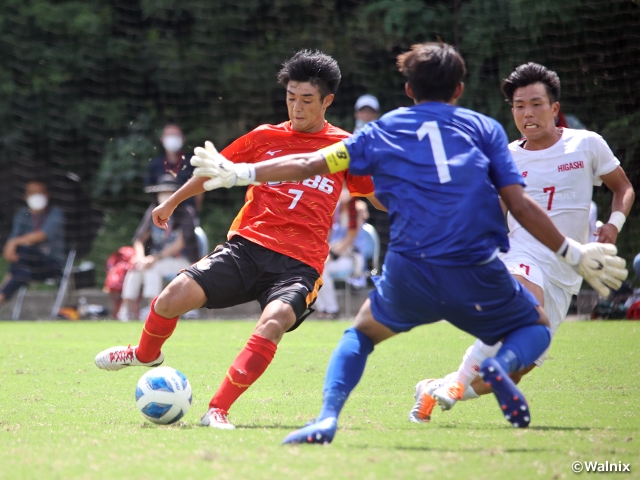 Despite the late efforts showcased by Nagoya, the players of Higashi Fukuoka communicated well with each other and showed great focus to keep the clean sheet intact, as Shimokawa proudly mentioned after the match, "Our ability to play tenaciously in the closing minutes of the match is one of our strengths of this year's team. We made sure to cover each other to deny our opponents from creating chances in the final third."
Coaches and Players' Comments
KOGA Satoshi, Coach (Nagoya Grampus U-18)
We seemed to be overwhelmed by the opponents' aggressive pressure. At this stage, we were not able to prepare ourselves, make correct decisions, and accurately execute our plays under pressure. Rather than being frustrated with this result, I want the players to regret how they prepared themselves in their daily training sessions, because that is what led to this result. We will continue to pursue our challenge to expand our individual strengths, while also striving for victory as a team. I want the players to challenge themselves to improve their individual skills.
DF #20 OTA Soma (Nagoya Grampus U-18)
Coach Koga told us after the match that we need to approach our training sessions in the same way we approach our matches, and this match really exemplified his words. If we cannot score goals in training, we cannot score goals in matches, so we need to raise the quality of our overall plays. We have been winless in our recent matches, but we cannot change our approach because of it. We must believe in ourselves and stick with the basics. We will recoup and strive to showcase our football style in our next match.
MORISHIGE Junya, Coach (Higashi Fukuoka High School)
Knowing how skilled our opponents were, we couldn't attack the ball as much as we would have liked after taking a one goal lead. We didn't want to give out easy opportunities to our opponents, so we kept dropping deep into our territory, but the players showcased great tenacity to defend the goal. If we had not improved since the first half, we wouldn't have been able to win this match. The players have been working very hard and the fact that we are seeing new competition rise within the team helps us grow even further as a team.
GK #1 SUDA Junya (Higashi Fukuoka High School)
After conceding two early goals in our last match, we were determined to play aggressively to take the lead in this match. We worked on our defence all week with the aim of keeping our opponent scoreless in the first half, so I am glad we were able to accomplish that. Even when we allowed our opponents to break through the flanks, we made conscious efforts to build a block to deny the crosses. We had not been able to keep clean sheets this season, so this match will give us confidence moving forward. This result should also give us a boost to our momentum, so we will continue to work hard to get better as a team.
Results of other matches
Shimizu S-Pulse Youth Postponed Jubilo Iwata U-18
Sanfrecce Hiroshima FC Youth 2-1 (2-0, 0-1) Riseisha High School
Sagan Tosu U-18 4-0 (1-0, 3-0) Shizuoka Gakuen High School
Gamba Osaka Youth Postponed Cerezo Osaka U-18
Ozu High School 2-2 (1-0, 1-2) Vissel Kobe U-18
Sanfrecce Hiroshima FC Youth (Hiroshima) welcomed Riseisha High School (Osaka) to their home where they scored two goals in the first half to win the match 2-1. Led by the goal of KIDO Harunosuke (#8), Sagan Tosu U-18 (Saga) claimed a 4-0 victory over third place Shizuoka Gakuen High School (Shizuoka) to remain in first place. Ozu High School (Kumamoto) and Vissel Kobe U-18 (Hyogo) shared a point after exchanging two goals apiece. The fixtures between Shimizu S-Pulse Youth (Shizuoka) and Jubilo Iwata U-18 (Shizuoka), Cerezo Osaka U-18 (Osaka) and Gamba Osaka Youth (Osaka) were postponed.
Prince Takamado Trophy Premier League Official Twitter
%F0%9F%8F%86#高円宮U18 プレミアリーグ 2022%F0%9F%8F%86
%F0%9F%9F%A2WEST 第13節(9/4)%F0%9F%9F%A2

%E2%9A%BD試合結果%E2%9A%BD#清水 (延期) #磐田#名古屋 0-1 #東福岡#広島 2-1 #履正社#鳥栖 4-0 #静岡学園#G大阪 (延期) #C大阪#大津 2-2 #V神戸

結果詳細はこちら%F0%9F%94%97https://t.co/GNr6Ievn0n#高校サッカー pic.twitter.com/Q5ylaKZihJ

— 高円宮杯 JFA U-18サッカープレミアリーグ (@jfa_u18) September 4, 2022
%F0%9F%8F%86#高円宮U18 プレミアリーグ 2022%F0%9F%8F%86
%F0%9F%9F%A2WEST%F0%9F%9F%A2(9/4時点)

%E2%9A%BD暫定順位表%E2%9A%BD
1%E2%83%A3 #鳥栖
2%E2%83%A3 #磐田
3%E2%83%A3 #静岡学園
4%E2%83%A3 #V神戸
5%E2%83%A3 #C大阪
6%E2%83%A3 #東福岡
7%E2%83%A3 #広島
8%E2%83%A3 #履正社
9%E2%83%A3 #清水
1%E2%83%A30%E2%83%A3 #大津
1%E2%83%A31%E2%83%A3 #名古屋
1%E2%83%A32%E2%83%A3 #G大阪

詳細はこちら%F0%9F%94%97https://t.co/UFlr6DqbvG#高校サッカー pic.twitter.com/kpajAm61Sj

— 高円宮杯 JFA U-18サッカープレミアリーグ (@jfa_u18) September 4, 2022
Prince Takamado Trophy JFA U-18 Football Premier League 2022
League Duration: Sat. 2 April - Sun. 4 December 2022