NEWS
FIFA U-17 Women's World Cup Costa Rica 2014 Final
05 April 2014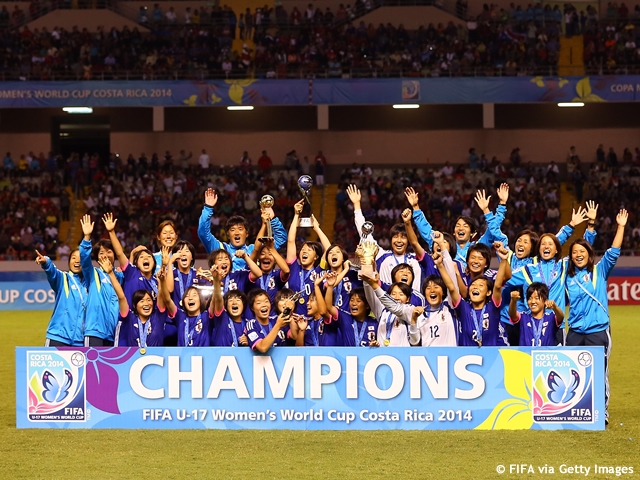 FIFA U-17 Women's World Cup Costa Rica 2014 Final
4th April, 2014 17:00Kick Off 90minutes
National Stadium(CostaRica/San Jose)
U-17 Japan Women's National Team 2-0(1stHalf1-0、2ndHalf1-0) U-17 Spain Women's National Team
Scores
5min  NISHIDA Meika(U-17 Japan Women's National Team)
78min  KONO Fuka(U-17 Japan Women's National Team)
Starting Lineup
GK:MATSUMOTO Mamiko
DF:MIYAGAWA Asato、ICHISE Nana、OKUMA Rana、ENDO Yu
MF:SUGITA Hina、NAGANO Fuka、MATSUBARA Shiho、HASEGAWA Yui、NISHIDA Meika
FW:KOBAYASHI Rikako
Substitutes
GK:ASANO Natsumi、MORITA Yukari
DF:KITAGAWA Hikaru、HASHINUMA Maho、MINAMI Moeka
MF:HIRATSUKA Maki、SATO Mizuka
FW:KAMOGAWA Miho、KONO Fuka、SAIHARA Mizuki
61min ENDO Yu → KONO Fuka
79min NISHIDA Meika → SAIHARA Mizuki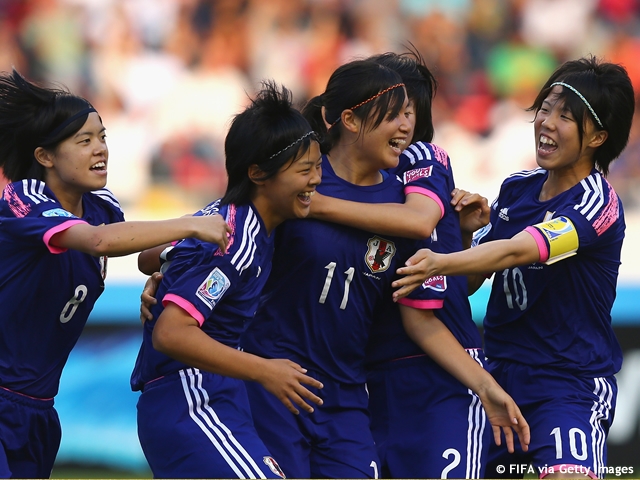 | | |
| --- | --- |
| adidas Golden Ball: | SUGITA Hina(Fujieda Junshin High School) |
| adidas Silver Ball: | HASEGAWA Yui(NTV Beleza) |
| adidas Golden Glove: | MATSUMOTO Mamiko(Urawa Reds Ladies Youth) |
| adidas Bronze Boot: | SUGITA Hina(Fujieda Junshin High School) |
Head Coach & Players' Comments
Head Coach : Takakura Asako
It is a great honour to win the championship in such a wonderful tournament like this. Spain was an outstanding team, so after our re-match was set for the final, I thought it would never be an easy game. Players are under 17 and most of them had never played an international tournament before. They were nervous before the game, but they played this game with so much courage. We won the championship, but they are still very young and have long careers ahead. So I want them to take this world cup as their stepping stone and keep improving. People talk about me being the first female head coach of Japan's national teams, but I didn't think about myself as being a female head coach when I came out for this tournament. I was just a head coach who wanted to take the team to the championship. So I just coached these players with everything I had as a football coach. Players worked so hard and got this championship. It's them who won this championship.
SUGITA Hina(Fujieda Junshin High School)
I am so happy. I can't still believe it. I feel like dreaming. Even today, I couldn't realise that I was going to play the final until I actually stepped onto the pitch. Since the 2012 tournament, we have envisioned this final game as our goal, but it was surprising that we were actually there. We were tired today, so getting the first goal early in the game was good. We had a long stretch when we couldn't have our momentum and couldn't lay out good offense. But we never gave up and kept playing our style of football which is connecting good passes to the goal. We didn't really have such a bad stretch in previous games in this tournament, so it was tough today.
We can't be satisfied with this win. If we are, we won't improve any more. This is another start, and we will keep working hard for a higher level so that we can make the national team of the next age category, and Japan's women's soccer will be much better. I am so thankful that people in Costa Rica and our fans in Japan kept supporting us from the very first game to the final. I could keep running to the end today just because I had everyone's support on my back.
HASEGAWA Yui(NTV Beleza)
As for today, winning was more important than playing a good game. It was better than anything else that we scored a goal, didn't allow a goal to them and won. Usually we have been controlling the ball, but Spain was the same type of team. Today we played defence longer than we played offense, but our focus didn't stop, and we could score the first goal of the game early. I think our defence was better than them, so getting the first goal of the game was the key. Our ball movement was good in many occasions, I myself had a few opportunities to score, but I couldn't finish the play with a goal. In the first game against Spain, when we put pressure on their ball, they always passed to the side and it made it easier for us. But today they kept kicking long balls toward our goal, so it made it difficult for us. Winning the championship trophy is good, but I personally played better in the games against Mexico and Venezuela.
MATSUMOTO Mamiko(Urawa Reds Ladies Youth)
This morning I couldn't believe it's the final. I kept telling myself that I was about to play in the final of the world cup, and I was going to enjoy this atmosphere. I knew we had had good practices of stopping opponents' shots and checking cross balls coming in the middle, so when I came out onto the pitch, I was more confident than previous games. Our defenders put their bodies on their offense well, so we didn't really have a crucial moment. We could play our style of football. I was confident in defending their cross balls and I was prepared to come out and stop them, so I didn't hesitate. I can't still believe that we won the world cup, but I was happy that we could hold the trophy over our heads. (About winning adidas Golden Glove award) I want to thank all my teammates, because I didn't get this award by myself. Our defenders put their bodies on and didn't let them shoot. Next I want to be selected to U-20 team, and then Nadeshiko Japan. In the future, I want to wear #1 jersey and win the world cup and Olympic.
NISHIDA Meika(Cerezo Osaka Sakai Ladies)
In the yesterday's intra-squad game, I was on the starters team, but couldn't play well at all. So I didn't have any idea whether I would play until I was told to start during today's meeting. I came out to leave a good result out there because this is the last game for this team to play. First of all, it was good that this team won the championship. Also I could score a goal and I think that helped my team. So it was good, too. I thought Matsubara's shot was well-targeted to the goal, so I ran toward the goal because their goalkeeper or the cross bar may deflect it and there may be a rebound ball. So the rebound was just right there coming to me, and all I had to do was to lay it in. I am happy that we won this championship, and playing in this game gave me a great deal of confidence. This experience and this tournament will be very important for my future career.
Kono Fuka( Fujieda Junshin High School)
When we first came to Costa Rica, we promised to our head coach, other coaching staff and other team staff that we would play in the final and finish the game with smiles. I was going to trust my teammates and keep playing to the end. What I have to do for this team is to score goals. I was going to leave everything I had on the pitch. I am so thankful that our head coach gave me an opportunity to play. I think I could make all coaches who have coached me and all the people who have supported me feel good. I would like to thank everybody who has supported Japan. This is just a beginning for us, so please keep watching and supporting us.