NEWS
U-20 Japan National Team hold training match against FC Pakhtakor U-21 in Uzbekistan
27 February 2023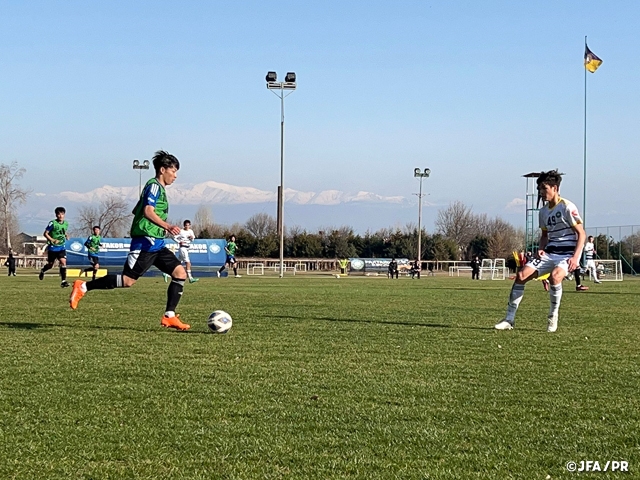 The U-20 Japan National Team, who are training in Uzbekistan ahead of the AFC U20 Asian Cup 2023, played a training match against a local club, FC Pakhtakor U-21, on Sunday 26 February.
In contrast to the previous day's training session, which took place under light snow, the weather was clear and sunny, and the players were able to polish their game intuition on FC Pakhtakor's training ground, where the pitch was in relatively good condition.
With the opposing FC Pakhtakor U-21 team showing great enthusiasm, the match was played in a clean and intense manner. Because everyone on the squad was able to participate in this match, the Japanese side was able to use this opportunity to keep everyone on the same page.
The match started with Japan conceding a goal in the early minutes but managed to gain control of the ball possession as the match progressed. KUMATA Naoki's equaliser in the 30th minute made it 1-1 going into halftime, and after the two sides exchanged a goal apiece in the 58th and 60th minutes, Japan opened up the score with the brace of KITANO Sota and a direct free kick scored by MATSUKI Kuryu to win the match 5-2.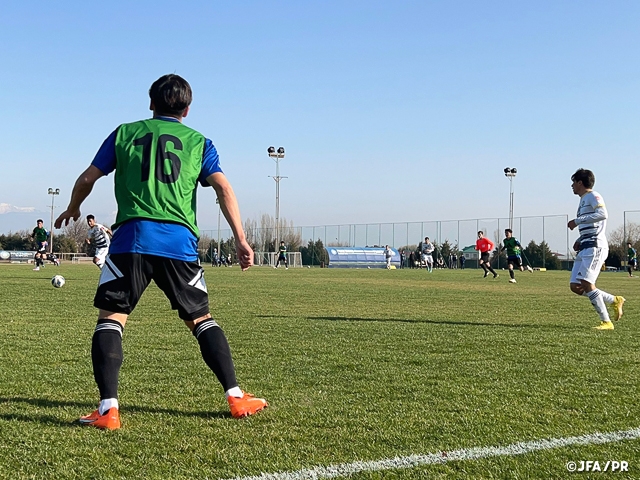 A penalty shoot-out was held after each half to prepare the team for the knockout stage. The team will continue with their trainings in Tashkent on Monday morning.
The AFC U20 Asian Cup Uzbekistan 2023 will kick-off on Wednesday 1 March, and Japan will play their first match against China PR on Friday 3 March.
Players' Comments
DF #3 TANAKA Hayato (Kashiwa Reysol)
This was a very important match for us ahead of the AFC U20 Asian Cup Uzbekistan. There were times when we were not on the same page when applying pressure in defence. That is something we can fix by communicating with each other, so I hope I can take the initiative as the centre back. In terms of offence, this match reminded us that we need to be more creative in the final third. I really hope we can win the Asian title to secure our spot in the FIFA U-20 World Cup Indonesia 2023™. We have less than a week left ahead of our first match, so we will work hard as a team to succeed in the tournament.
DF #19 TAKAI Kota (Kawasaki Frontale)
We need to get ready well in advance for the Asian Cup because we anticipate a tough competition. It felt like we couldn't find the right distance and struggled to like up with each other in today's match, so that is something we need to address and improve as a team. We will do our best to prepare ourselves ahead of our first match against China PR.
MF #20 ABE Taisei (V-Varen Nagasaki)
Looking back on this match, it made us feel that we need to polish the quality of our game both as a team and as individuals. We need to be more vocal when we apply pressure to the ball as a team. Our primary goal in this tournament is to qualify for the World Cup, but winning the title should give us a boost to our confidence heading into the World Cup, so we will do our best to bring back the title.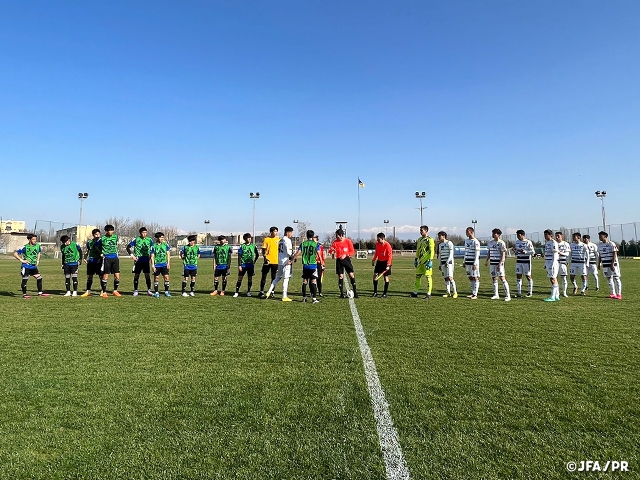 AFC U20 Asian Cup Uzbekistan 2023
Tournament Dates: Wed. 1 - Sat. 18 March 2023