NEWS
U-20 Japan Futsal National Team beat Vietnam to get through to final round in AFC U-20 Futsal Championship
21 May 2017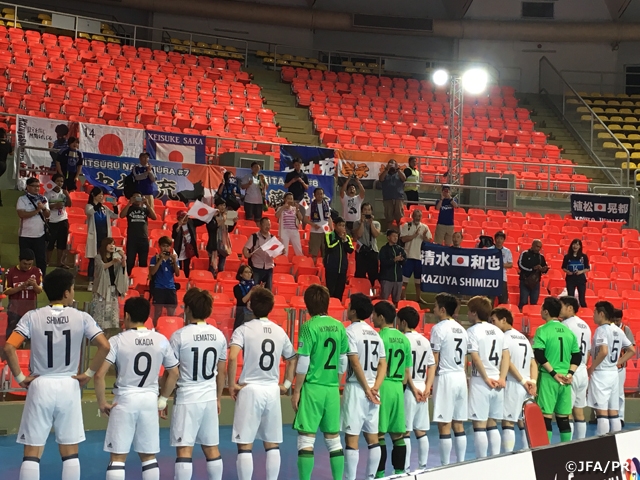 AFC U-20 Futsal Championship Thailand 2017
Group Stage Second Match vs U-20 Vietnam Futsal National Team
20 May 2017 (Sat.) Kick-off 17:00 (Local Time) Playing Time 40 min. (20min. x 2)
Hua Mark Indoor Stadium (Bangkok, Thailand)
U-20 Japan Futsal National Team 3-1(2-0, 1-1)U-20 Vietnam Futsal National Team
Scores
6' SHIMIZU Kazuya(U-20 Japan Futsal National Team)
12' HIGUCHI Takeshi(U-20 Japan Futsal National Team)
21' NAKAMURA Mitsuru(U-20 Japan Futsal National Team)
22' goal against(U-20 Vietnam Futsal National Team)
Starting Line-ups
GK:YAMADA Masataka
FP:ISHIDA Kentaro, NAKAMURA Mitsuru, UEMATSU Koto, SHIMIZU Kazuya
Reserves
GK:SAKA Keisuke, IWANAGA Taiki
FP:UCHIDA Shunta, OKABE Naoki, HIGUCHI Takeshi, ITO Keita, OKADA Shokei, YAMADA Jiei, NII Takahito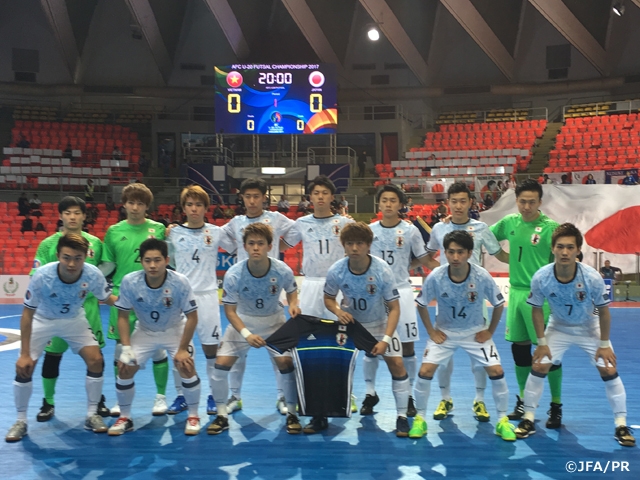 Match Report
Saturday 20 May saw the fourth group-stage match in the AFC U-20 Futsal Championship Thailand 2017 between the U-20 Japan Futsal National Team and the U-20 Vietnam National Team.
Requiring a win to get through the group stage, Japan stayed focused in defence from the beginning of the game, and did not allow the opponents to strike first. Then, the national squad gradually found their rhythm, and SHIMIZU Kazuya (FUGADOR SUMIDA) directly fired in a free kick to open the scoring in the sixth minute. Now with the early lead, the Japanese internationals played more comfortably, enabling them to handle the strong Vietnamese pressure up front and sustain possession, and dominated the match thereafter. After 12 minutes, HIGUCHI Takeshi (Ryutsu Keizai University/Football Club) stole the ball on the left and surged up to rifle in a left-footer between the legs of the opposing goalkeeper, and doubled his side's advantage before halftime.
Looking to continue their dominance in the game, Japan came out strongly in the second half and stretched their lead to three goals with NAKAMURA Mitsuru's (PESCADOLA MACHIDA ASPIRANTE) right-footed volley from a right corner in the 21st minute. Although it appeared that Japan had taken full control of the game, the young Vietnamese struck back immediately. After 22 minutes, Vietnam moved the ball from right side on their end to the centre, and rifled home from long range. After a scoreless ten minutes, the Southeast Asian side employed a power-play in the remainder of the match, but the Japanese defence led by goalkeeper YAMADA Masataka (FUCHU ATHLETIC F.C. SATELLITE) managed to hold off their threatening attacks and sustain a two-goal lead until the final whistle to secure a 3-1 win.
Although Japan tied with Indonesia National Team, on points, goal difference, goals scored, goals conceded, and the number of yellow cards in the group stage, the team finished second place in Group B due to the result of a play-off draw, and booked a place in the next round of the competition. Japan will play the quarter-final against Group A winners U-20 Iraq at 19:00 on Monday 22 May.
Coach's and Players' Comments
SUZUKI Ryuji, Coach
We failed to maintain our lead just before the final whistle in the matches against Tajikistan and Indonesia. Thus, we were determined to grab a victory today by going one step further and working collectively as a team. Although it was mentally tough, thanks to their excellent effort we managed to perform superbly. I would also like to thank our supporters here and in Japan, and with their strong support we secured an important win as a united team. I am sincerely grateful. We will keep working hard in the knockout phase as well. So please send us your cheers.
#2 YAMADA Masataka (FUCHU ATHLETIC F.C. SATELLITE)
We managed to get through the group stage by winning today's game 3-1. We played with our back against the wall, but all of us worked hard even when we had to endure tough stretches. Now, we need to get some rest before we get ready for the game against Iraq the day after tomorrow.
#6 HIGUCHI Takeshi (Ryutsu Keizai University/Football Club)
Today's game against Vietnam was really tough. It was excellent that we managed to win it. Since our aim is to win the championship, I'd like to get in the best condition before the match against Iraq during the two-day break.
#14 NII Takahito (SHRIKER OSAKA SATELLITE)
I'm over the moon that we beat Vietnam today. Although we were under severe pressure that we would only qualify to the knockout stage with a win, our team effort, including the right mind-set entering the game, allowed us to secure this important victory. We would relax and get some rest tomorrow, and then get ourselves ready to challenge the coming match.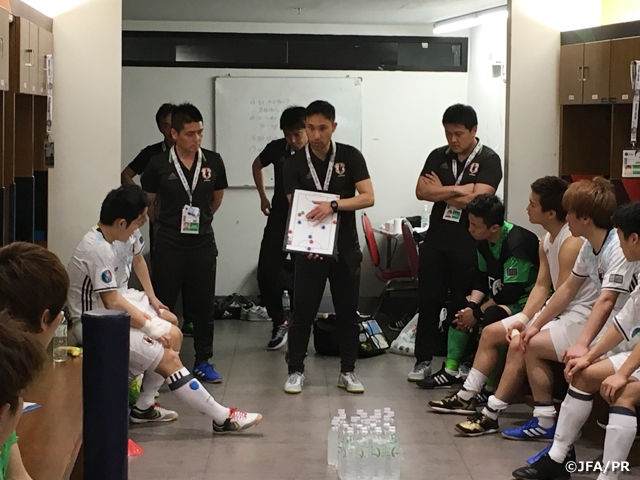 Schedule
AFC U-20 Futsal Championship Thailand 2017
Tue. 16 May
4-0
Group Stage 1st
vs Chinese Taipei (Hua Mark Indoor Stadium)
Wed. 17 May
TBC
Training
Thu. 18 May
5-5
Group Stage 2nd
vs Tajikistan (Hua Mark Indoor Stadium)
Fri. 19 May
3-3
Group Stage 3rd
vs Indonesia (Hua Mark Indoor Stadium)
Sat. 20 May
3-1
Group Stage 4th
vs Vietnam (Hua Mark Indoor Stadium)
Sun. 21 May
TBC
Training
Mon. 22 May
19:00
Quarter-finals
vs Iraq (Bangkok Futsal Arena)
Tue. 23 May
TBC
Training
Wed. 24 May
16:00/19:00
Semi Final (Bangkok Futsal Arena)
Thu. 25 May
19:30
3/4 place play off (Bangkok Futsal Arena)
Fri. 26 May
19:30
Final (Bangkok Futsal Arena)
*Local Time
*The schedule may be subject to change due to the team condition, the weather, etc.