NEWS
Class S Coach Training Course 2022 Module 2/Intensive Course (5) Participant's Report Vol. 6
24 June 2022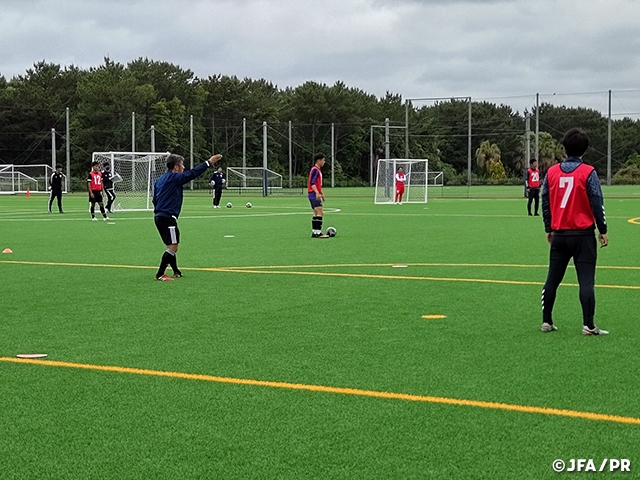 Module 2, which ran for three weeks, is now in its final week and the content of the curriculum is becoming more challenging towards Module 3. In the lecture and practical training on "set pieces", which was introduced to the course from this year, each group derived solutions to particular issues that they had identified from a video footage, and then held training sessions on the pitch to solve those issues. The participants were required to accurately convey the key points of the training in the limited time available, which provided an opportunity for them to demonstrate the results of the presentations they had been given throughout the course.
In the two months leading up to Module 3, which starts at the end of August, the participants will visit clubs and work on a variety of assignments. The summer is a time for each participant to reflect on what they have learned in the first two modules and to face up to their own challenges to take their skills to the next level.
Module2 Intensive Course ⑤
Duration: Mon. 13 June - Thu. 16 June
Mon. 13 June
PM
"Activities of JFA/Coach development": NISHIKAWA Seidai (JFA Coaches Training Director)
"Physical conditioning/environmental measures": YASUMATSU Mikinobu (JFA Physical Fitness Project)
"Set pieces": KAWAMATA Noriyuki (JFA GK Project Leader)
Tue. 14 June
AM
Coaching session/Set pieces
PM
"Mental training": TANAKA OULEVEY Miyako
Presentation by the participants
Wed. 15 June
AM
Coaching session
PM
"Sports Paramedic"
Lecture: Dr. FUKUSHIMA Yoshifumi (Juntendo University Hospital)
Practice: Dr. FURUYA Shinsuke (Kansai University of Health Sciences)
Thu. 16 June
AM
Coaching session
PM
"Professional coaching theory": MORIYASU Hajime (Japan National Team)
"Module2 review": UKISHIMA Bin (JFA Class S Instructor)
Cooperation in dispatching support players: Edogawa University, Chuo Gakuin University, JEF United Ichihara Chiba (Academy Staff)
Participant's Comment
Mr. SAEGUSA Hirokazu (Y.S.C.C. Yokohama)
In the starting lecture on Monday 13 June, JFA Coaches Training Director Mr. NISHIKAWA Seidai spoke about JFA's initiatives to develop coaches. One of the things that left a strong impression on me was when he said that the aim of coach development is to "put a lot of smiles on people's faces." It was a reminder of the most important aspect of the coaches' work, which is to support the players and children to enjoy football, whilst also enjoying the sport themselves. This lecture allowed us to become more conscious of why we are learning and what our role will be in the future.
Mr. YASUMATSU Mikinobu of the JFA Physical Fitness Project explained to us about environmental measures and the purpose of segmenting the season. Among other things, the participants learned about the key environmental factors, "heat," "cold," "altitude," and "time difference," to keep in mind in order to optimise the players' performances. Each group shared what they had discussed to re-affirm and discover new needs. In the case of extreme heat, for example, if a sip of oral rehydration solution tastes "good" at halftime, the player needs to drink 500ml, but if it "doesn't taste good," then the player can drink a normal sports drink. These specific examples were felt to be useful in the field.
In the lecture on set-pieces, the participants worked in groups of five with assigned roles such as head coach, assistant coach, and GK coach, analysed the footage given to them, discussed and presented their findings before putting them into practice on the following day. Even if each group had identified the same issue, there were new insights to be learned from each group, as the presentation styles, training selections, and the execution of the trainings were vastly different. Even when defending the same space, it was interesting to see how some groups solved the problem by running in a straight line, while others went back diagonally, which indicated that the solution could vary depending on how you perceive the advantages and disadvantages of each play. I now understand why I was encouraged to include set pieces in my play model.
On Tuesday 14 June, a lecture on mental training was given by Ms. TANAKA OULEVEY Miyako in the afternoon. Here we learned that mentality is the "feeling mind" and the "thinking mind," and that the aim of mental training is to control these mindsets. I was particularly impressed when she mentioned that "Winning" is not controllable. That is why we must focus on helping the players to fulfil their potential. This session made me want to regain control of my mind, which is always occupied with the desire to "win."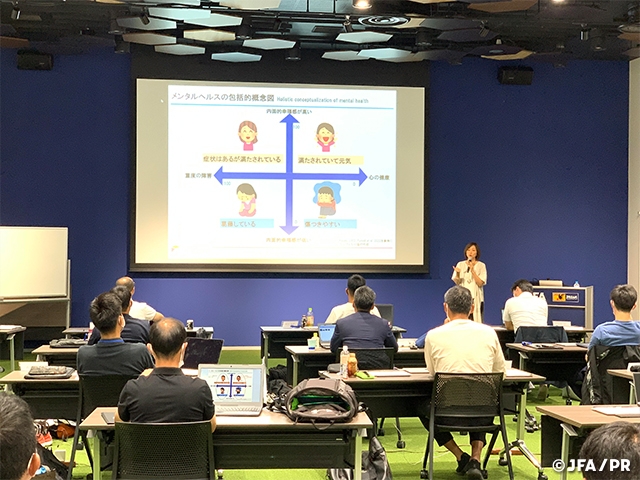 Afterwards, we finished up our presentations on coaches in Europe. The quality of the presentations improved with each session, and we learned a lot from each other. I hope to make use of the "in-between learning period" to construct a good presentation for the next time.
On Wednesday 15 June, we started the morning with a coaching session. We feel that we are learning from each other and absorbing each other's ideas as we go through these sessions.
We learned about "Sports Paramedic" in the afternoon. We started the lecture with a news clip about a player who was saved by the use of AED after suffering a cardiac concussion due to the ball hitting his chest during a futsal game. We were reminded of the fact that we are in the business of taking care of other people's lives, and at the same time we were made acutely aware of the need to deepen our knowledge on sports paramedic. We were given plenty of time for practical training, and the repeated practice gave us a lot of confidence. All of us were able to obtain our Sports Paramedic certificates, which we will continue to renew for ourselves, and others involved.
A coaching session was held in the morning of Thursday 16 June, followed by an interview with the Head Coach of Japan National Team, Mr. MORIYASU Hajime in the afternoon. Being provided with the opportunity to directly ask questions to the national team head coach was truly priceless and was a really great learning experience for us participants, as every word came from his own experience. I hope that we, the participants, will be able to make the most of all these experiences in the future and contribute to the world of football in various fields.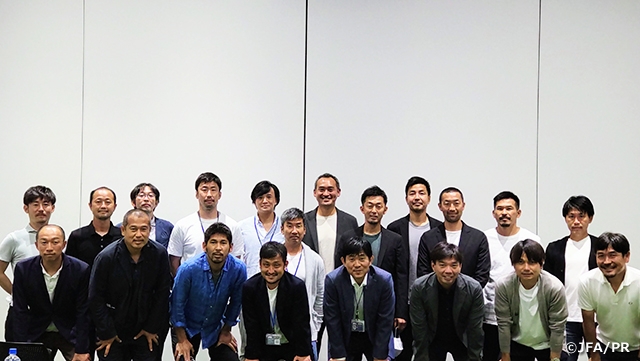 Next time we will share the report of Mr. SHIBATA Shingo (Hokkaido Consadole SapporoU-15) and Mr. SUGAWARA Daisuke (JFA Technical House).