NEWS
Report of JFA Safeguarding Workshop Trial - Elimination of Violence in Football Vol.104
08 September 2021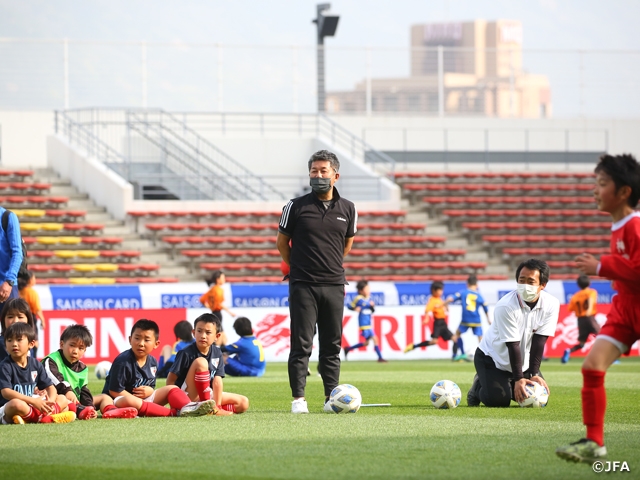 The Japan Football Association (JFA) has made various efforts led by the Respect and Fairplay Committee so that children can play football in a fun, safe, and secure manner, and realize a healthy football environment without violence, abuse, and harassment. At the respect symposium, scheduled to be held on Saturday 11 September, we will be sharing one of these initiatives, the Safeguarding / Child Protection Policy, to provide a platform for people to think about how we should nurture the future potential of the children.
Here we will share the report posted on the Technical News Vol.104, July edition, on the "JFA Safeguarding Workshop Trial" held in May.
To begin with
On 16 May 2021, the JFA Safeguarding Workshop Trial was held in JFA YUME Field, Chiba. The theme of the workshop was "creating an environment that can protect the safety and security of children." Despite being held on a Sunday evening, 17 people, including members of the Chiba Football Association who are involved in the U-12 category, participated in the workshop.
The participants looked anxious at first, but as the workshop progressed, they gradually became more open and started to participate in lively discussions. By taking each task seriously and listening to other people's opinions with an open mind, the participants were able to make new discoveries and gain new findings. I was delighted to see everyone getting actively involved.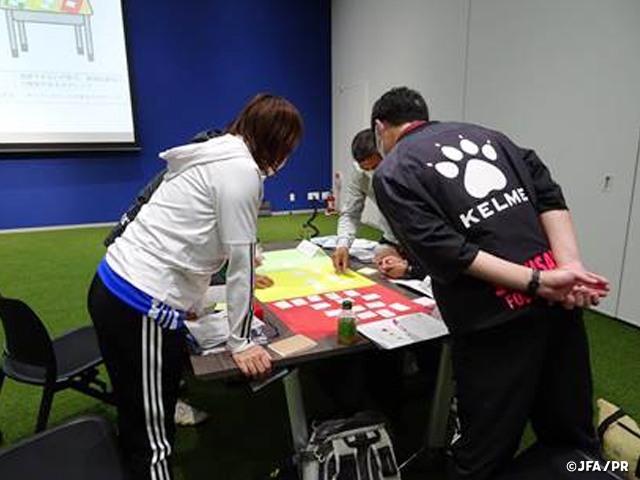 From the JFA Safeguarding Workshop Trial


Flow of the Workshop
The general flow of this workshop was as follows.
We started with creating a platform that would encourage active participation. Then, we asked them to write down their expectations for this workshop and their anxieties when working with children. The aim is to find out what can be solved here.
Next, we watched a video of a football festival where children are participating with smiles on their faces and held a group discussion on why these children look so happy. At the same time, this discussion allowed us to think about what an ideal coach would be like.
After that, we sorted out cards, which had cases that could occur in real life written on them, into three different categories; green for desirable actions, yellow for undesirable actions, and red for those that could lead to abuse. Each group took part in the exercise as if they were playing a card game. Some of the cards were difficult to categorise, and every time a group could not come to a firm conclusion, they were shared to the entire class to discuss the case. There were cases where green changed to yellow or red changed to yellow, and the participants were able to understand the difficulty to make a clear distinction, and that there are patterns in some cases as well.
Then, under the theme of "Be aware of changes in children in everyday life," we introduced six typical signs of abuse, where the participants learned the importance of taking action and reporting when noticing the signs.
We also watched a video of negative coaching and discussed if there was anything good about it. When I asked, "Do you want to hire that coach?," their answer was "NO." The group then proceeded on to discuss, if we were to hire that coach, what measures should be taken.
The participants came up with a variety of ideas, such as "getting him/her trained and qualified" and "provide mentoring from a role model coach." It's easy to get rid of coaches with undesired behaviours, but we wanted them to think of ways to provide guidance as a fellow coach.
Lastly, I shared my hopes to create a warm coexistence environment in which fellow coaches can support and help each other in order to watch over the prosperous future of the children. In addition, I told them that I would be delighted if they could take this lesson home and share it with their fellow coaches, as we watched a video with the song "Imagine" (by John Lennon) in the background to conclude the workshop.
Aim of the workshop
Every time you read an article or news about abuse and violence, you are heartbroken, and you wonder why these incidents keep happening when everyone knows that it is wrong. However, just thinking so does not solve anything. In order to solve the problem, we all need to change from the bottom of our hearts.
The purpose of this workshop is to challenge to make that solution a reality. In order to create an environment where the safety and security of the children are protected, we wanted to setup a workshop where coaches can learn how to cooperate and help other coaches to construct a better coaching environment. Instead of just focusing on the facts, we need to think why did it happen, what was the story behind the incident, what could have been done to prevent it? I want the coaches to think of it as their own issue, rather than just another issue of someone else's.
A slogan like "Say no to abuse and violence, let's create a football environment where children can enjoy themselves," may sound good, but it is meaningless without action. We hope that our initiative will allow people to think together, take things casually but also seriously, and come up with ideas for future plans.
Instead of avoiding the issue, we must think of what we can do to help lighten up the situation. The biggest purpose of this workshop is to provide a platform where people can gain new findings and make new discoveries in a relaxing atmosphere. Of course, we are not expecting to solve anything with just one try. Whenever we have the opportunity, for example, before a tournament or league season, we would like to continue to hold workshops like this one. Through discussions held in different environments and members, we may be able to obtain new findings and discoveries.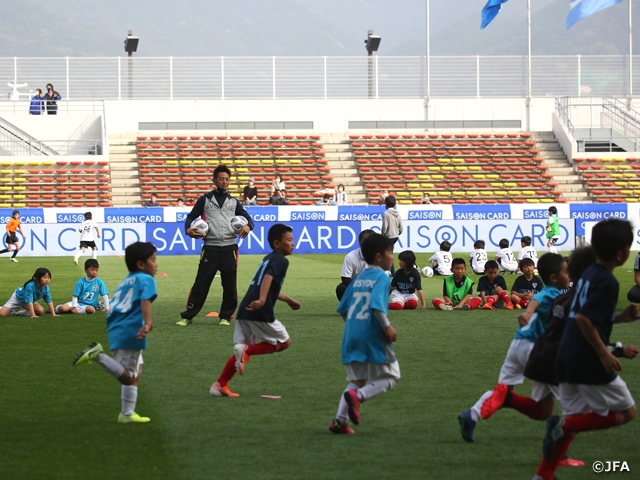 Lastly
We hope that this workshop will slowly establish each person's thoughts and actions. As we continue to hold these workshops, we hope the coaches will deepen their bond by listening to each other's opinions and having discussions. By expanding this circle of trust, we can truly create an environment that can protect the safety and security of children. Through the activities carried out by the participants of this workshop, I hope that the children will nurture a spirt that values friendship and become "kind and strong-willed" individuals.
By listening to the opinions of the participants, JFA will continue to make improvements to create an environment that can protect the safety and security of children. We hope to move forward one step at a time and continue to spread our activities nationwide.
Lastly, I would like to express my sincere gratitude to all the participants of this JFA Safeguarding Workshop, and coach SHIMADA Hiroshi of the Chiba FA for organising it. Thank you very much.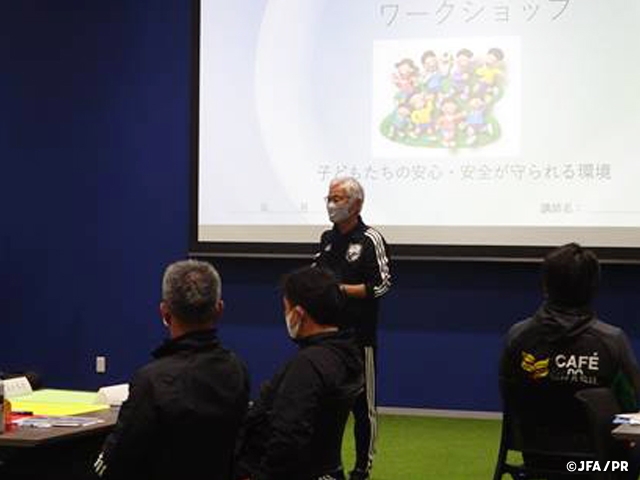 From the JFA Safeguarding Workshop Trial
Comment of Participating coach
【Reporter】SHIMADA Hiroshi (Coach of Chiba FA)
This workshop gave me the opportunity to think about many things. I was reminded the importance of sharing ideas and philosophies, not methodologies, in order to ensure the safety and security of the players, and to create an environment where coaches and players can really devote themselves in playing football. I think the most important thing is to foster the ability to think about each position, sympathise with them, and act. By holding these workshops at each community will not only improve the quality of football but will also lead to revitalising the regional activities and build smooth human relationships. I believe that this is a wonderful attempt to spread the joy of football and I will continue to implement these activities in Chiba.


【Reporter】SHINDO Kunihiko (JFA Coach/Instructor)
*This article was originally posted on Japan Football Association "Technical News," July 2021 edition.