NEWS
SAMURAI BLUE's Coach Moriyasu shares desire to "Showcase a performance that will lead us to the next step" ahead of match against Paraguay
02 June 2022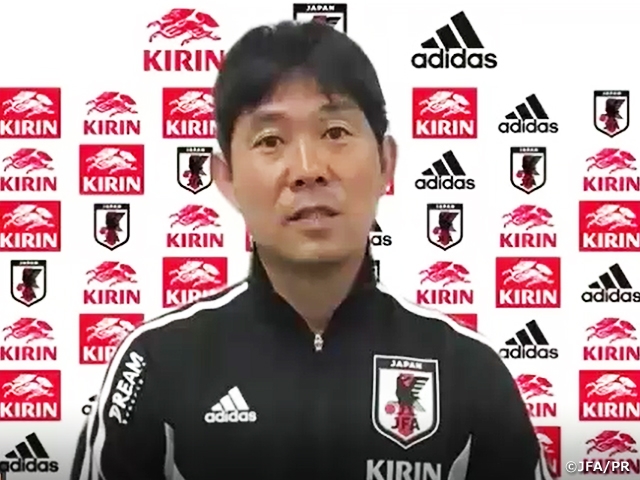 On Wednesday 1 June, the SAMURAI BLUE (Japan National Team) held their final training session at Sapporo Dome (Hokkaido), the venue for their match against the Paraguay National Team in the KIRIN CHALLENGE CUP 2022 scheduled to take place the following day. At the official press conference, coach MORIYASU Hajime expressed his aspirations: "As we prepare ourselves for the World Cup, we will sort out the achievements and challenges we faced in the Asian Qualifiers, and we hope to showcase a performance that will lead us to the next step."
After completing the AFC Asian Qualifiers (Road to Qatar) in late March, SAMURAI BLUE's opponents in the FIFA World Cup Qatar 2022™ group stage were announced early in April. This is their first match since the announcement and the first of a four-match series, including a match against Brazil in Tokyo on 6 June and the KIRIN CUP SOCCER 2022 scheduled to start on 10 June in the Kansai region.
Coach Moriyasu says he wants to "use as many players as possible and experiment with different systems depending on the situation," while maintaining the same winning attitude as before.
The coach also touched on the fact that the upcoming match schedule is similar to that of the World Cup, in which matches will be played with three days in between, sharing his intention to monitor the players' conditions, training, and meeting durations to simulate the World Cup.
On this day, the team held their official training session at the match venue in the evening, as the players were seen going through their warmup routines during the first 15 minutes, in which the session was opened to the media. The field players were divided into two groups to conduct a possession drill, with MINAMINO Takumi (Liverpool FC), SHIBASAKI Gaku (CD Leganes), and MITOMA Kaoru (Royale Union Saint‑Gilloise) demonstrating their nimble movements as they chased the ball.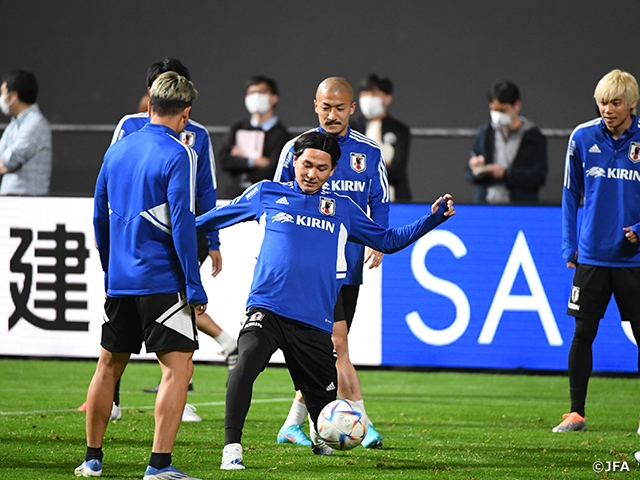 Paraguay also held their official training session at Sapporo Dome, as the South American side was seen going through agility trainings during the first 15 minutes of the session.
Paraguay is ranked 50th in the FIFA rankings, compared to Japan's 23rd place. After finishing eighth out of ten teams at the South American Qualifiers and failing to qualify for the FIFA World Cup Qatar 2022™, this match will be their first step towards the FIFA World Cup 2026™ scheduled to be staged in Canada, Mexico and the United States.
This will be the first time the two teams have met since the KIRIN CHALLENGE CUP (Japan won 2-0) in Kashima in September 2019. In the 2010 FIFA World Cup South Africa™, Paraguay defeated Japan in the round of 16 in a penalty shoot-out (3-5) after a scoreless 120 minutes. Japan's overall record is 4 wins, 4 draws and 2 defeats.
The jersey numbers for this four-match series have also been announced. SAMURAI BLUE debutant ITO Hiroki (VfB Stuttgart) was assigned with #26, while KAMADA Daichi (Eintracht Frankfurt) and FURUHASHI Kyogo (Celtic FC), who are making their return since last November were assigned #9 and #19 respectively. Returning players from the January-February series, DOAN Ritsu (PSV Eindhoven) and MAEDA Daizen (Celtic FC), were assigned with #21 and #24 respectively.
SUGAWARA Yukinari (AZ Alkmaar), who will be looking to make his first appearance since his SAMURAI BLUE debut in 2020, was given #27, while goalkeeper OSAKO Keisuke (Sanfrecce Hiroshima) who is making his return to the team since the E-1 Football Championship in December 2019, was given #28.
The match will be held with spectators, as coach Moriyasu commented: "We want to deliver an exciting match for the people of Hokkaido and those who travelled here to watch this match."
The match between the SAMURAI BLUE and Paraguay National Team is scheduled to kick-off at 19:00 on Thursday 2 June at Sapporo Dome.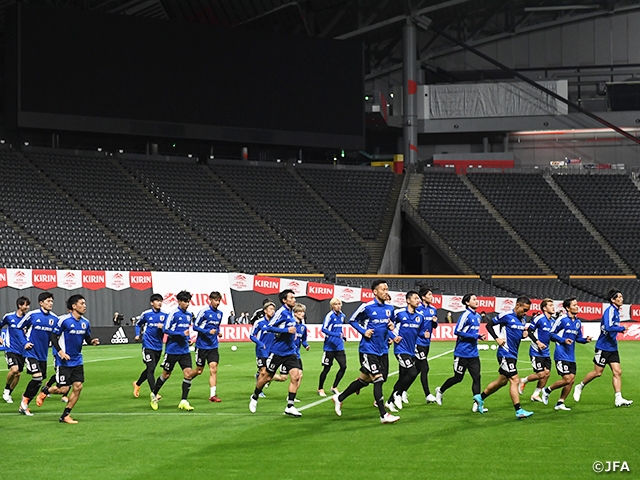 Coaches and Players' Comments
MORIYASU Hajime, Head Coach of SAMURAI BLUE (Japan National Team)
This match against Paraguay will be our first match following the AFC Asian Qualifiers. By sorting out the achievements and challenges we faced in the Asian Qualifiers, we hope to use this match to improve ourselves, both as a team and as individuals. We will strive to win the match in front of us and showcase a performance that will lead us to the next step. In terms of our offence, we need to raise the quality of our transitions from defence to offence, so that we can score more goals from fast breaks. In terms of defence, we need to build on what we have been working on and play with more clarity in order to compete at the world level. Whether we are attacking or dropping back, we need to be more certain about our strategy as we shift our attention from Asia to the World.
Compared to the World Cup in Russia, where matches were played every five days, matches will be played every four matches in this World Cup in Qatar. We will simulate the World Cup and use our time effectively so that we can keep the players in the best possible condition. We need to think about how to allocate our time from one match to another, including how we conduct our trainings and meetings. Unlike the last World Cup, we are not going to have enough time to build the team through trainings, so we will try to make the most of the upcoming matches and try to build a team that can deliver results at the World Cup.
We must set ourselves with higher standards and aspirations for the World Cup and showcase a performance that will bring excitement and courage to all of our fans.
DF #4 ITAKURA Kou (FC Schalke 04/Germany)
This will be a crucial four-game series for myself and the team. I played a whole season in Germany and experienced matches against opponents I had never played before, so I want to use that experience for the national team and show that I have grown as a player. I know how our attackers like to play and they are all clever and fast, so I will do my best to support them from behind to give them enough space to move around. My involvement in the team's build-ups is part of my strengths, so I hope to deliver good passes from behind. We are up against very different opponents from the teams we have played in the Asian qualifiers, so we have to be extra careful and always be ready to make the necessary adjustments.
MF/FW #13 MORITA Hidemasa (CD Santa Clara/Portugal)
My condition is getting better day by day. This four-game series is going to be a survival race for the World Cup, but if I can focus on my performance and do what I need to do, I should be able to make the roster, so I'm not going to get carried away and just keep on doing what I had been doing. I am looking forward to playing against teams like Germany and Spain in the World Cup and knowing that we will have to beat strong opponents to get through the group stage, I think this match will be a great test match for us. In the remaining six months leading up to the World Cup, we need to clarify our defence, which I believe will ultimately help our offence. We need to work backwards from our offence and think about where to pull back and how to counter. There were times when we were getting stretched out during the final round of the Asian qualifiers, so I think it will be important to set a concrete criterion as a team.
MF/FW #17 TANAKA Ao (Fortuna Dusseldorf/Germany)
I had a chance to freshen up after the season, and I now have a lot of desire to play football. I believe I will be able to enter the match in a good mental and physical condition. Since moving to Germany, my values on goals have changed compared to when I was in Japan. Over there, scoring goals is valued more, and I was reminded that goals are an integral part of moving the match forward, so I am more motivated to get involved in front of the goal. I feel like I am more aware of the importance of being at the right place at the right moment. Personally, I have to close the gap with Germany and Spain in the run up to the World Cup. I think the first thing I have to do is to simply develop the ability to win one-on-one duels, because that will broaden the options for us to fight as a team.
MF/FW #25 UEDA Ayase (Kashima Antlers)
I want to showcase my strengths and challenge myself in many different ways. If I don't perform well, I won't be recognised, so I want to give it all I've got. The timing of my runs and my shooting techniques are my weapons. You can't score if you don't shoot, so I want to take shots aggressively. The formation is different from my club team, so that is something I need to be aware of. The intensity and level of both my opponents and teammates will be much higher, so it will be a challenge to see how well I can adapt to that.
Guillermo BARROS SCHELOTTO, Head Coach of Paraguay National Team
Tomorrow, we will have a great opportunity to play against Japan, who will be competing in the World Cup. We are in the process of building a new team for the next World Cup. I want everyone to be aware that we are all part of a new process, the start of a new dream. We intend to field the players we consider to be the best at the moment. Japan is a team that is fast in attack, starts play high up in the build-up and has the ability to use their three forwards and midfielders to launch attacks in the final third. They are dynamic, strong, and have good technique, so I think the key for us will be to exploit the space in their defence to launch our attacks. I am expecting this to be a very fascinating match.

Date: Thu. 2 June 2022, 19:00
Fixture: SAMURAI BLUE vs Paraguay National Team
Venue: Sapporo Dome (Hokkaido)