NEWS
SAMURAI BLUE's Coach Moriyasu shares aspiration to "win the title by showing what the team has built up" in the KIRIN CUP SOCCER 2022 Final against Tunisia
14 June 2022
On Monday 13 June, one day before the KIRIN CUP SOCCER 2022 final against Tunisia, the SAMURAI BLUE (Japan National Team) held an official training session at Panasonic Stadium Suita, where Head Coach MORIYASU Hajime expressed his aspirations to "win the title by showing what the team has built up."
This match against Tunisia, who have also qualified for the World Cup, will be Japan's last match of the four-match series of training matches leading up to the FIFA World Cup Qatar 2022™, which starts in November. As the team continues to prepare for the World Cup, coach Moriyasu said: "We want to show what we've built up so far and deliver the results we're looking for."
The team has won two and lost one of the three matches so far in this four-match series. With the selection of the World Cup squad in mind and to broaden the team's options, the coach also revealed his intention to rotate the starters from Friday's 4-1 victory over Ghana, stating that he would like to see "different combinations and fusions."
He also praised how the team responded to a system change during the match against Ghana, as he expressed his trust for the players' ability to make decisions and react according to the situation in order to improve the team's overall performance, saying, "If the players can make the decision to change the balance, I will allow them to do so."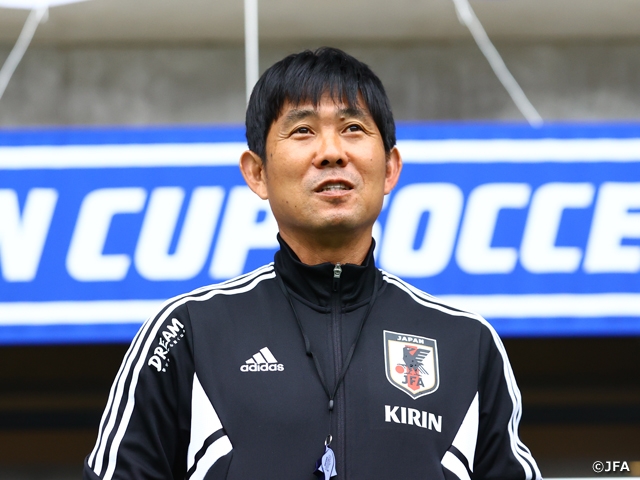 Tunisia, who Japan will face in the final, have qualified through the African qualifiers, despite undergoing a coach change midway through the qualifiers, by defeating Mali in the final round to clinch their sixth FIFA World Cup™.
Under the leadership of Head Coach Jalel KADRI, who was promoted from his previous position as assistant coach in January this year, the team has played five matches, winning three and drawing two, including their first match of the KIRIN CUP against Chile (2-0) and the Africa Cup of Nations qualifier against Botswana on 5 June. They will be in the same group as France, Denmark and Australia at the FIFA World Cup Qatar 2022™ in November.
Ranked 35th in the FIFA rankings (Japan is ranked 23rd), this will be their first meeting with Japan since the KIRIN CHALLENGE CUP 2015 (2-0) in March 2015. Japan has won all four matches played between the two countries. Exactly 20 years ago, on 14 June 2002, Japan defeated Tunisia 2-0 in the final group stage match of the 2002 FIFA World Cup Korea/Japan™ at Nagai Stadium (Osaka) to advance to the round of 16.
"We want to win the match just as we did 20 years ago, and we want the match to show the growth of Japanese football over the past two decades," said coach Moriyasu.
Ahead of the title match, Tunisia's coach Kadri expressed his caution, saying "Japan is a very attack-minded team," but added, "It was Japan who won 20 years ago, but this time we want the opposite result."
Both teams held an official training session at the match venue in the evening, with the first 15 minutes open to the media.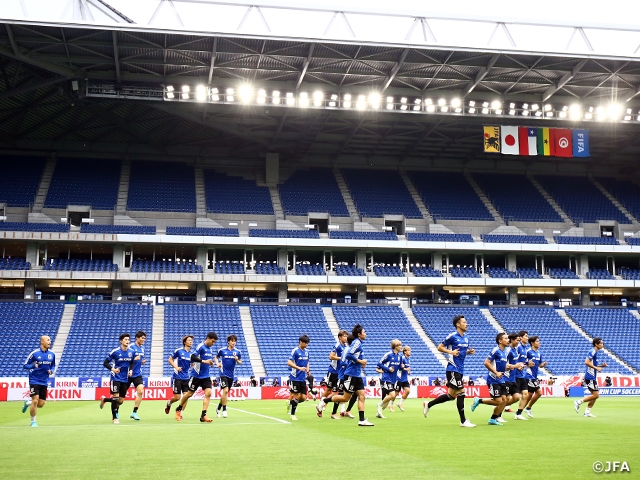 At the beginning of the session, the players of the SAMURAI BLUE were seen going through their warmup routine, as the field players went through agility and passing drills, while the goalkeepers worked on their positioning and catching skills. NAKAYAMA Yuta (PEC Zwolle), who has a sore foot, did not train with the team on this day.
YOSHIDA Maya (UC Sampdoria), who claimed that his condition is improving, said: "We need to show what we felt during the match against Brazil. With the World Cup in mind, we must try to create as many chances as possible."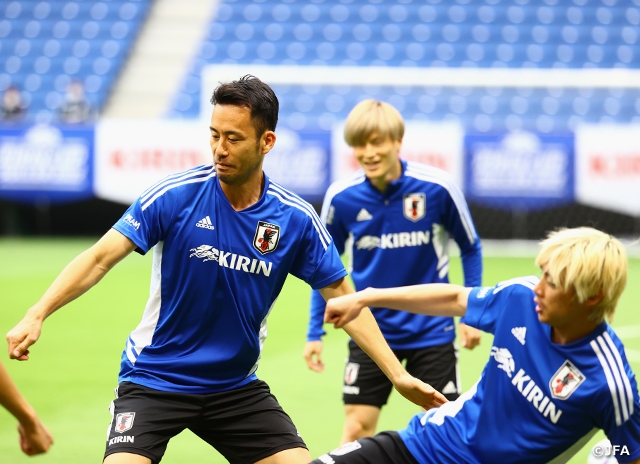 The final of the KIRIN CUP SOCCER 2022, which is being held for the first time in six years, between Japan and Tunisia is scheduled to kick off at 18:55 on Tuesday 14 June at Panasonic Stadium Suita. On this day, the third-place match between Chile and Ghana will also be played at the same venue (kick-off 15:15).
Coaches and Players' Comments
MORIYASU Hajime, Head Coach of SAMURAI BLUE (Japan National Team)
We want to build on what we have achieved so far and strive to win tomorrow's final against Tunisia for our supporters. The aim of this four-match series is to instil the team's base, broaden our options, test as many players as possible, and assess their performances ahead of the World Cup. We will be making significant changes to the line-up from our match against Ghana and hope to see a variety of combinations and fusions from the players. Against Ghana, Shibasaki and Endo showed a lot of flexibility during the match, adjusting to the opponent's midfield to shift the formation from 4-1-4-1 to 4-2-3-1, holding the opposition back while bringing out the best of our players. Tomorrow, I will continue to observe how the players make decisions and respond to each situation in order to make the most of themselves and outperform their opponents. While our main focus is to build a team that can play to our strengths at the World Cup, we will consider using different systems depending on how our opponents play against us.
In terms of how we spend our time between matches, this four-match series provided a very good opportunity for us to simulate the World Cup (where matches will be played every four days). I also observed how the players stayed motivated and dealt with the stresses of being part of a team when not all players are given equal opportunities to play, but they all showed great dedication for the team, and I am pleased with the players' efforts. I hope the players can bring energy and courage to the supporters through their performance on the pitch as we aim to win the title tomorrow.
DF #22 YOSHIDA Maya (UC Sampdoria/Italy)
Our conditions are improving, so we want to show our best performance out of these four matches tomorrow, and we need to show what we felt during the match against Brazil. With the World Cup in mind, we must try to create as many chances as possible. It is important to have a variety of players with different attributes, and enough players to build two teams. We must first establish the foundation of the team, and then add colours with different types of players. Everyone worked hard against Brazil, but it is important that we stay on the same page in terms of what we do when we have the ball, when we attack, and when we keep possession. It is these small details that make the team stronger. Depending on team situations, such as conditions and injuries, it is better to have more options, and having competition is definitely better for the team. Personally, I believe that it would be ideal if this competition were to intensify.
MF/FW #10 MINAMINO Takumi (Liverpool FC/England)
The fact that we couldn't create enough attacking threats against Brazil is an aspect we need to address as a team, whether it's on our individual abilities or our approach as a team. Once we get to the World Cup, we will be playing against Germany and Spain, who are different types of opponents but of the same calibre as Brazil, and I think we will have matches similar to what we played against Brazil, so I think it is necessary for the attackers to be able to keep possession of the ball at the individual level, while raising the quality of our plays in the final third. My strengths lie on my ability to play with high intensity, make quick transitions between offence and defence, and play inside, so I hope I can make use of these attributes while being aware of the distance between myself and my team-mates. I hope to play well and be in the best possible condition for the World Cup.
MF/FW #17 TANAKA Ao (Fortuna Dusseldorf/Germany)
I think my range of play is gradually expanding. The more I want to score, the more times I enter the opposing penalty area, which means the more times I have to run back on defence. I have to read the flow of the game, be careful of where I spend my energy, and be flexible. Even if I want to press forward, there are times when I need to devote myself to the build-up in the back. I feel that I have to make more detailed decisions and implement them in each of those situations. Playing against Brazil, I felt it was not easy to create chances upfront, but I think it is relatively easy to create chances to shoot from distance. Whether or not the team is capable of scoring from distance can really change the way a game is played, and I felt that if you can't create many opportunities to score, you become mentally weak. It is important that we have players who can capitalise on the loose balls in the final third, but it is also important to have players who can score from distance, and I feel like that is part of the game I need to improve on.
MF/FW #19 FURUHASHI Kyogo (Celtic FC/Scotland)
The Brazil match was a great learning experience for me, and I have been training to capitalise on that experience as much as possible, so I hope I can show what I have learned and score goals to help the team win the next match. Watching our match against Ghana, I felt that there were a lot of space created when the tempo of the game went up, so I hope to find that space and exploit it. I believe we are ready for tomorrow's match. If I am given the opportunity to play, I will do my best to help the team win. In our previous match, a lot more people showed up to Noevir Stadium Kobe than I expected, so I was very excited about that.
Jalel KADRI, Head Coach of Tunisia National Team
I am delighted that Tunisia was able to participate in the KIRIN CUP and reach the final. Both our match against Chile and Japan's match against Ghana were excellent matches that were played at a high level. We want to give it our all tomorrow. If there is any concern, it is that the team is very tired, having played four matches in 12 days and having travelled a long distance from Botswana, where our match in the Africa Cup of Nations (qualifier) was held, so we will do our best to recover for tomorrow's match. Japan has a strong offense with good tactical manoeuvres and great speed, so we must be very careful. Japan and Tunisia played at the World Cup on the same day 20 years ago, and it is wonderful that they are playing each other once again. It was Japan who won 20 years ago, but this time we are hoping for the opposite result.

Date/Venue:
Fri. 10 June/Noevir Stadium Kobe (Hyogo)
Tue. 14 June/Panasonic Stadium Suita (Osaka)