NEWS
Vietnam National Team arrive in Japan ahead of final match of AFC Asian Qualifiers (Road to Qatar)
27 March 2022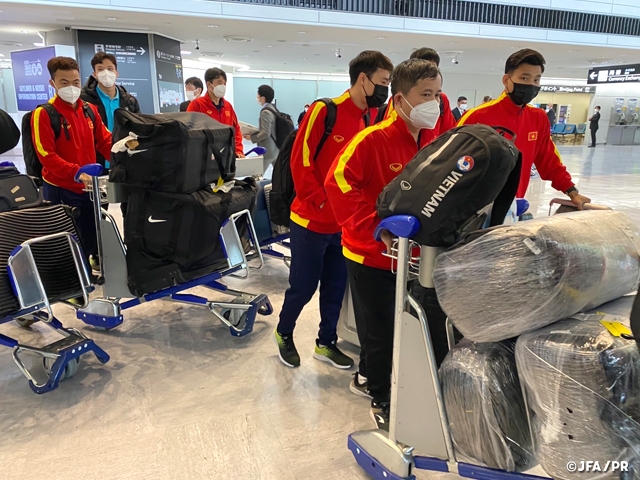 The Vietnam National Team, who will be facing the SAMURAI BLUE (Japan National Team) in the FIFA World Cup Qatar 2022™ AFC Asian Qualifiers (Road to Qatar) at Saitama Stadium 2002 on Tuesday 29 March, arrived in Japan on Saturday 29 March. Despite the strong wind and rain, the team held an evening training session in Saitama to work up a sweat for about an hour.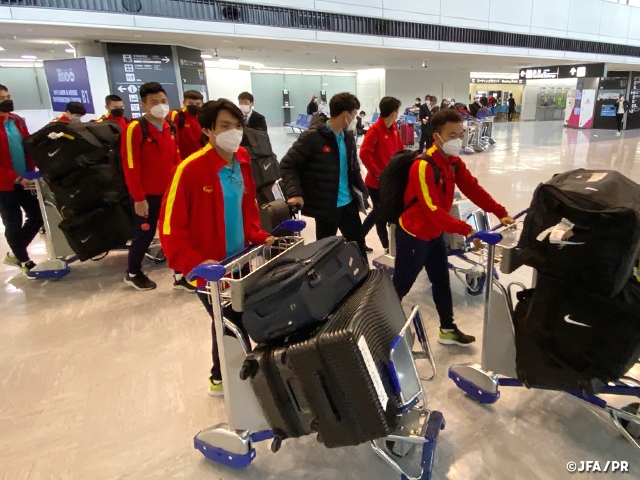 Comments
Do Hung Dung, Team Captain
Although there is no longer a chance to keep going in the FIFA World Cup Qatar 2022™, the match against Japan on March 29 is still a meaningful match for the Vietnam team. Playing against a top Asian team like Japan will definitely help us gain more valuable experiences. This is also the last match in our first time participating in the third qualifying round of the FIFA World Cup Qatar 2022™. So we will do our best and hope to have a good memory at Saitama Stadium.
Mr. Doan Anh Tuan, Team manager
First of all, we would like to congratulate Japan team on the victory 2-0 against Australia, thereby winning the right to participate in FIFA World Cup Qatar 2022™ for the seventh time in a row. With your performance, Japan team deserves to be one of the top teams in Asia.
We are delighted to be in Japan to prepare for the final match of the FIFA World Cup Qatar 2022™ AFC Asian Qualifier. We would like to thank the JFA for the thoughtful welcome for Vietnam team. We know that, despite facing many difficulties due to the COVID-19 pandemic, you have made your best efforts and shown the responsibility of the local organization committee. We will do our best in this match, and hope that together with Japan team, we will contribute a wonderful match for Vietnamese and Japanese football fans.
Asian Qualifiers - Road to Qatar
SAMURAI BLUE (Japan National Team) vs Vietnam National Team
Date: Tue. 29 March, 19:35
Venue: Saitama Stadium 2002 (Saitama)
Tournament Information