NEWS
【Scouting report】Taking on superior teams with counterattacks and set pieces – Vietnam National Team (AFC Asian Qualifiers 3/29@Saitama)
25 March 2022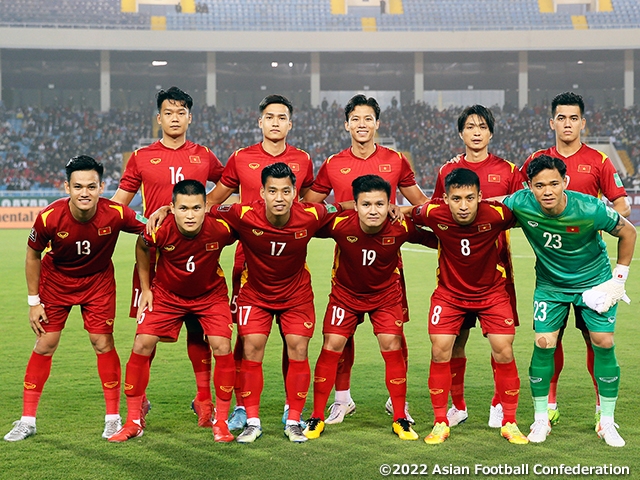 In their first ever appearance at the AFC Asian Qualifiers (Road to Qatar), the team's hopes of qualifying for the FIFA World Cup Qatar 2022™ were completely dashed after seven consecutive defeats since their first match in September last year. However, they managed to record their first win in the final round with a 3-1 victory over China PR on matchday (MD) eight. HO Tan Tai scored the first goal in the home game in the ninth minute, with NGUYEN Tien Linh and PHAN Van Duc adding to the tally in the 16th and 76th minutes respectively. Coach PARK Hang-seo, who led Vietnam to their first win over China PR and the honour of being the first Southeast Asian team to win in the final round of the Asian Qualifiers, thanked the fans for "always supporting the team (even when results were not good)."
The team's attempt to follow up on this historic victory with another win in the subsequent matchday failed as they were narrowly beaten 0-1 at home by Oman. Despite losing the match, the team created number of opportunities from counterattacks and set pieces to entertain the home crowd. Although they lacked quality to convert the chances in the final third, they have certainly proved that Vietnam have developed into a threat to the Asian powerhouses.
Vietnam, who have the lowest FIFA ranking among the 12 teams competing in the final round, rely on their solid defence and quick attacks. Both wingbacks drop back in defence to form a five-man defence line, and once winning the ball, they deploy to the flanks to initiate their attacks. The crosses of the two wingbacks, VU Van Thanh on the left and HO Tan Tai on the right, are the keys to their offence. Lefty midfielder NGUYEN Quang Hai is their main set pieces taker, while NGUYEN Cong Phuong, who played for Mito HollyHock in 2016, is another player who can deliver accurate deliveries from corner kicks, as shown in their match against Oman. Ahead of the final two matches of the Asian qualifiers Adriano SCHMIDT was called-up for the first time. Although the German-born centre-back went unused in the team's first match against Oman, he could play a role in their final match against the SAMURAI BLUE (Japan National Team).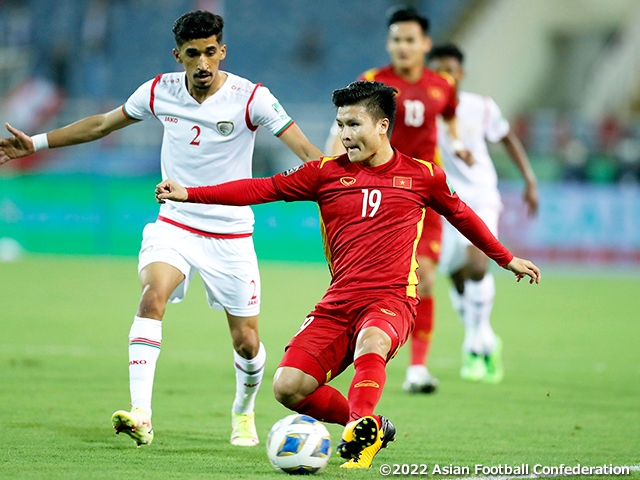 Three of the recent matches played against Japan all ended in a 0-1 loss. Setting their eyes on next year's AFC Asian Cup China 2023™ as their next goal, Vietnam will seek to cause an upset against Japan, who have just clinched their seventh consecutive FIFA World Cup™ appearance.
FIFA Ranking: 98th (17th in Asia) *As of 10 February 2022
FIFA World Cup appearance: None
Japan's head to head record: 7 wins 1 loss (19 goals, 5 conceded)
*Including matches from the South Vietnam-era
Asian Qualifiers - Road to Qatar
SAMURAI BLUE (Japan National Team) vs Vietnam National Team
Date: Tue. 29 March, 19:35
Venue: Saitama Stadium 2002 (Saitama)
Tournament Information