NEWS
SAMURAI BLUE's Coach Moriyasu shares confidence ahead of match against Australia "Fully prepared to achieve our goal"
24 March 2022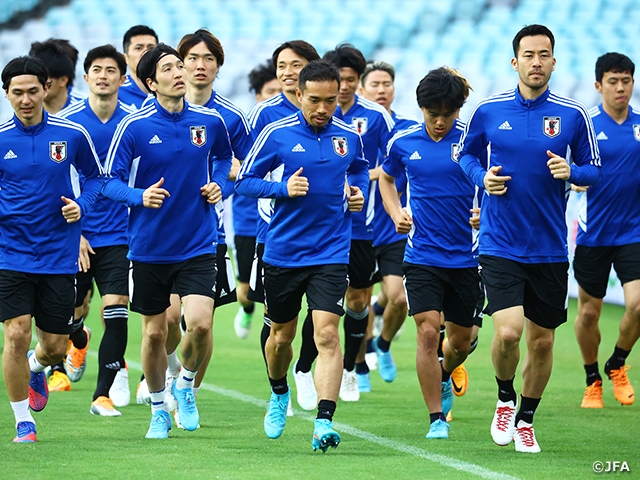 On Wednesday 23 March, one day before their FIFA World Cup Qatar 2022™ AFC Asian Qualification (Road to Qatar) match against the Australia National Team, coach MORIYASU Hajime of the SAMURAI BLUE (Japan National Team) appeared in the official press conference held at Stadium Australia, the math venue in Sydney, and shared his confidence for the crucial match, saying "We are fully prepared to achieve our goal."
Currently in second place in Group B with 18 points from six wins and two losses, Japan are in position to qualify for their seventh consecutive World Cup with a win over Australia, who are trailing in third place by three points.
In case of a draw, Japan can still clinch automatic qualification in their final match against Vietnam at home on Tuesday 29 March, but a loss would see Australia move up to second place, as the two sides would be level on points with Australia having the advantage in goal difference. If Japan finish third in the group, they will have to play a single match play-off against the third-place finisher of Group A in order to advance to the intercontinental play-offs, where they will face the fifth-place finisher of the CONMEBOL (South American Football Confederation) qualifiers.
In recent years, matches played between Japan and Australia have been closely contested, including the 2011 AFC Asian Cup, in which Japan won in extra-time. Japan also won the first leg played in Saitama in October last year but have been winless in matches played in Australia in the past three World Cup qualifiers (two draws and one loss). Japan's last away victory over Australia dates back to a 1998 friendly, a match that took place before Australia transferred their federation to the AFC.
"An away match against Australia will be a tough and challenging battle," said coach Moriyasu, but also shared his confidence, "We are fully prepared to achieve our goal."
Since the squad was announced on Wednesday 16 March, OSAKO Yuya (Vissel Kobe), SAKAI Hiroki (Urawa Red Diamonds), and MAEDA Daizen (Celtic FC) withdrew from the squad due to injury and unwell physical condition, as HAYASHI Daichi (Sint-Truidense VV) and NAKATANI Shinnosuke (Nagoya Grampus) were called up to replace the three players. All 26 players arrived in Australia by Tuesday 22 March, as the team held an official training session at the match venue on Wednesday 23.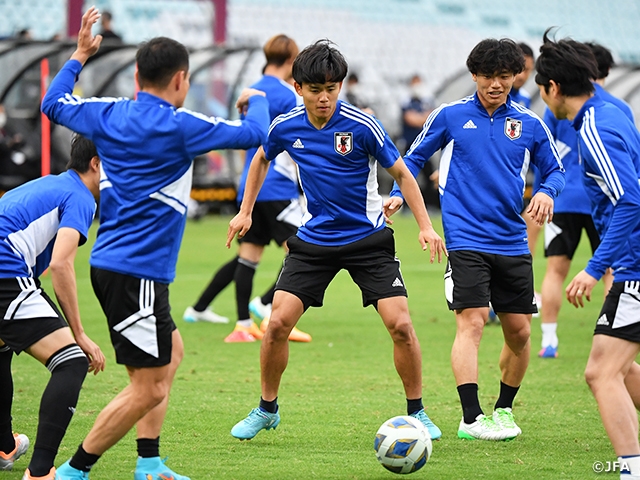 Australia on the other hand, were also heavily struck by injuries and Covid-19, as some of their core players, including Aaron MOOY and Adam TAGGART, were listed out of the squad, while four players withdrew from the squad after it was announced. Jackson IRVINE and Tomas ROGIC, who played in the first leg against Japan last October, were among those who withdrew from the squad, while it was also confirmed that coach Graham ARNOLD tested positive for Covid-19 and was placed under home quarantine. The Sydney native coach can take the helm for the match if he tests negative on the day of the match.
Needing back-to-back wins against Japan and Saudi Arabia in order to progress directly to the FIFA World Cup Qatar 2022™, the Socceroos have prepared plenty of firepower in their attacking third, including Jamie MACLAREN, who is carrying a two-game scoring streak in the qualifiers, Nicholas D'AGOSTINO and Ben FOLAMI, both of whom play for Melbourne Victory and scored in the recent AFC Champions League play-off match against Vissel Kobe, and Bruno FORNAROLI, a Uruguayan-born striker who has won the A-League Golden Boot in 2016.
At the official press conference, assistant coach Rene MEULENSTEEN reflected on the first leg against Japan, "We conceded a goal at the end in the away game, but it should have been a draw. We played well for the majority of the game and showed what we are capable of." The Dutch coach continued by sharing his confidence for the second leg, "We are confident in the quality of our players. They played well in practice. This time we will be playing at home, where we have the support of our fans."
Stadium Australia has a capacity of 83,500 and the crowd will be allowed to vocally cheer at this venue, which would create an even stronger away-from-home atmosphere for Japan.
"Matches against Australia have always been close, and we are expecting another close one," said YOSHIDA Maya (UC Sampdoria), as the Japanese captain continued to share his aspiration for the big match, "We haven't beaten Australia (away from home), so it will give us great confidence if we can qualify by winning this match. If the match progresses scoreless, it will be our opponents who will be under pressure, so we want to play wisely."
"I am only thinking about winning. My role is to score and assist goals, so I will do my best to help the team win," said ITO Junya (KRC Genk), who is on a four-game scoring streak at the qualifiers. The winger continued by sharing his vision for the match, "We will be facing a team with great physical strength and speed. We must not back down against them and try to exploit the space behind the defence line."
MINAMINO Takumi (Liverpool FC) pointed out, "Since we have limited time to prepare, it is important that we stay on the same page for tomorrow's match." The Japanese #10 quietly, but firmly expressed his strong desire for the match, "The opportunity to qualify for the World Cup is right in front of us. We must stay focused and give our best effort to earn our ticket to Qatar."
The match between the SAMURAI BLUE and the Australia National Team is scheduled to kick-off at 18:10 (20:10 local time) on Thursday 24 March.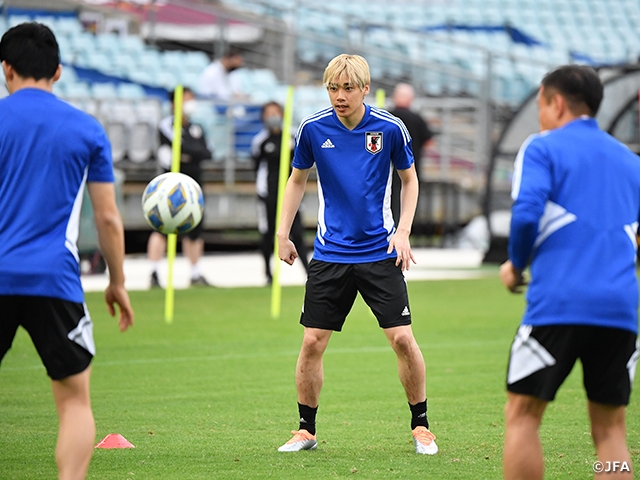 Coaches and Players' Comments
MORIYASU Hajime, Head Coach of SAMURAI BLUE (Japan National Team)
We have been playing the Asian qualifiers with the goal of overcoming big challenges to qualify for the World Cup. An away match against Australia will be a tough and challenging battle, but we are fully prepared to achieve our goal. Although our time is limited, I am hoping that our players will do their best to improve their conditions and prepare themselves in a way that they can be on the same page once they step on the pitch.
DF YOSHIDA Maya (UC Sampdoria/Italy)
With our opponent in a must-win situation, we are expecting a very difficult match. We have not dominated any of our opponents in this qualification round, as each match was tightly contested. Matches against Australia have always been close, and we are expecting another close one. We must not think that it is okay to draw this match, or that we still have another opportunity against Vietnam. It is important that we don't concede the first goal, because an early goal can put us in a tough situation, so we must control the game as much as possible and try to keep a clean sheet. We have gained a lot from this challenging qualifier, but we have not achieved anything yet. We will give our best effort so that we can finish off the qualifier on a high note.
MF/FW MINAMINO Takumi (Liverpool FC/England)
Since we have limited time to prepare, it is important that we stay on the same page for tomorrow's match. This is a match we cannot afford to lose, so we just have to commit ourselves and do what we can within the limited time frame. I am always thinking of ways to help the team from my position. I am determined to contribute to the team by scoring goals, but the most important thing is the team's victory, rather than who scores. The World Cup is a special tournament for all football players, and I have dreamed of playing in it since I was a child, so I would like to demonstrate my strong desire on the pitch and help the team qualify for the dream stage. We are expecting a tight and intense match, but we are confident that we have fought through such matches. At the end of the day, it comes down to who wants it more. As an attacking player, I will focus on staying physical and converting the opportunities that presents to me.
MF/FW KUBO Takefusa (RCD Mallorca/Spain)
There is no doubt that this is an important match. We want to prepare ourselves well so that we can showcase our best performance as a team. Compared to the last time we faced them, we are both in a completely different situation, so we are expecting a totally different match this time around. Both sides are in a must win situation, so it will be an intense match from the start, and I am sure that our opponents will pick up their pace as the match progresses, especially with their home supporters on their side. We have played some difficult away matches in the past, but this is going to be a match beyond our experience. I have personally played with both Ueda and Hayashi for a long time, so I am well aware of how they play. If I have the opportunity to play with them, I will do my best to support them to score goals.
MF/FW ITO Junya (KRC Genk/Belgium)
I am in better condition compared to our previous series. I am only thinking about winning. My role is to score and assist goals, so I will do my best to help the team win. I want to score when I have the chance, but I'm not obsessed (with the record of scoring in five consecutive matches), as long as the team wins. It is unfortunate that Osako and Sakai cannot play in this match, but we have plenty of talent. We want to play in a way that every player can showcase their colour, and we hope to use today's practice to communicate with each other. It wasn't until recent that I started thinking about playing in the World Cup. The opportunity to play in the World Cup is right in front of me, so I will do my best to make that a reality.
Rene MEULENSTEEN, Assistant Coach of Australia National Team
All the players have arrived in good form, and we've been able to hold some good training sessions. Japan is a strong team with many good players like Minamino, Ito, and Endo, and we respect them a lot, but we will try to play to our strengths. Two good qualities of the Socceroos is the ability to fight but also play a really good game. We need to make sure we get the plan tactically right, have good focus and great concentration. But more than anything I think courage will win us the game, the courage of the players to do the right thing, to show their talents, which will cause a lot of problems for the Japan team. I am confident that the support of a large home crowd will bring out the best in our players and we are looking forward to a great match.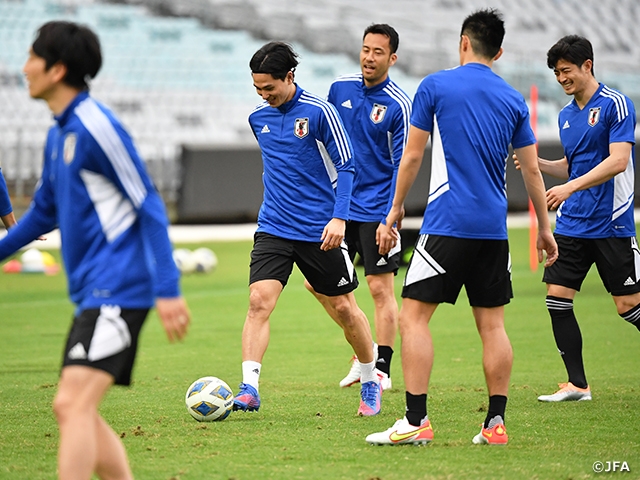 Asian Qualifiers - Road to Qatar
SAMURAI BLUE (Japan National Team) vs Australia National Team
Date: Thu. 24 March, 20:10 (18:10 Japan time)
Venue: Stadium Australia (Sydney, Australia)
Tournament Information
SAMURAI BLUE (Japan National Team) vs Vietnam National Team
Date: Tue. 29 March, 19:35
Venue: Saitama Stadium 2002 (Saitama)
Tournament Information