NEWS
SAMURAI BLUE gets welcomed by torrential rain in Yangon
08 September 2019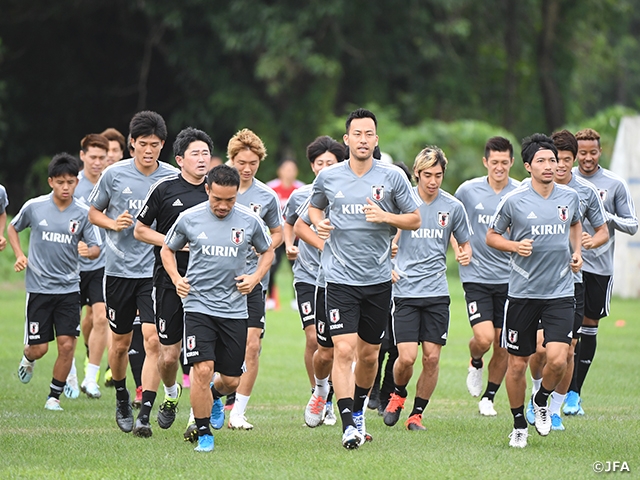 On Saturday 7 September, the SAMURAI BLUE (Japan National Team) held their first training session in Yangon ahead of their first match of the preliminary joint qualification round for the FIFA World Cup Qatar 2022 and AFC Asian Cup China PR 2023, against the Myanmar National Team.
On this day, nearly 300 students and staff members of the Yangon Japanese School showed up to the training session to encourage the players. Ahead of the training session, players took pictures with nearly 160 children and went through their trainings while the kids cheered on enthusiastically.
In consideration of their conditions, 10 players conducted a light menu, where they were seen jogging around for the most part to tone up their fitness. As the remaining 13 players went through their warmup routines to prepare for the training session, heavy rain started to pour down on the training field.
The pitch was instantly drenched and the environment surrounding the players changed dramatically in just a few seconds. However, the team continued to hold their training session, as they went through possession drills and scrimmages. The players went through each play carefully to make adjustments to the sudden change of environment, as the players were fully aware that this kind of torrential rain can occur during the upcoming match.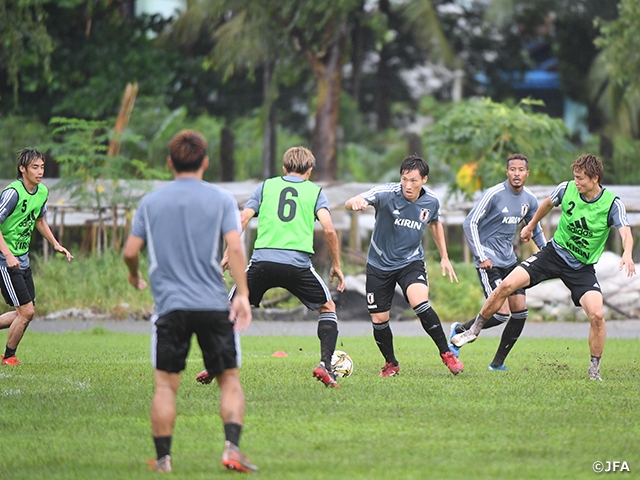 The down pour stopped in about 15 minutes, but the players were drenched from head to toe. They all experienced in first-hand the challenges they may face in an away match, as they concluded their first training session.
The SAMURAI BLUE will play against the Myanmar National Team on Tuesday 10 September at 18:50 (21:10 Japan time).
Players' Comments
GK #1 KAWASHIMA Eiji (RC Strasbourg)
The ball can stop or skip on a wet pitch condition, and if the ball is covered in mud, it can take a different trajectory than usual. We may face all sorts of accidents in a match, so I will prepare myself to make the adjustments accordingly.
DF #22 YOSHIDA Maya (Southampton FC)
A strong team will not be affected by the pitch conditions or their surroundings, so we will stay focused to play our football and enter the match as a strong unit. We must focus on not letting our opponent score first. If we give up the opening goal in an away match, we will be putting ourselves in a very difficult spot, so we must do whatever it takes to avoid that situation.
MF #6 ENDO Wataru (VfB Stuttgart)
It is very important that we make the adjustments to this climate and environment. Within this short period of time, we must make our objectives clear and prepare ourselves both physically and mentally ahead of our match. We were able to understand about the pitch condition through today's training session, so we must make our adjustments accordingly. The torrential rain was a factor we knew that could affect our match, so it was a good thing that we were able to experience it beforehand. We hope to stay positive as we make our adjustments. Once we are on the pitch, we hope to control the game without taking much risks. Executing our game plan is one thing, but more than anything, I think it is important that the individual players win the one-on-one situations and win the battles to collect the second ball, especially in matches played in this kind of environment.
MF #8 HARAGUCHI Genki (Hannover 96)
We never see such harsh playing conditions in Japan or Europe, and I feel like this is a unique aspect about the Asian qualification rounds. But regardless of the environment, we still need to win each match. We are expecting many aspects to be variable and we have been discussing the matter as a team. We must keep our composure even when things aren't going in our favour. It is important that we focus on playing our own game. We must all acknowledge the fact that there will be no easy match during the qualifiers.
MF #13 HASHIMOTO Kento (F.C. Tokyo)
The fact that we were able to earn positive results from a strong team like Paraguay has given us great confidence. I feel that we have been able to prepare ourselves well ahead of the World Cup qualifiers. My job is to fight for the ball in the midfield and to force turnovers from the opponent, so I will focus on getting my job done. I am getting the impression that the team always faces tough competition at the World Cup qualifiers. I am sure that once I am on the pitch, I will get to experience the difficulties in first-hand, but I will play tenaciously and give my utmost efforts to help the team win. The World Cup has been my dream stage since I was a child. In order for us to play in that stage, we must first win through these tough competitions, so I will do my best to help the team advance through the qualifiers.
MF #17 KUBO Takefusa (RCD Mallorca)
I would like to get my fitness ready ahead of the match. There should be plenty of pressure on us once the match starts, so I will try not to get worked up about the match and try to enter the match as relaxed as possible. As a team, we must play with confidence and try not to make the match harder than it has to be.
FW #18 SUZUKI Musashi (Hokkaido Consadole Sapporo)
I have always given my utmost efforts in matches played at the J.League and with the Japan National Team. I will take the same approach in this match as well. We should be seeing many long balls played upfront, so I will do my best to help the team earn the victory.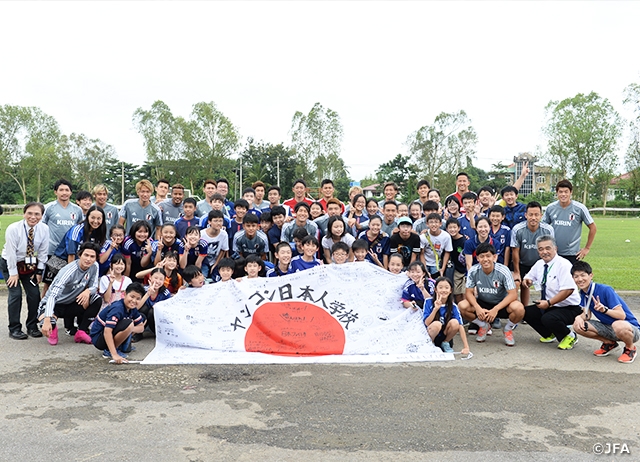 Schedule
Squad & Schedule of SAMURAI BLUE (Japan National Team)

Interview of YOSHIDA Maya (Southampton FC/England)

Interview of HASHIMOTO Kento (F.C. Tokyo)

Interview of KUBO Takefusa (RCD Mallorca/Spain)
2022 FIFA World Cup Qatar / AFC Asian Cup China PR 2023 Preliminary Joint Qualification - Round2
Myanmar National Team vs SAMURAI BLUE (Japan National Team)
Date: Tue. 10 September 2019 18:50
Venue: Thuwunna Stadium (Yangon, Myanmar)